How to Import MBOX to Rackspace Mail – Top 2 Methods
"Hi there, I am using Thunderbird client and want to transfer its data to Rackspace. Is there any option to import Thunderbird MBOX to Rackspace Mail account? The size is around 520 MB."

– Alfred Markus
"How do I import MBOX to Rackspace with complete mails and attachments? There are 25 .mailbox files created and saved from various email platform. Kindly help me in uploading emails to my new Rackspace account."

– Til Schweiger
Received queries related to transfer emails from MBOX file into Rackspace Mail account. Don't Worry! Today I will be showing you various methods to upload .mbox file in Rackspace with no data loss.
Ways to Upload MBOX File to Rackspace
Method #1. Using Advik MBOX Migrator
Method #2. Using Thunderbird Configuration
Today I will be giving you a brief solution to execute the email migration from the mailbox file into Rackspace email account. Stick to the blog till the end to find the solution.
Method #1. Import MBOX to Rackspace Mail With Attachments
Download and Install Advik MBOX Migrator Software. This tool is specially designed to instantly deliver the emails from .mbox file into Rackspace email account. The software is free to try and easily run on Windows operating system. The software is loaded with dozens of useful features like;
Maintain mailbox folder structure
Preserve key elements and email attributes
Migrate MBOX to any email server
Unlimited mail transfer will no file size bar
Convert MBOX to 20+ file formats
Advance Email Filter Option
and lots more..

Steps to Transfer MBOX Emails to Rackspace account are as follows;
Step 1. Launch Advik MBOX Migrator in your PC.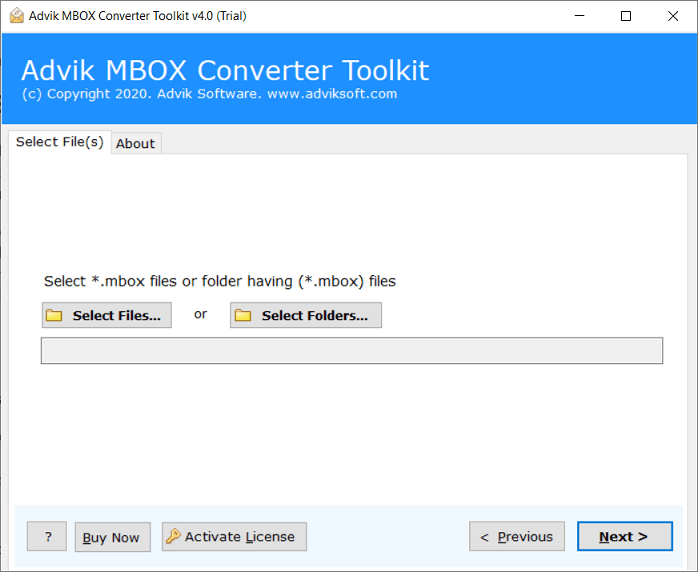 Step 2. Click "Select Files" and add .mbox file into software.
Step 3. In next step, choose IMAP as saving option.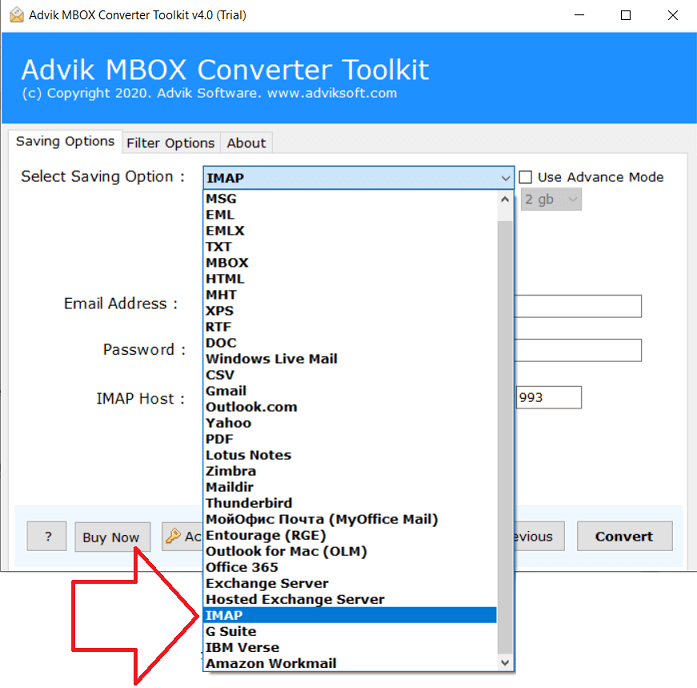 Step 4. Enter your Rackspace mail login credentials.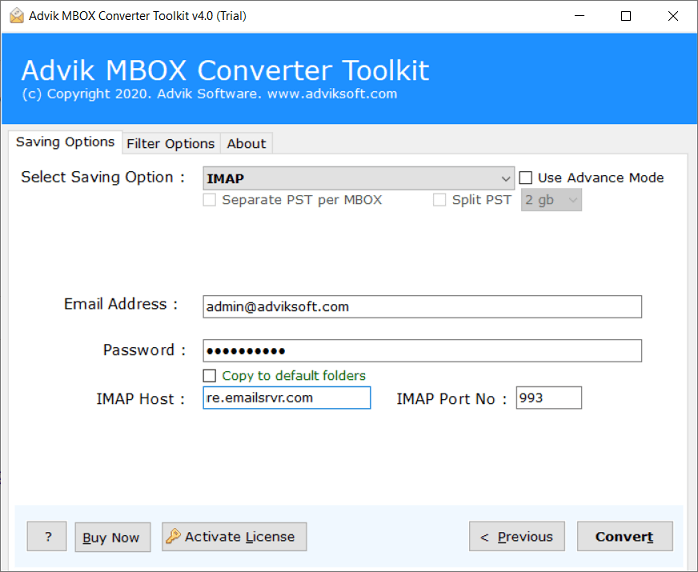 Step 5. Apply email filters from the "Filter Option" to import only specific emails.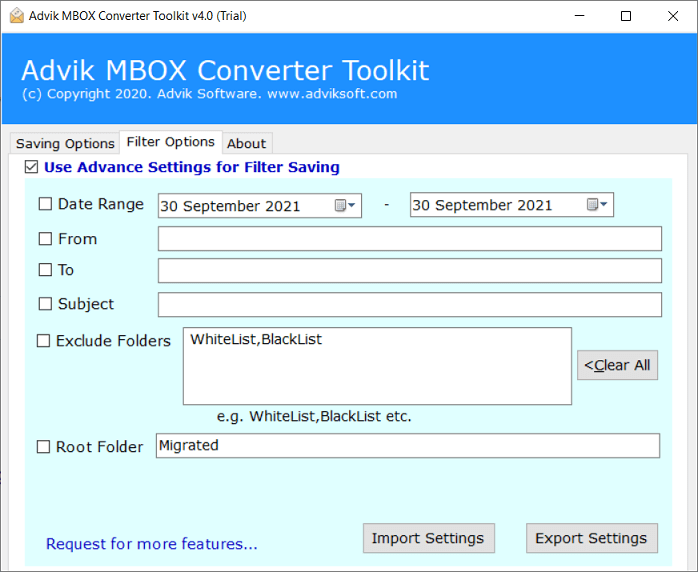 Step 6. Click Convert button to start email migration process.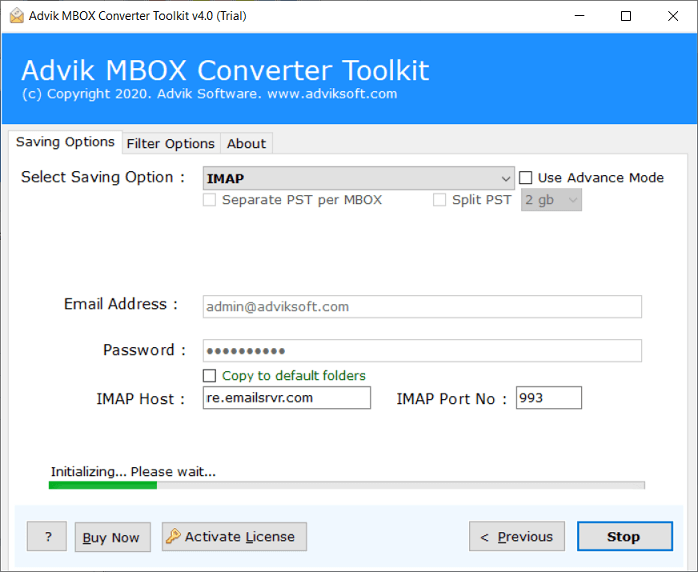 Finished! The software will start transferring MBOX emails to Rackspace account without facing any error.
Note: Click "Add Folder" option when you have multiple MBOX files. So that you can upload several mailbox files in one attempt.
Watch Video Tutorial – How to Import MBOX File to Rackspace Mail?
Method 2. Export MBOX to Rackspace Using Thunderbird
This method is completely free and will be done by manual configurations. You have to install Mozilla Thunderbird in your machine.
Now, follow the steps below to import Thunderbird MBOX to Rackspace.
Step 1. Open Mozilla Thunderbird client.
Step 2. In the Thunderbird menu bar, click Tools and select Account Settings.
Step 3. A pop window will appear, click Add account from the bottom left corner.
Step 4. Now enter your Rackspace email address and password.
Step 5. Click the Continue button and it will automatically detect the server details.
Step 6. Click the finish button, and Thunderbird will load all your Rackspace email folders.
Step 7. Go to Ad-Ons and install the import/export plugin.

Step 8. After installing and enabling the plugin.
Step 9. Right-click any email folder and select "import MBOX file".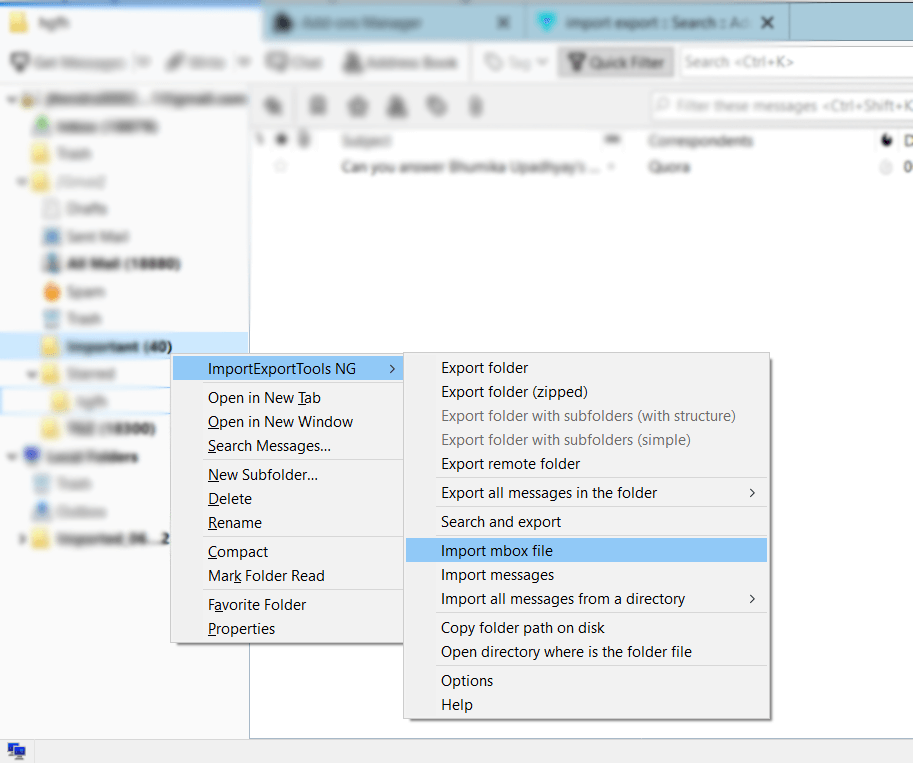 Step 10. Now browse for .mbox file and add into Thunderbird.
Done! This is an alternate way to import MBOX to Rackspace that worked very well for me. In case you feel any technical difficulties or unable to attempt configuration, download Advik MBOX Migrator Tool.

Wrapping Up
As there are now two ways to import MBOX data in Rackspace mail, you can select any of them. Both methods had been practically executed. However, in order to save manual time and need an instant precise solution I would like to refer Advik MBOX Migrator tool over the manual method. As manual way may have a risk of data loss. Download the free tool and give it a try.