Import MBOX to Windows Live Mail – Complete Guide
If you want to import MBOX file into Windows Live Application, then you landed on the right page. In this article, you learn to export emails from MBOX to Windows Live Mail 2012, 2010 and other version in an easy manner.
MBOX file stands for MailBOX. It is a text file used to store multiple emails and attachment files. It is one of the most common file format used to store email messages.
Windows Live Mail is a desktop-based email client for sending and receiving email messages. The Main problem that occurs during MBOX to Windows live mail import process is, WLM does not have any option to import MBOX file.
Steps to Import MBOX to Windows Live Mail are as follows;
In order to transfer emails from MBOX to Windows Live Mail Application, you need to download and install Advik MBOX to EML Converter. After installation follow these simple steps;

Step 1. Launch Advik MBOX to EML Converter.
Step 2. Add MBOX file in the Application and hit the Convert button.
Step 3. Your MBOX file is now converted into EML Files
Step 4. Launch Windows Live Mail client
Step 5. Navigate to File > Import Messages > Windows Live Mail.
Step 6. Click the Browse button and select folder having converted EML file.
Step 7. Hit the Next button then click on Finish after completion of the import process.
All Done, that' how you can easily migrate emails from MBOX file to Windows Live Mail. After import, you can access all emails in Windows Live Mail along with its attachment files.
Why Use Advik Software for MBOX to Windows Live Mail Conversion?
There are many reasons to choose Advik MBOX to EML Converter. This software has many features and some of them are as follows;
Maintain Folder Structure: During the process of conversion, the tool preserves the folder hierarchy of email messages.
Includes Attachment Files: Emails is incomplete without its attachments, that's why this tool converts MBOX to Windows Live mail compatible format along with attachment files.
Preserve Metadata: This tool is programmed to preserve all the information during the conversion process of MBOX file to Windows Live Mail. The layout of the emails also remains intact.
Faster Conversion Engine: Along with faster conversion engine the tool minimizes the risk of data loss.
Supports Windows OS: You can run this software on almost all versions of windows such as Windows 10, Windows 8.1, Windows 7, Windows XP etc.
Unlimited Conversion: You can use this tool to convert your file for the Unlimited number of time.
Supports All MBOX File: This tool supports MBOX file of all emails clients such as Thunderbird, Apple Mail, Gmail, etc.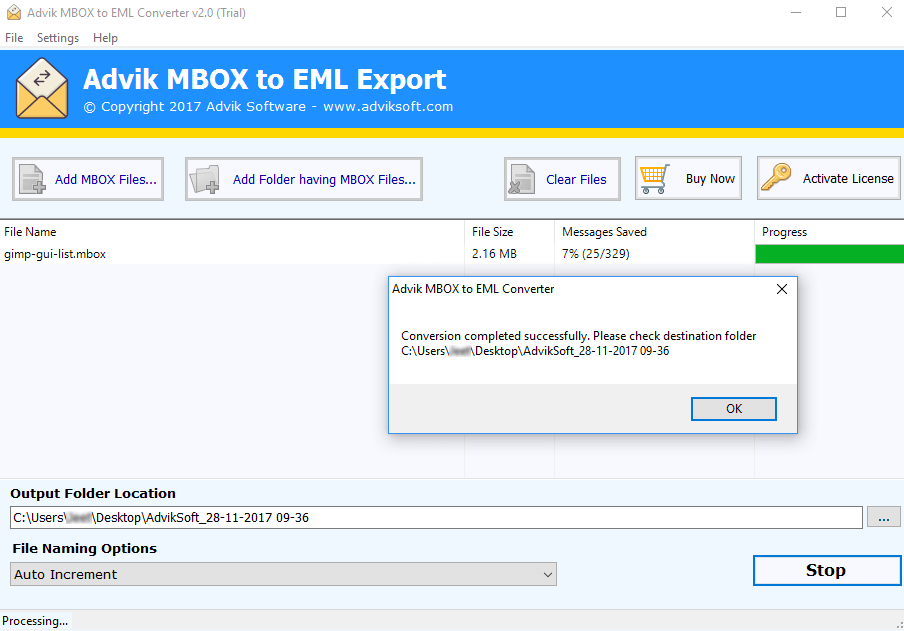 Final Words: This is the easiest way for MBOX to Windows Live Mail migration. You can also download this tool for free to check it's efficiency.