Import Windows Live Mail to Outlook.com – Top 2 Methods
"I am a regular user of WLM email client but unfortunately, I am got getting any support from Microsoft. As this email client is outdated. Now, I had decided to migrate emails from Windows Lvie Mail to Outlook.com. Is it possible to transfer or move Windows Live Mail folder into Outlook.com account?"
"How do I import Windows Live Mail to Outlook.com with complete emails and folders? There are approx. 12k email messages stored in my WLM client. Kindly help me in copying email to Outlook webmail account."
I guess you are also facing the same issue, don't worry! In this article, we are going to learn how to transfer emails from Windows Live Mail to Outlook.com (webmail account).
Ways to Export Windows Live Mail Folders to Outlook.com
Currently, there are 2 easy and simple ways for this task. The same will be discussed in the below segment.
Method 1. Using Advik Windows Live Mail Converter (Direct Solution)

Method 2. Using Outlook Configuration (Manual)
We are going to try both methods in this article. Stick to the article to find out which solution is best suitable for your requirement.
Method #1. Import Windows Live Mail to Outlook.com In Seconds
Take the help from the Advik Windows Live Mail Converter tool for instant migration. The software is smart and powerful enough to migrate and copy emails from Windows Live Mail to Outlook.com Webmail account. You need not to follow and manual steps. It will allow you to select email folders that you want to transfer into an Outlook webmail account. Apart from this, the software is loaded with dozens of advanced features like;
Steps to Copy Windows Live Mail Emails to Outlook.com are as follows;
Step 1. Run Advik Windows Live Mail Converter tool.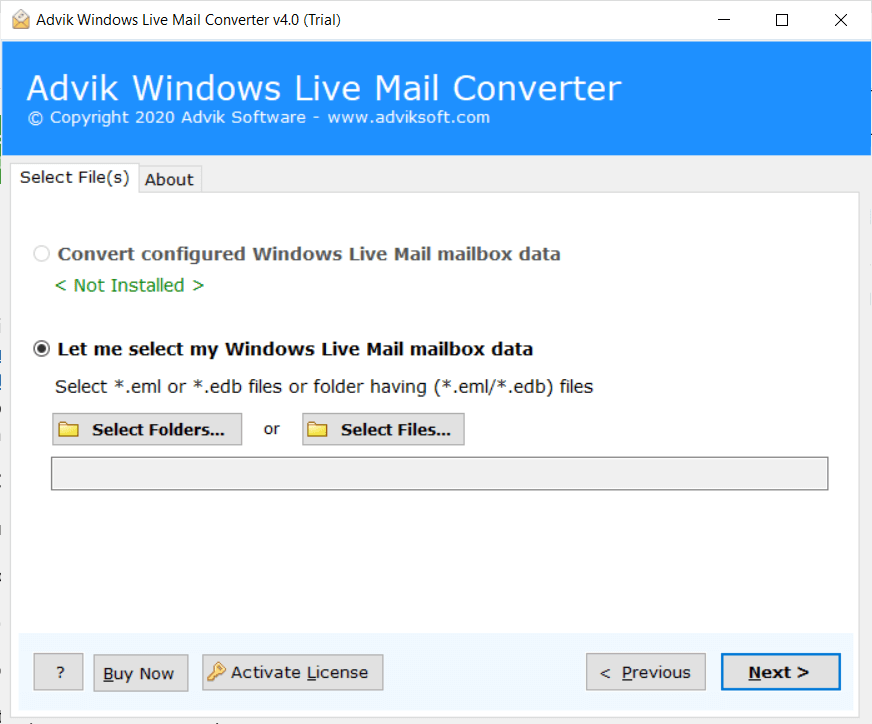 Step 2. Click "Select Files" or software will automatically detect WLM configured data.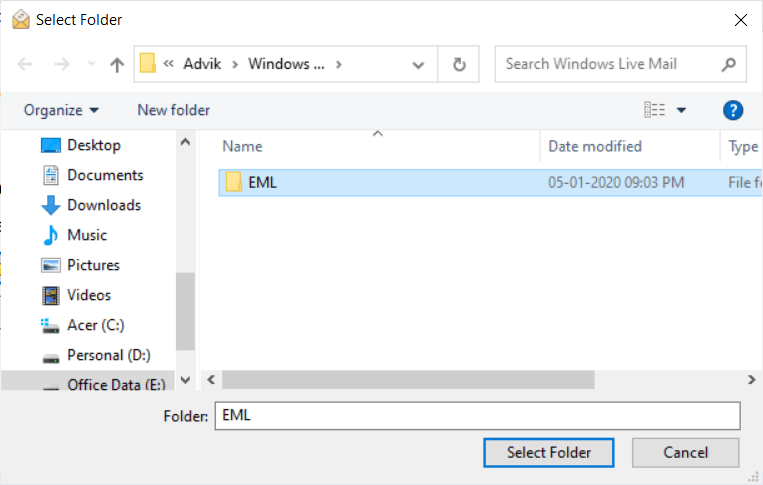 Step 3. Add Windows Live Mail data file (.eml files) and click Next.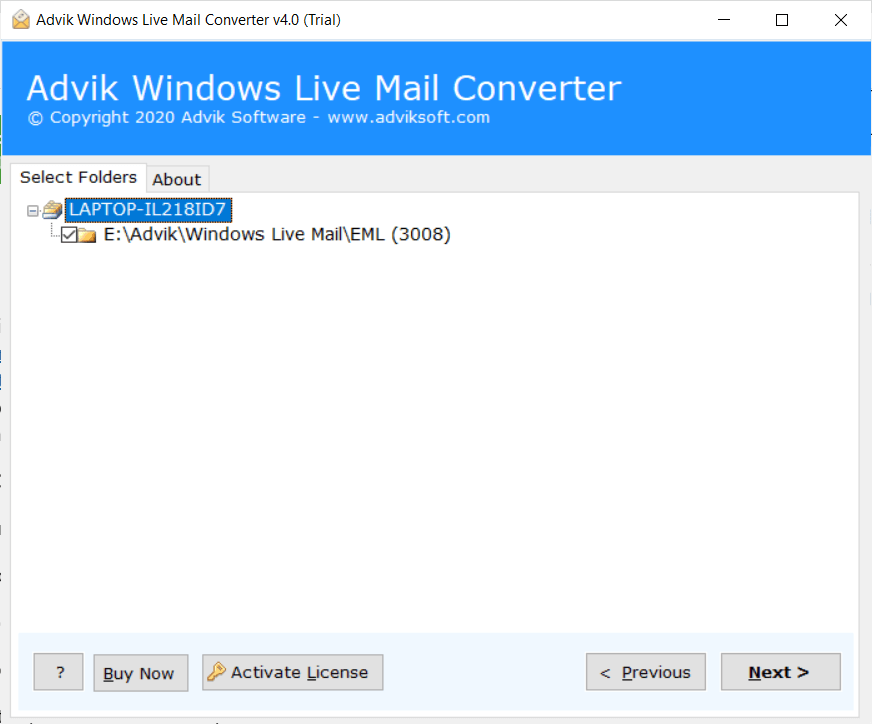 Step 4. Choose Outlook.com as a saving option from the list.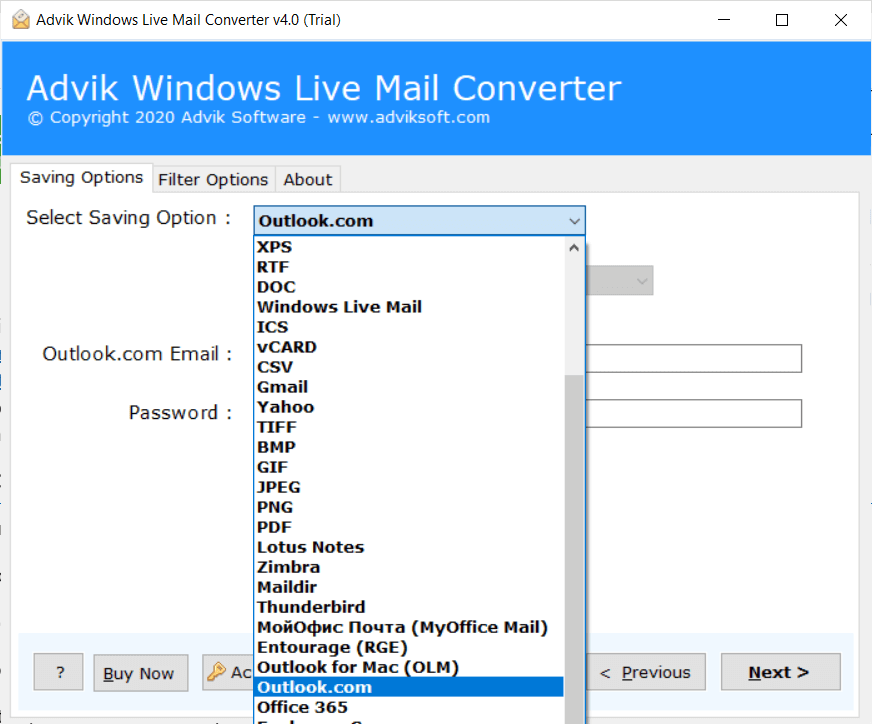 Step 5. Enter your Outlook.com login credentials.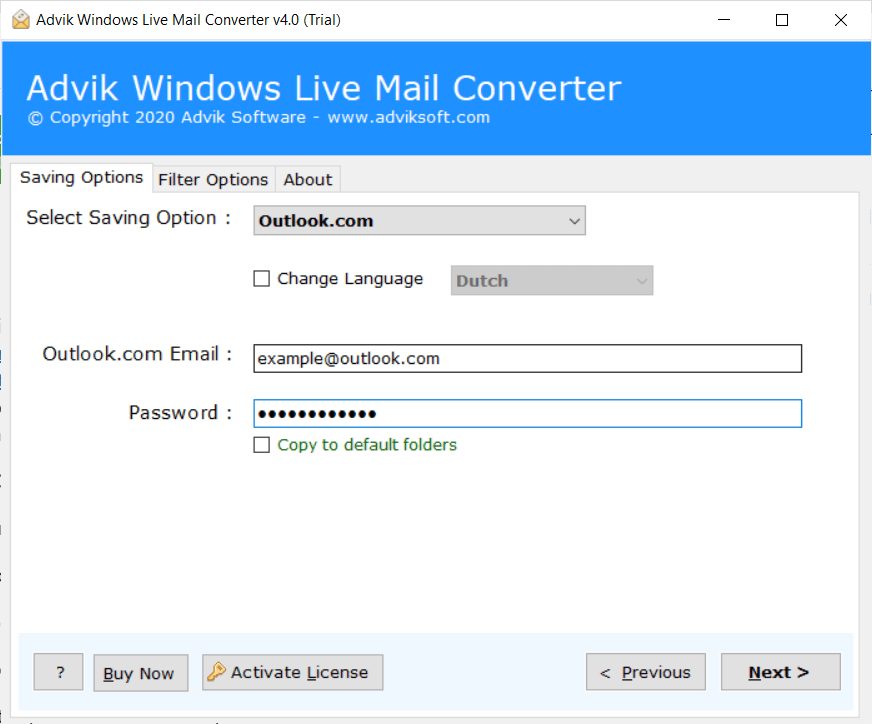 Step 6. Apply email filters if required. (Optional)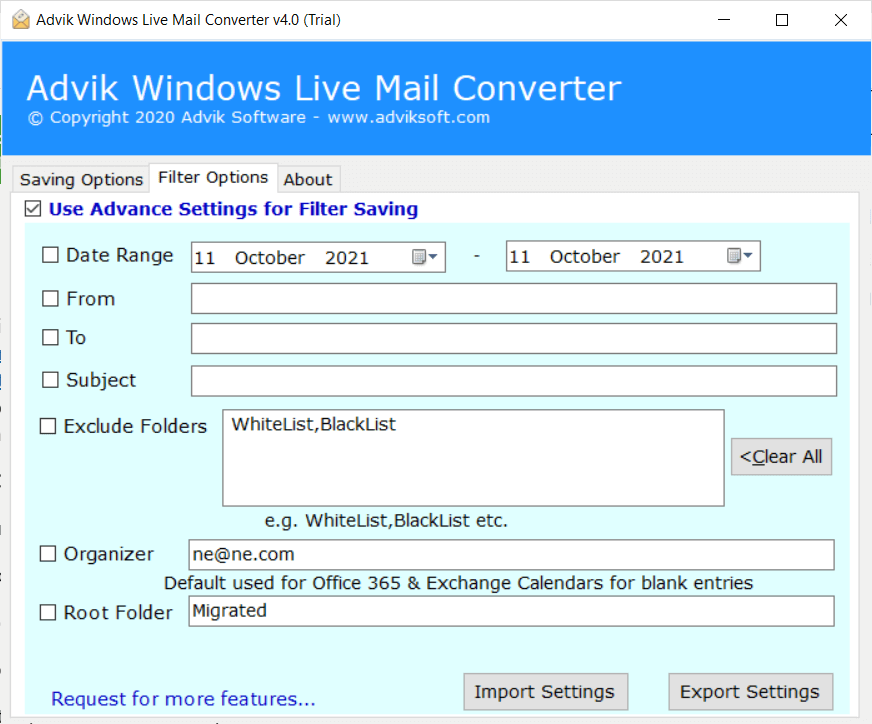 Step 7. Click the Convert button to start email migration process.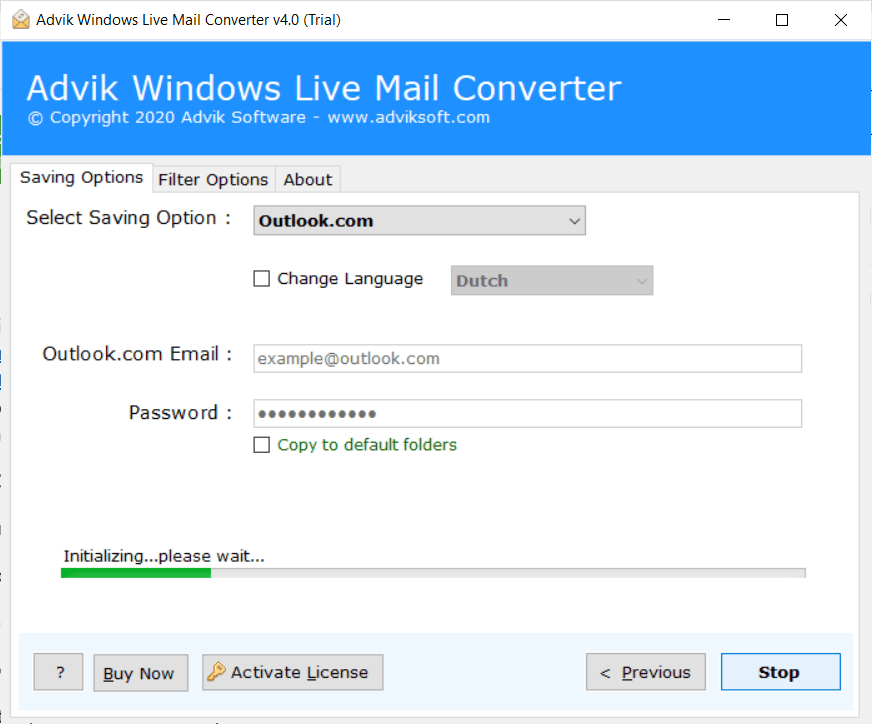 Done! The software will automatically transfer Windows Live Mail to Outlook.com.
Method #2. Migrate Windows live Mail to Outlook Webmail Manually
In this tutorial, we are going to follow manual configuration steps to import Windows Live Mail folder to Outlook.com. This solution is completely free but has few complications like high risk of data loss, time-consuming and not adoptable in few environments.
Steps to Import Windows Live Mail to Outlook.com are as follows;
Open Windows Live Mail client in your pc.
Go to menu >> Export >> Export messages.
Windows Live Mail will export all emails in .eml files.
Now open MS Outlook in your system.
Configure your Outlook with outlook.com email account.
After configuration, open Outlook dashboard.
Create a new customised folder.
Now drag and drop folder having .eml files into Outlook (in customised folder).
Afterthat, move emails from customised folder to Inbox folder of Outlook.com
Outlook will now copy Windows Live Mail email files in Outlook.com account.
Done! This is another way to import emails from Windows Live Mail to Outlook.com Online account.
Want to Skip Manual Efforts? Download The Software Now
The fast and effective way to export emails is by choosing Advik Windows Live Mail Backup Tool. The software ability by copy emails from WLM to Outlook.com is incredible. It offers dozens of saving options and migration options.

Conclusion
We had learn the top 2 best methods for converting WLM emails into Outlook.com account. As you had noticed the manual technique is quite complicated and time consuming. Thus, in order to perform safe email migration, you can choose Advik Windows Live Mail Converter – trustable and 100% safe solution. This software is programmed to export/convert/migrate WLM profile data to cloud in no time.
Also Read : Import Windows Live Mail to Outlook
Frequently Asked Questions
Question 1. Which method is time saving?
Answer. As you can see manual method seems quite complex and time consuming. Thus, Using Advik GoDaddy Backup tool would be a nice choice in order to execute instant and safe migration.
Question 2. Will the software preserve email elements?
Answer. Yes, the software will preserve all email attributes and key elements of emails like cc, bcc, date, subject name, attachments, etc.
Question 3. I want to copy emails which I had received in Outober month, will I able to do that using Manual solution?
Answer. No, manual technique will not help you to export specific emails. You can choose the software for this task. You will get Filter Option where you can apply date range filters.