How to Open OST File in Outlook 2016, 2019, 2021?
Are you looking the best approach to Open OST file in Outlook? Do you want to know how to add OST File in Outlook 2016? Do not worry as this blog will discuss some of the easiest methods to open OST File in Outlook 2016/2019/2021. If you are thinking to open OST files and wonder how you can do that without compromising your mailbox items, we will guide you on how you can open OST file in Outlook.
Microsoft Outlook is the most widely used desktop-based email client application enjoying the position of increasing popularity. Everyday, more and more users are option for Outlook due to its upgrading feature and attractive user interface.
How do I open an OST file in Outlook 2016? Basically, you can read or open OST file in Outlook by converting .ost into .pst format. As there is no other solution is available right now. Since the OST file that being moved are created is not possible to open directly. Hence, some third-party tools are capable of making it possible to open.
Expert Solution: What program opens OST files? The, Advik Outlook OST Converter will be an ideal solution for you. It is one of the most recommended solution to read Outlook Data File. Fast and Easy Solution to Open Orphaned OST File in Outlook 2019, 2016 etc.
Overview of OST and PST File Format:
PST stands for Personal Storage Table, which stores all of the personal folders and other email data associated with a configured email account. The PST file format is the most widely used and is easily accessible by MS Outlook.
OST stands for offline storage file. When a user selects "Cached Exchange Mode", MS Outlook saves a single copy of mailboxes and email messages in a file with the.ost extension. Which is usually found at C:UsersAdminAppDataLocalMicrosoftOutlook, where all OST files that are configured by any email accounts to Outlook can be found.
Can't open OST File in Outlook 2016? – Know Here
When an email account is configured in Microsoft Outlook, an .ost file extension is created for that email account. Outlook does not import the OST file directly due to security concerns. However, the PST file format is easily accessible and can be directly imported into Microsoft Outlook.
It is not possible to open an OST file directly in the system if the user wishes to open it on another computer. The user must either configure the email client to generate a new OST file or convert the OST file format to PST format. The converted OST file can then be easily imported into MS Outlook in PST format and users can easily able to import items from an offline outlook data file (.ost).
How do I Open an OST file in Outlook for free?
You can use third-party tool like Advik OST Converter to open OST file in Outlook 2016/2019. The program converts inaccessible or orphaned OST files into Outlook-compatible formats. It can also directly export OST mailbox items to an existing Outlook profile or a new PST file.
Users can also import OST to Outlook 2021 from an offline location using a variety of methods. However, experts recommend this convert OST to PST as the best method and most recommended solution. Although there are many providers of this types of software in the market, not all of them provide secure and reliable conversion.
However, this tool is best for importing an old OST file into a new Outlook profile is the most highly recommended by experts. It enables users to complete long, exhausting, and difficult tasks with ease while preserving vital data. Users can convert their entire mailbox, including emails, calendars, contacts, and other items, into PST format, and then export the file.
The software makes the entire process simple and straightforward. Users can also try the tool's FREE Trial Version, which allows them to export 25 items per folder.
Follow the below Steps to Open OST File in Outlook 2016;
Install and run Advik OST Converter on your PC.
Now, after you launch this software, Click on the "Select File" or "Select Folders having OST File".
As soon as you click on these buttons, you will be redirected to browse OST Files.
Now, Choose the required folders that you wish to export it into PST file format.
Select "PST" as a saving option from the list of multiple options.
Thereafter, choose desire destination path to save the resultant PST data file.
Finally, Click on the "Next" button to start OST to PST File conversion process.
You now have a PST file, with this detailed explanation of the OST file conversion process.
To access this PST file, open Outlook and select Import/Export from the File menu. Then, the OST file which is now converted into PST File will be successfully imported into Outlook and you can easily able to open OST File in Outlook 2016. Your task of opening another user's OST file in Outlook has been successfully completed.
Steps to Open Outlook PST into Outlook are as follows;
1. To begin, open MS Outlook and go to the File Tab >> Open & Export >> Import/Export.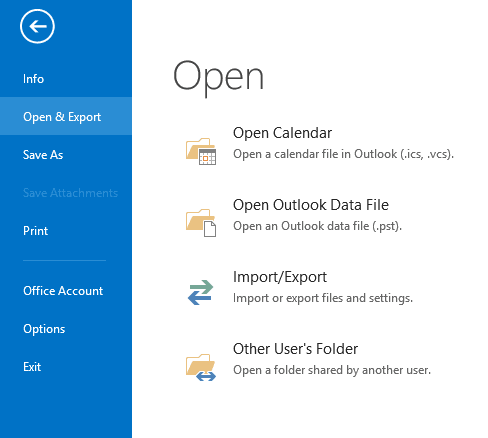 2. From the drop-down menu, choose "Import from another program or file" option.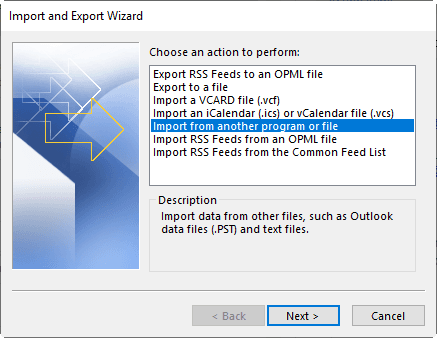 3. Next, select "Outlook Data File(.PST)" from the drop-down menu.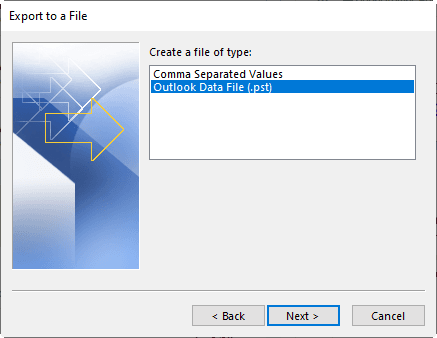 4. Now choose which files or folders you want to export.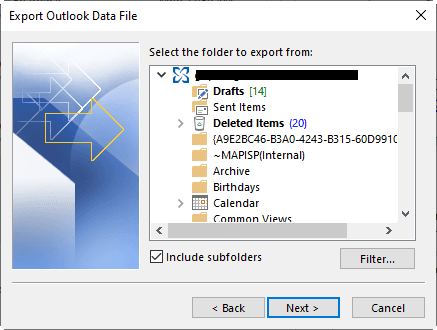 5. To open PST file in Outlook, select the desired location to save the converted file and then select the Finish icon.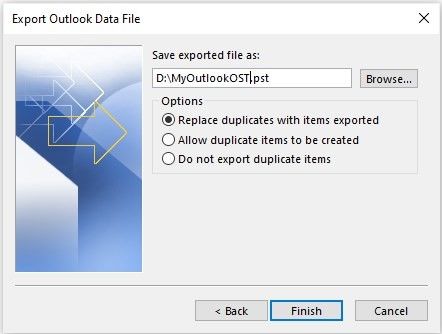 Remarkable Features of Advik OST Converter Toolkit
The software uses advanced technology to allow users to open OST File in Outlook 2016, including all attachments.
Users can convert Outlook OST emails to PST format in just a few clicks with the help of the OST converter.
The software can convert OST files from Microsoft Exchange Server / Outlook 2019, 2016, 2013, 2010, 2007, and other versions to PST files.
The best part is that the software allows you to preview OST folders before converting them. To convert OST file, the user can mark or select the required folders as per their choice.
With this software, you can open OST file without Outlook as well.
The main benefit of using OST Converter is that users can use the "Use Recovery Mode" option to recover corrupted OST files. Furthermore, the application it allows users to recover corrupted OST files as well.
The OST Converter tool works with all types of OST files, including encrypted, password-protected, compressible, and large ANSI and Unicode OST files.
import items from an offline Outlook data file (.ost) in Outlook 2019/2016/2013/2007
Final Thoughts
In this article, we have discussed the easiest and flawless solution to open OST File in Outlook 2016/2019. The good thing about the application is that it allows to save OST file to PST file format in just few simple steps. Apart from it, the user interface of the application is very easy to that even any non-technical person can perform the conversion without facing any issue.