[Solved] How to Repair Corrupt EML Files?
Summary: If you are looking for an advanced EML file recovery solution, you are on the right blog. In this article, we will discuss how to recover and repair corrupt EML files with simple and easy methods.
Similar to other data files, these EML files are also prone to corruption and corruption. When EML files get corrupted, these files become inaccessible. This in turn can lead to inaccessibility of EML file data elements like emails, contacts, calendars, tasks, etc.
Quick Solution: In this blog, we will discuss the various reasons leading to EML file corruption and the methods by which we can recover data from corrupt EML file. Explore best solution for fixing corrupt EML file using Advik EML Converter tool.
An Overview of EML File;
EML file format separates each email or message into its own file. EML files are text files (MIME format) that can be opened in any text editor, including Notepad. This format is supported by a wide range of email servers, clients and apps including GroupWise, Lotus Notes, Outlook Express, Postbox, Windows Mail, Mozilla and Thunderbird. In addition, EML messages can be opened in both Exchange Outlook Web Access and Internet Explorer by changing the extension to MHT.
Read Also: Unable to Open .eml file in Outlook 2016
Why EML Files get corrupted?
EML files are prone to corruption due to various factors such as Virus attacks, shutdown issues, system crashes and poor installation can cause EML files to become corrupted. On a windows based system, the following are some of the most common EML errors:
If the EML file is larger than the maximum size, it is more likely to get corrupted.
Sharing documents over a network.
Terminating and stopping the email client application in an erroneous and ineffective manner while the process is running can also corrupt the EML file.
Any hardware damage or hardware-related issue.
EML file may be corrupted by malicious malware attack.
EML file corruption can be caused by a variety of factors.
Now let's see some methods to repair corrupted EML files. To do this, use the procedures below.
Methods to Repair Corrupt EML Files – Top 3 Methods
If you have concerns about inaccessibility, you must act quickly to resolve the issue. Manual solution and third-party tool-based solution are the two main options to repair corrupt EML files in the most effective way.
In this section, we have discussed three ways you can use to recover data and repair corrupt EML files. Many experts prefer third-party tools because they can be used by users with the least technological knowledge.
Solution 1. Manual Method to Repair Corrupt EML Files – Using "Windows System Restore" feature
You can recover the inaccessible EML file using Windows System Restore feature. In order to recover your EML data, you need to follow the following steps:
First, log in as an administrator. (for multiple users)
From the Start menu, choose Program and Accessories.
Go to "System Tools" and select "System Restore" from the drop-down menu.
In the restore options window, select "Restore my computer to an earlier point in time" and click Next.
In the next box that appears, click on a restore point list and then select "Next" to recover all your EML files and all the data in them.
Limitations of Manual Solution:
The manual solution has various disadvantages and these limitations can lead to more critical situations during task execution. Therefore, when you manually recover corrupted Outlook PST files, this disadvantage may bring you troubles.
The user may not get a satisfactory result from the process.
It is possible to get a runtime error.
This is a long and complex process.
Technical skill is required to accurately complete the process.
There is no 100% guarantee that all your data will be recovered from the corrupted EML file or not.
The EML file format is the most commonly used file format and can be opened on a variety of platforms. The above manual method can be used to fix EML issues and repair EML files in general. If the above manual fails, you can use a third-party program to recover EML files.
Method 2. Reliable and easy way to fix EML file corruption errors
Recovering data from corrupted EML files is not a task that can be done manually as it requires technical expertise. Therefore, third-party solutions must be used to repair corrupt EML files effectively. As using manual solutions only wastes your time and effort and also fails to bring you satisfactory results.
One such software is  Advik EML Converter to repair corrupt and inaccessible EML files. After recovering data from a corrupted EML file, users can save the data in a new and healthy EML file. Also, it preserves data integrity and originality after recovering data from corrupted EML files.
Steps to Repair Corrupt EML files via Automated Tool
After knowing the reasons and the best solutions to fix corrupted EML files, now the question arises how to use this tool to recover data from corrupted EML files. So, go through the steps mentioned below to know the working steps of this tool.
1. First install this tool and run it in your system.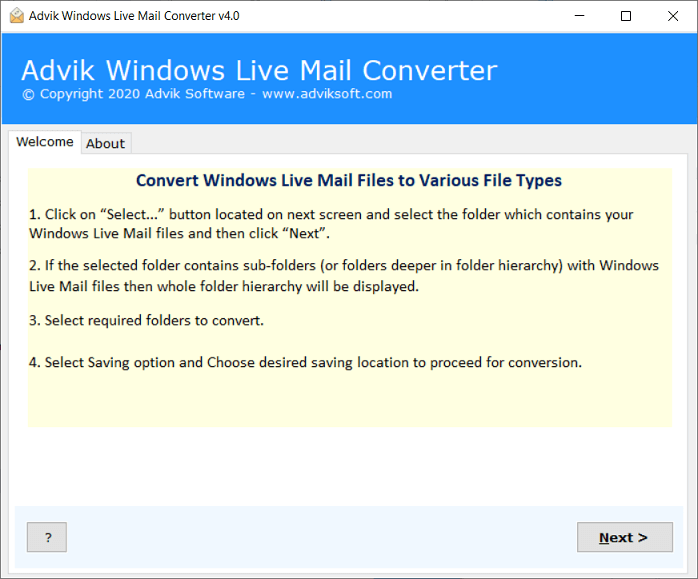 2. Now click the "Select files" button to add corrupted EML files to the software panel.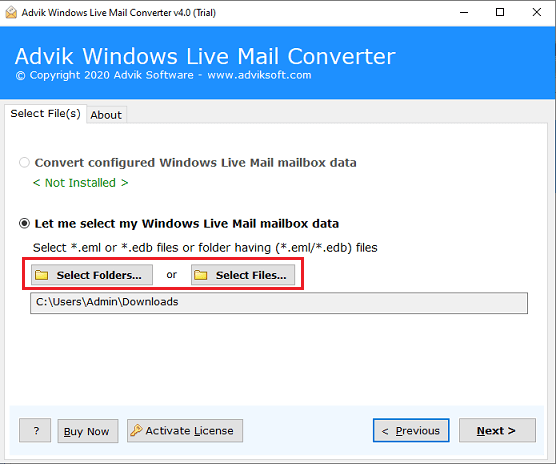 3. Browse and open the EML file and select the required data you want to export to a new EML file.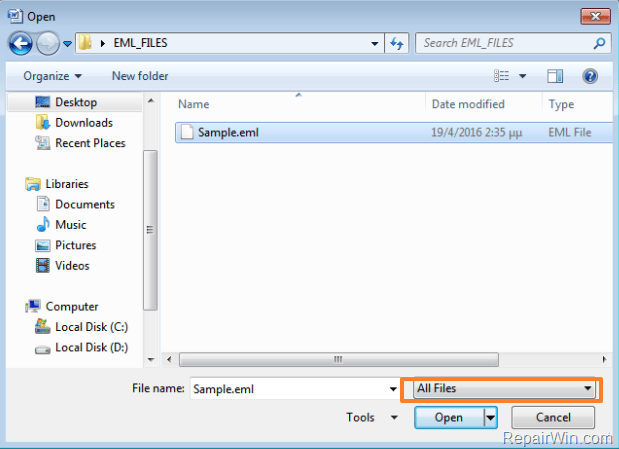 4. From the list of different options, select "EML" as the saving option.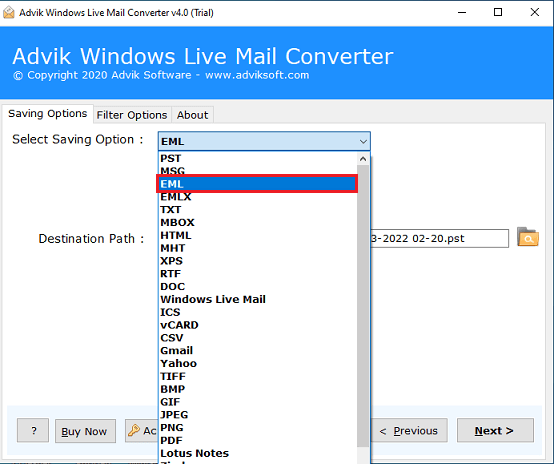 5. Choose the desired destination path to save your resulting data.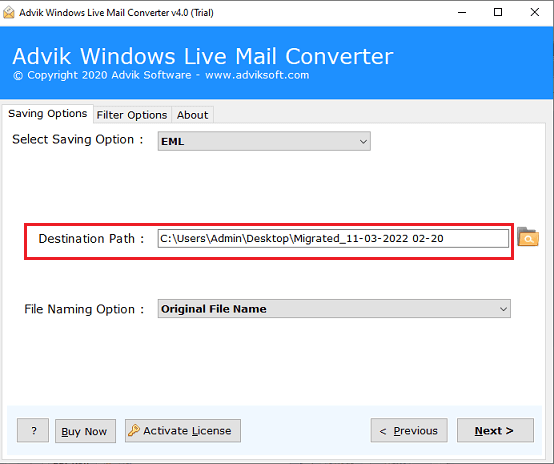 6. Finally, click "Convert" button to start the data recovery process.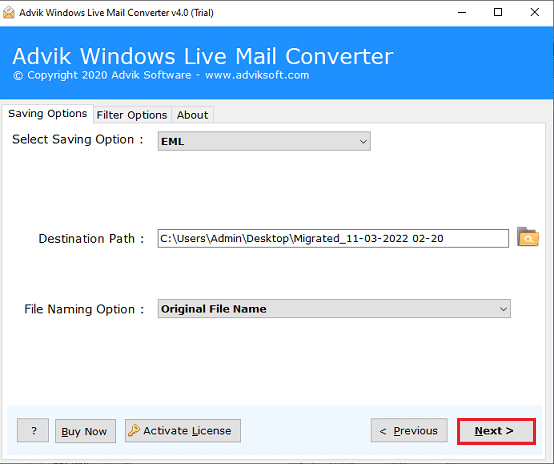 You can now see that this tool is capable of recovering or repairing corrupted EML files so easily and efficiently.
Now we will show you how to convert EML to PST to open your EML files in Outlook. If you convert your EML file to a PST file and open it in Outlook, there is less chance of data corruption.
Method 3. Most Trusted Method to Recover data from Corrupt EML files
It is the most reliable technique to quickly resolve EML corruption issues. EML to PST Converter can efficiently and effectively help you repair corrupt EML files and recover every bit of your data without modifying it. Besides, you can use this tool to convert EML to PST, EML, MSG, PDF, DOC and all other popular formats if you want to transfer your data to other file formats.
That's how it works:
1. Install and run the software on your system.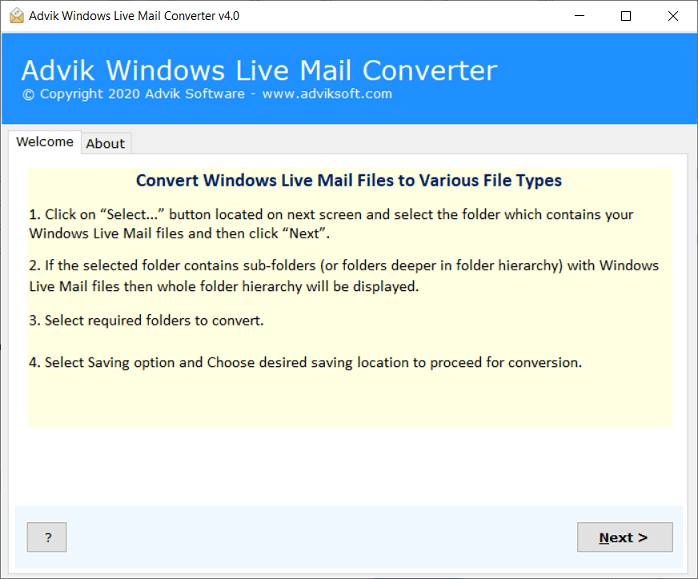 2. Click on the "Select Files or Select Folders" option and upload the EML file to the software interface.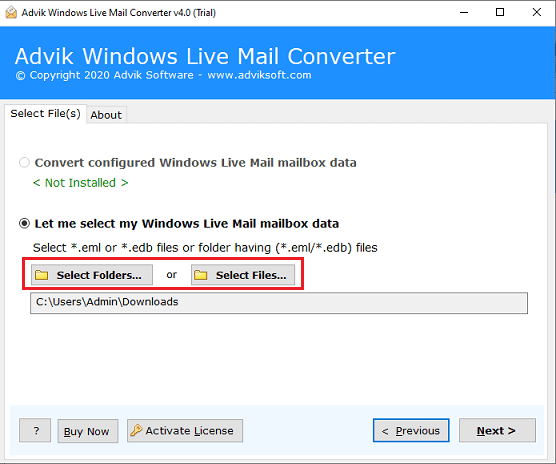 3. Now this tool quickly retrieves all EML mailbox folders on the right side. Select the necessary folders you want to recover and click on the "Next" button.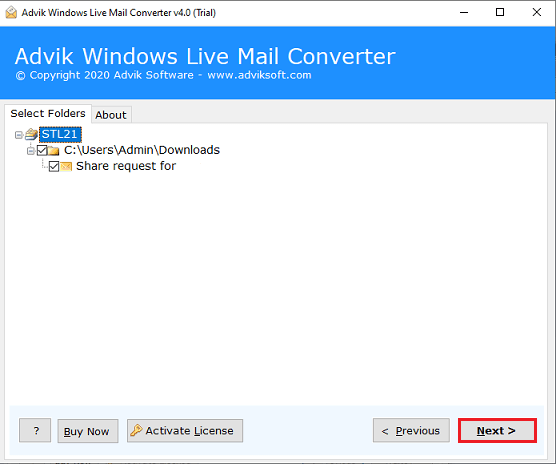 4. Choose "PST" as saving option to convert EML to PST.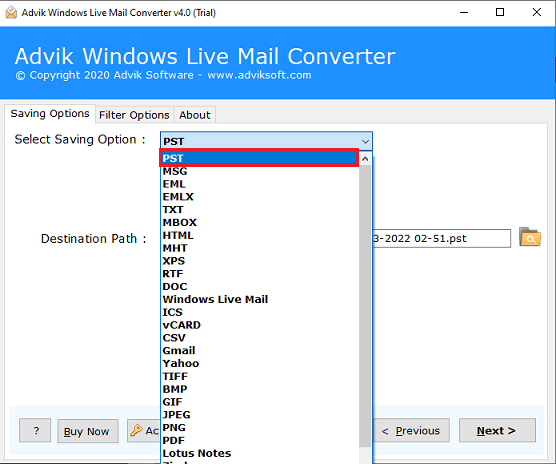 5. Specify your desired location to save the data of your choice.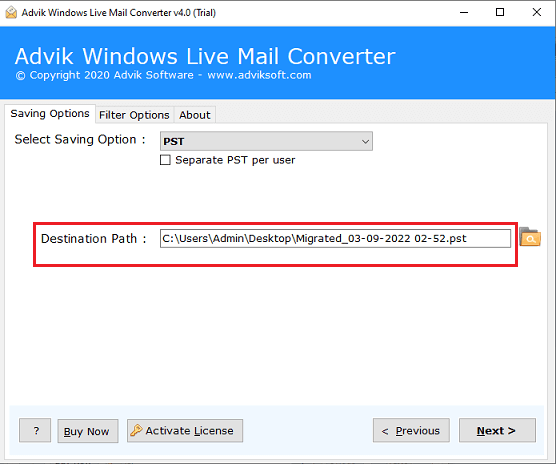 6. Finally, click "Convert" button to start the EML to PST conversion process.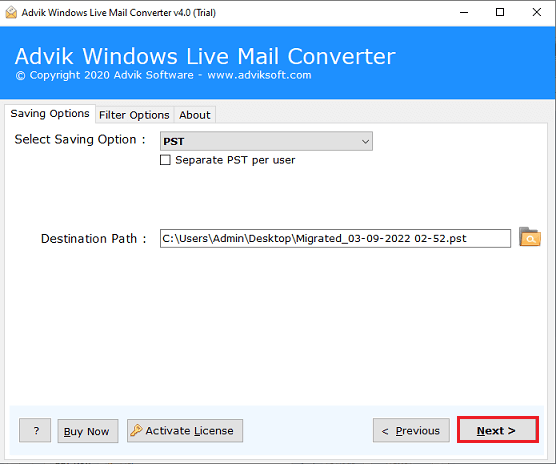 Done!! The EML files will be saved successfully in PST file format in the location you chose.
Conclusion
The methods listed above are the most effective ways to repair corrupt EML files. The manual technique cannot be trusted whether the corrupt file is repaired or not as it is the only manual strategy. Nobody wants their important files to be modified. One should always choose a method that is safe and offers the highest level of data security. It is necessary to use an alternative EML Repair Tool. This software is more reliable and user-friendly.