How to Restore Deleted Videos from Pen Drive? – 2 Simple Methods
"Recently, I was working on my laptop and ejected pen drive to transfer files. While I was transferring files, I noticed that I mistakenly deleted my important videos from my pen drive. It was from one of the important videos. I tried everything I could think of to get it back, but nothing worked. Can someone please tell me how to restore deleted videos from pen drive? suggestion would be greatly appreciated."
It can be shocking to lose important data from a pen drive, especially if there is no backup. Furthermore, we cannot avoid losing data due to our careless blunders, such as moving files from a pen drive to a computer and then unplugging them from the system. In this article, we will give you some best methods to restore deleted videos from pen drive.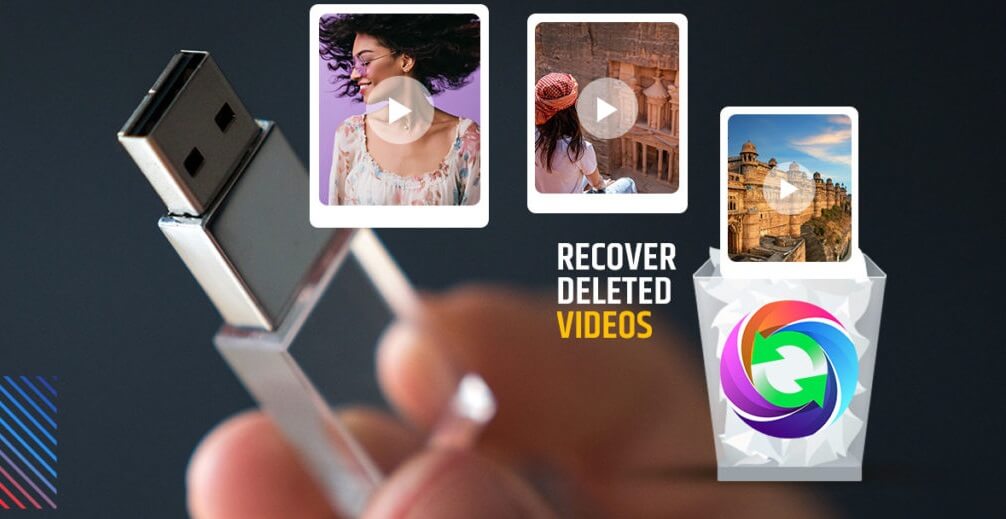 How can I recover deleted videos from Pen Drive? You can try Advik Pen Drive Recovery Software to restore videos without wasting a second.  It scans the drive and recovers lost files. First, you need to connect the pen drive to your computer and launch the software. Select the pen drive as the target location for scanning and initiate the scan. Once the scan is complete, the software will display a list of recoverable videos then select the ones you wish to restore, and press the Recover button to complete the recovery process. With this tool, users can also recover deleted photos from SD card, Pen drives, etc.

Most Common Reasons for Pen Drive Data Loss
There are several reasons that lead to the loss of important data files. However, regardless of the cause of the Pen drive data loss, you need to ensure that the Pen drive you are using is being handled properly. 
Pen drives are the most adaptable storage devices. It is also used for storing images, mp3 files, documents, or videos. However, we cannot deny that these external devices are susceptible to a variety of corruption issues and malware that makes the data inaccessible. 
To understand the following reasons in detail to avoid any further loss of data:
Unintentionally deletion of files:

It is possible that we accidentally delete our data while we are busy with our work. Accidental deletion of files due to human errors. It is a human tendency to make mistakes that can lead to temporary data loss and even these small mistakes sometimes cost us a large data loss.

Malware attack:

Sometimes files are also deleted from external hard drives due to virus or malware attacks. If viruses, Trojan horses, and other malicious programs enter our pen drive, it makes it inaccessible to be opened. and as a result, it erases our data from it.

Unfavorable circumstances:

We cannot predict the situation in the near future. Some situations are so unpredictable that we can't even think about these kinds of conditions coming our way. This leads to a huge loss of data. As if we are using our laptop and if it is overheating then it may result in huge data loss. Almost all pen drives can handle temperatures ranging from -13 to 185 degrees Fahrenheit. Older pen drives are more sensitive to heat damage.

Failure of hardware:

if we are using an outdated system, then the chances are high that we lose our data while transferring our files from our system to the pen drive. Hardware failures with 42% frequency take the first place among the most common causes of data loss in pen drives.

Software Bug:

It is a flaw in a computer program or system that causes it to generate an inaccurate or unexpected result, or act in an unexpected manner. This way the ejected pen drive also results in huge data loss.

Power Outages:

Sudden power failure of our system will also damage our Pen drive if it is ejected at that time. It creates an inability to access data.
How to Restore Deleted Videos from Pen Drive?
Before you start to recover deleted video files from USB drive, you should confirm the little things when you lose your data. You should stop using the pen drive and don't add new things to it. The further addition of data in a pen drive might increase the chances of difficulty in restoring the data.
Below are some of the easiest methods to recover deleted videos from pen drive.
Using CMD Prompt.
Method 1. Recover Deleted Videos from Pen Drive using CMD Prompt
If you have mistakenly deleted your files from a pen drive, then this manual method might be useful for you. You can repair the drive and recover all of your lost data. First of all, you need to format your pen drive before using it.
1. Connect the pen drive to your computer working normally.
2. Search "cmd" in the command prompt.
3. Enter "chkdsk F: /f /r" and hit enter to move further.
Wait for a while till the process ends and your pen drive data will recover.
Note: Let me tell you something regarding "chkdsk E:/f/r". In this series "E" denotes the drive letter of your pen drive, "f" denotes the command that fixes the pen drive errors which are found through CHKDSK. "r" command is used to locate the bad sectors of the pen drive. and all the readable pen drive data can be recovered.
Unavoidable Challenges:
The most challenging thing about this method is that this recovery technique is only available for Windows OS and not for other OS. It is not for beginners as it requires technical knowledge to use this method. Also, there is no guarantee of successful data recovery.
Method 2. Quick Way to Restore Deleted Videos from USB Drive
To overcome the above manual solution, we have an amazing tool that is a stand-alone solution to various data recovery problems. Advik Pen Drive Recovery Tool can recover deleted files like photos, videos, documents, and other multimedia files in no time. This software also guarantees you a successful data recovery. It not only recovers your deleted files from the pen drive but also from other external hard drives, USBs, and much more.
Additionally, it allows you to recover data from Kingston datatraveler USB Drive, SanDisk, Strontium, HP x5600C, and Verilux.  The best thing about this tool is that it gives you a preview of the deleted files before the final data recovery so that you will be satisfied after seeing the deleted files.

 Note: Don't forget to connect your pen drive to recover or retrieve deleted videos from it.
Below is the working process of this tool to understand better.
Run the software on your computer and

select "Deleted Data Recovery" as an option.

The software will show all the connected drives to the system, choose your Pen drive and Tap Next.

Now, it will start scanning the pen drive for the deleted data restoration process.

After the deep scan is complete, it will display a preview of all the recovered files.

Choose the files to recover and click the "save" button. Now Select "Data Recovery Path" to save your files.

Press the "OK" button to start the data recovery process.
Now, that's how you can quickly restore deleted videos from your pen drive with the Advik data recovery tool which is 100% free and secure. 
Conclusion
Hence, you should never ignore the fact that any device is subject to failure and damage that can easily delete your important files. You should always make backups so that you are ready to manage or deal with any type of data loss. Use a safe tool like Advik data recovery software to recover any type of deleted files from any source.