How to Solve "Cannot Export Outlook PST File" Error?
Microsoft Outlook is a popular email client used by millions of individuals and organizations worldwide. It offers various features, including the ability to export emails, contacts, calendars, and other data into a Personal Storage Table (PST) file. However, sometimes users encounter an error message that says "Cannot Export Outlook PST File." This error can be frustrating, especially when you need to backup or migrate your Outlook data. In this write-up, we will explore some effective solutions to resolve the "Cannot Export Outlook PST File" error and successfully export your data.
Why I Cannot Export Outlook PST File? – Reasons
There are various reasons when you unable to export Outlook PST file. Below are some of the errors which are generally caused by Outlook data file corruption and it may create a frustrating problem. As this file stores your email messages, calendars, notes, journals, events, contacts, etc. So, before resolving this error, it is important to identify the cause and then take appropriate action.
Several factors that are explained below are the major causes because of that you are unable to export PST file from Outlook.
PST File Corruption: Corruption of the PST file can lead to this error. Factors such as the presence of viruses or malware on the system, sudden shutdown of Outlook, or improper PC shutdown can all contribute to PST file corruption and subsequent loss.
Exceeded Mailbox Size Limit: If your mailbox has exceeded its size limit, it can create issues with the Outlook program. This can result in the PST file being inaccessible or missing.
Insufficient Disk Space: One of the common reasons for the "cannot export Outlook PST file" error is insufficient disk space on the drive. Ensure that you have enough free space on the drive where you need to save the exported PST file.
It is important to review these causes in order to resolve the unable to export Outlook PST file error and regain access to your Outlook data.
Solutions to Resolve the "Cannot Export Outlook PST File" Error
Now that you know what could have caused this issue, let's learn how to fix the "Why can't I export pst files from Outlook?" error.
Method 1. Repair Outlook Data File
Corrupted or damaged Outlook data file can also lead to export Outlook PST file error. To resolve this, you can use the built-in Inbox Repair tool (scanpst.exe) provided by Microsoft. The tool scans and repairs issues within the PST file.
Open the tool on your system and follow the steps to repair the Outlook data file;
Step 1. Ensure that Outlook is completely closed before proceeding with the following steps.
Step 2. Locate the ScanPST Tool but make sure that location of the tool may vary depending on your Outlook version.
For Outlook 2019, 2016;
C:\Program Files (x86)\Microsoft Office\root\Office16
C:\Program Files\Microsoft Office\root\Office16
Step 3. Double-click on the ScanPST.exe file to launch the tool on your system.
Step 4. Now, enter the name of the file you want to scan in the respective field, and click the "Browse" button to locate and select the PST file you want to repair.
Step 5. Click the "Start" button to begin the scanning process. The tool will analyze the structure and integrity of the selected PST file.
Once the scanning process is complete, the tool will display a summary of detected errors and issues. Click the "Repair" button to initiate the repair process.
Launch Microsoft Outlook and open the repaired PST file. Check if all your data in the PST file are accessible or not.
Read Also: How to Repair PST file without Scanpst.exe?
Method 2. Temporarily Disable Antivirus or Firewall
Sometimes, the antivirus software or firewall on your computer can interfere with the export process which may stop Outlook to export PST file. To resolve this issue, Try to temporarily disable the antivirus or adjust the firewall settings to allow Outlook to export PST file without any problems.
Method 3. Run Outlook in Safe Mode
Starting Outlook in Safe Mode can help determine if any add-ons or extensions are causing difficulties in this export process.
To launch Outlook in Safe Mode, press the Windows key + R.
Then, enter"outlook.exe /safe" in the Run dialog box.
After that, click on the OK button.
If the export works fine in Safe Mode, it indicates that an add-on or extension is the cause of this issue.
Method 4. Uninstall or Update Outlook Application
If none of the above solutions work, it might be necessary to Update or reinstall Microsoft Outlook. It might be possible that you are using a Trial version of the Outlook application, so just upgrade it to the licensed version. Alternatively, you can uninstall Outlook completely and reinstall it.
Method 5. Export PST file from MS Outlook Securely
If you want to export PST from Outlook 2019 then, download and install Advik Outlook OST Converter Tool which is an automated and reliable application. It has the capability to export Outlook emails, contacts, calendars, notes, tasks, journals, and any other data into PST and 30+ saving options. This application also will be beneficial for both selective and bulk export processes. As you can export an unlimited number of emails in PST file also it offers an option to split large PST file into smaller ones.
This utility also offers advanced settings to customize the export process such as the email filters feature to export PST file of selective Date ranges, subjects, to/from, etc. Also, you can use this program to repair PST file whether it is damaged or corrupted they can easily recover them.
Working Steps to Export PST File From Outlook Client
Step 1. Download and run the application on your system.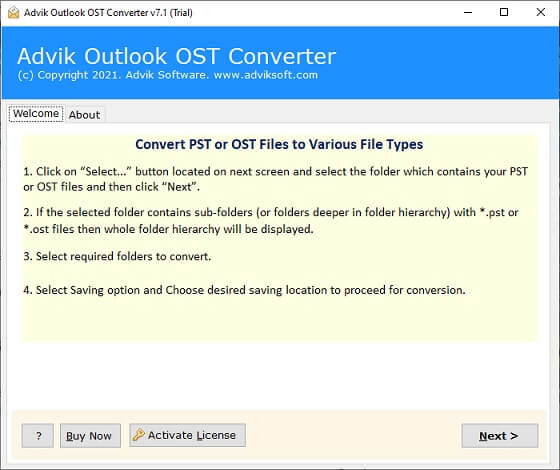 Step 2. Now, the tool automatically loads the data from Outlook, or also users can upload data file manually by the Select Files or Select Folders options. Then, click on the Next button.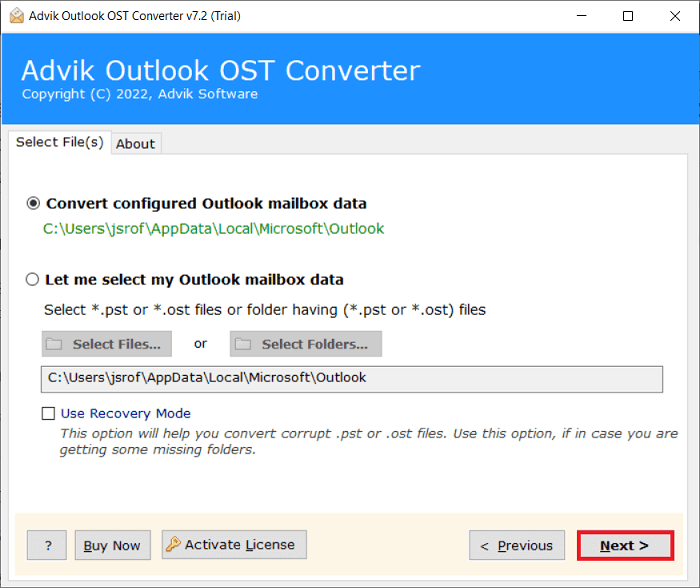 Step 3. After that, all the email folders of your Outlook application will appear on your screen. Choose the required ones and click on the Next button.
Step 4. Then, select PST as a saving option from the list of 30+ different file-formats list.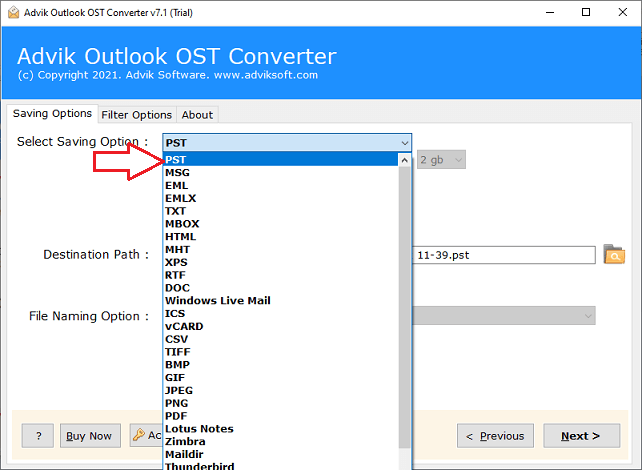 Step 5. Thereafter, browse a location to save the PST file on your desired path.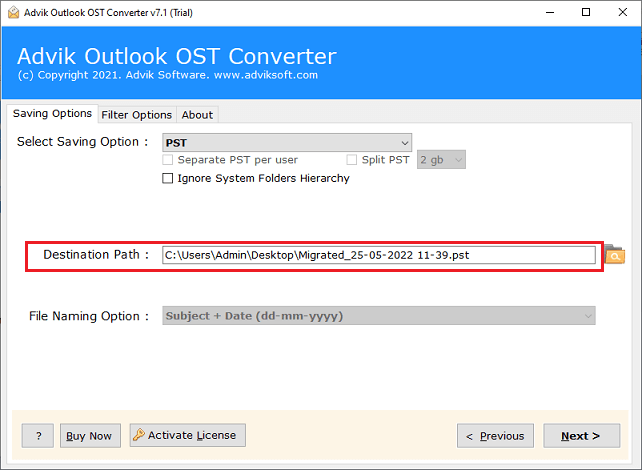 Step 6. Finally, click on the Convert button to start the process in a few seconds.

Final Verdict
We are sure that by now, you will be able to fix the "unable to export Outlook PST file" issue. As you can see, we have come up with different reasons that can cause this PST file export issue and have further discussed several ways to fix it. You can first identify the factors which are responsible for this problem and then take the needed steps to resolve it. We have provided some manual fixes and if they are not working for you can try Advik Outlook OST Converter Tool to automatically configure the Outlook profile from your system and export PST file from it in 5 simple steps only.