Thunderbird to EML Converter – Export Thunderbird Emails to EML
Summary : How to convert Thunderbird to EML with complete Inbox folder? Check out various methods to export Thunderbird emails to .eml files. Stick to this tutorial till the end and convert Thunderbird to EML with attachments. The below section covers manual solutions as well as automation i.e. expert way to execute the email conversion.

Introduction
Mozilla Thunderbird is a free and open-source email application for managing email, news feeds, chats and newsgroups. It is a cross platform email client which is widely used by Windows, Linux and Mac OS users to manage their data. It also provides various add-on functions to customize your email services.
Mozilla thunderbird is most popular among the users due to its extensive features. It is completely free to install and a user can use multiple accounts in it. It saves the mail data box consisting of mail with attachments.
Read Also: Import Thunderbird to Outlook
EML file is one of the most popular file formats developed by Microsoft Outlook and Outlook Express. Many major email clients such as Apple Mail, Thunderbird, Windows Live Mail, etc. support this file format.
Why Do We Need to Convert Thunderbird to EML?
Below are the reasons for the conversion of Thunderbird emails to EML:
Easy to access it offline.

EML files are easily opened in Browsers and text editors.

EML files are compatible with all file formats.
How to Export Thunderbird Emails to EML File?
There are few solutions available for this task. You can drag and drop an email from Mozilla Thunderbird. Also, it offer Ad Ons plugin facility by which you can install third party tools to export Thunderbird messages to .eml files. In the below segment, I had shared 3 ways by which you can save Thunderbird email as .eml file along with attachments. Following are the methods for exporting MBOX files into EML file format:
Method 1. Default Option in Thunderbird Client
Steps to perform:
Open Mozilla thunderbird email client.

Right click on that particular message.

Then, choose Save as from the options list.

A window tab will pop up on your screen in which you have to choose where you want to save it as a folder.

Your emails will be saved in your EML file format.
Method 2. With ImportExport NG Plugin
Mozilla Thunderbird allows users to add the ImportExport NG plugin that can be used to save Thunderbird messages to the EML file format. You can simply Add the add-on from the settings. After downloading it, follow the simple steps:
Open mozilla thunderbird application.

Click on the Tools and then click on Add-ons to add.

In the Add-ons manager window screen, select ImportExportTools under featured add-ons.

Click on Add to Thunderbird for adding ImportExport Tools NG add-on.

Click > Add when prompted to 'Add ImportExportTools NG.

Click on the "Restart now" button.

In Thunderbird Application, Right-click on the folder or a particular message that you want to export.

Click

ImportExportTools NG >> Export all messages in the folder >> EML format.

Choose the folder where you want to save your exported EML files and then choose

Select Folder

.

Open the exported folder from where you save.

Right click the messages folder and select the Path to open a message in your selected application.
Problems You May Face With Manual methods
With manual methods users can face several challenges which are mentioned below:
Risk of data loss in this process

Hierarchy of folders also can change.

ImportExport NG plugin tools

add-on is capable of exporting one folder to EML format at a time. Using this tool, exporting all mails is a time consuming process.
Method 3. Convert Multiple Folders Using Professional Utility
To overcome challanges you had faced in manual solution. Download and install Advik Thunderbird to EML Converter. This software is powerful enough to export entire Thunderbrd emails to EML in bulk without losing attachments. Despite this feature, the software allows you to convert Thunderbird to PDF, MBOX, EML, MSG, DOC, HTML and varioud other file formats.
Follow the below steps to convert Thunderbird MBOX to EML files;
Step 1. Download and install the Advik MBOX Converter software.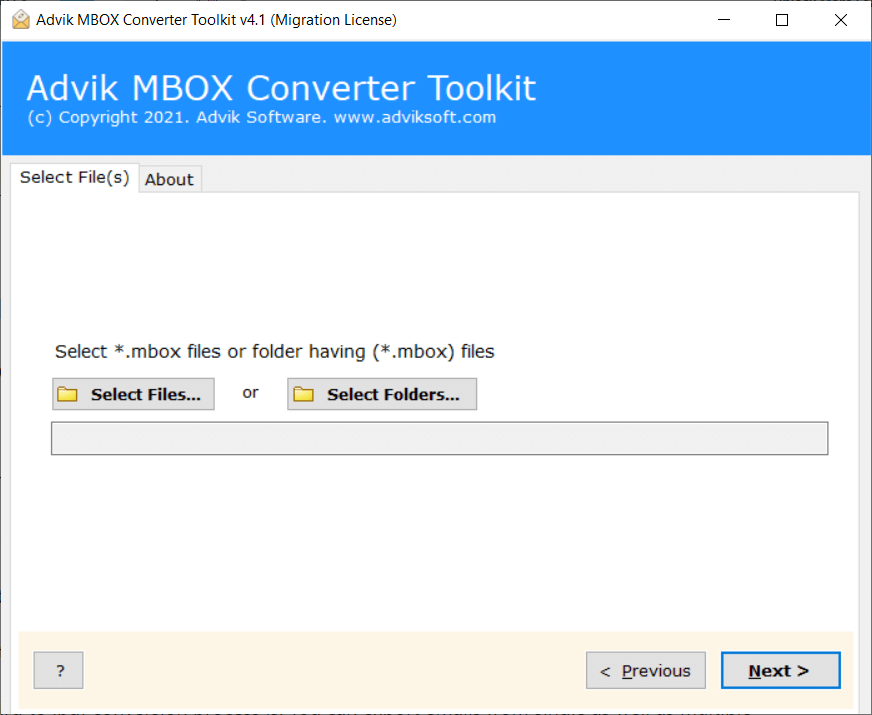 Step 2. Then, browse and search for the MBOX file in the software.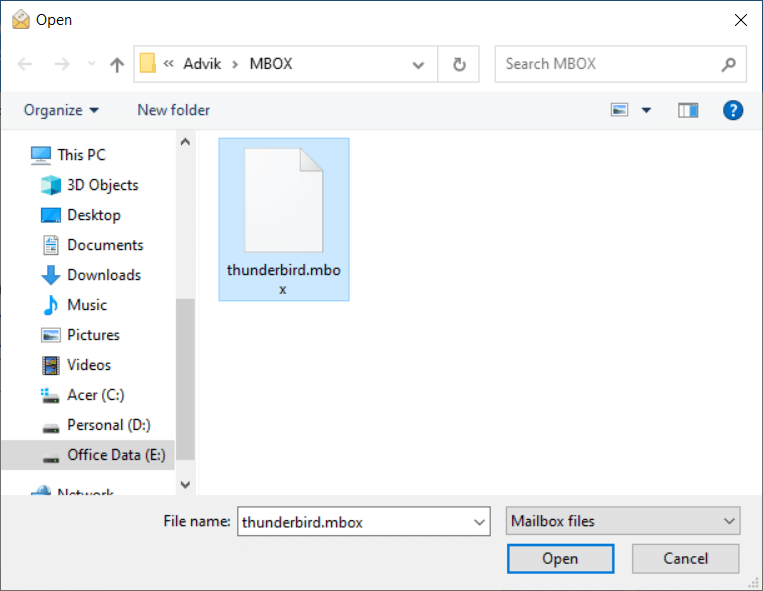 Step 3. Choose the export file format from the list.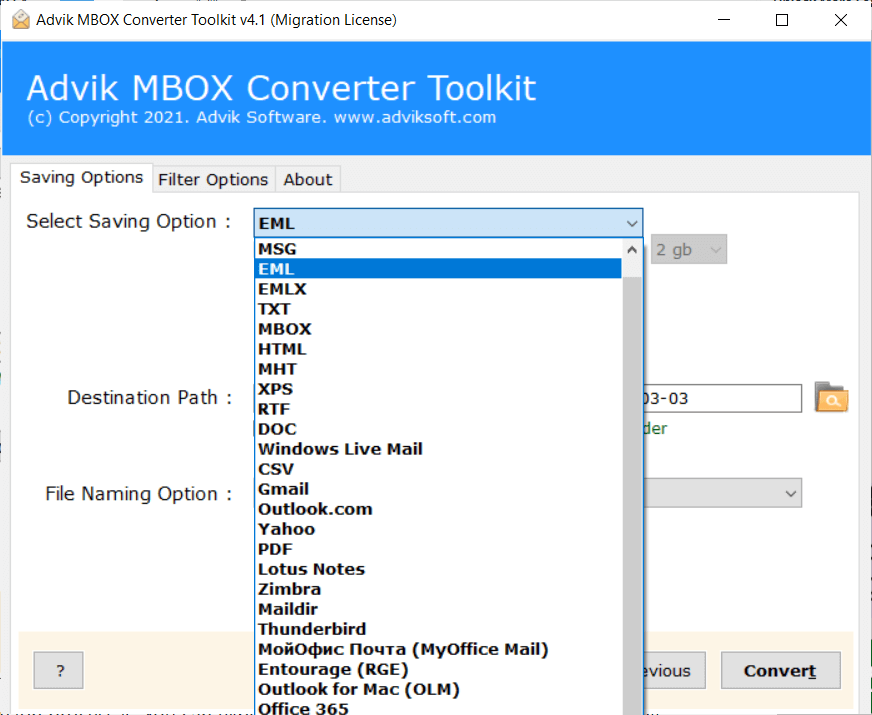 Step 4. You can also filter with advanced filter options.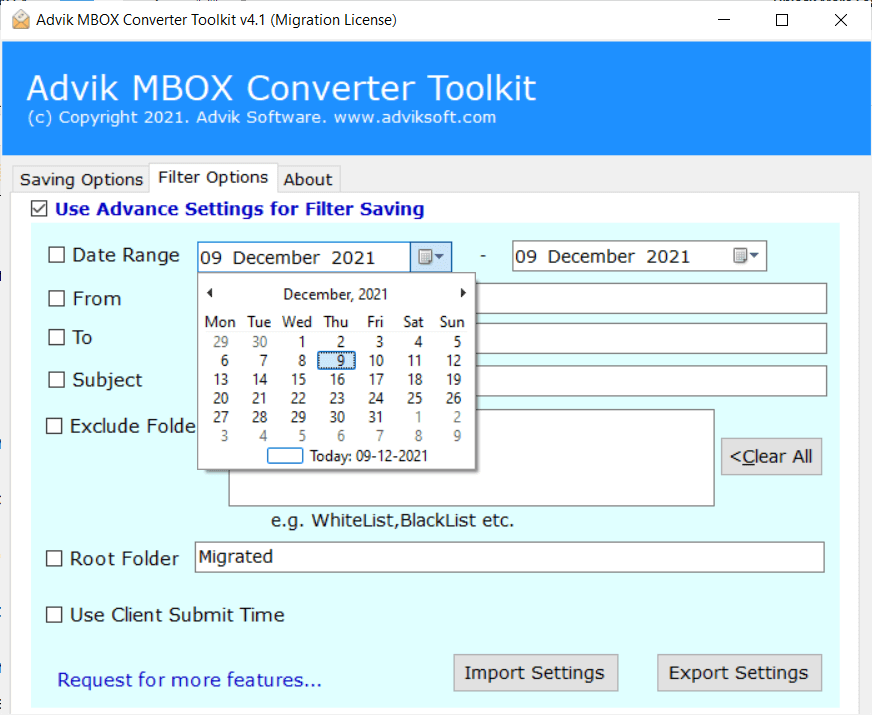 Step 5. Click on the Convert button to start the conversion process.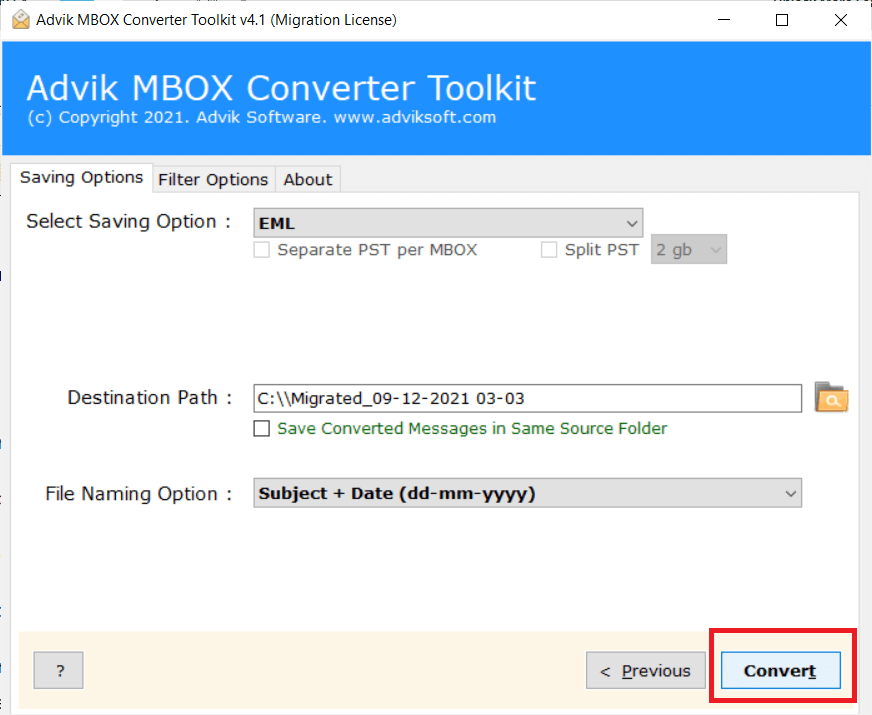 Specifications of this powerful tool
This software efficiently converts all Thunderbird emails (MBOX) to EML file format.

The entire process of converting Thunderbird email to EML file format goes through a quick process.

There is no risk of losing data.

All data that is exported from MBOX to EML file format is stored with 100% accuracy.

This tool is capable enough to export bulky Thunderbird files to EML file format.
Conclusion
As we have analysed that converting thunderbird mails to EML format is a big and complex task and it requires a lot of time in this so you need a good converter tool like Advik Thunderbird to EML Converter Tool to access your files easily.