How to Transfer Google Takeout to New Account?
A few years ago, I had to delete all of my personal data from my Google account. Fortunately, I had previously downloaded all of the emails using the traditional Google Takeout method and now I need to transfer Google Takeout to new account. Kindly suggest to me an effective method for transferring Google Takeout archives to a new account.
Due to the removal of phishing emails from an old Gmail account, I recently used the Google Takeout option. However, I unwittingly deleted some critical emails from my Google account. As a result, I am looking for a way to transfer Google Takeout account to a new Gmail. Could someone please explain how to transfer Google Archive to a new account?
A year ago, one of my coworkers sent me Google takeout files weighing in at around 7GB, which we need to import into the Google account I'm currently using. Is it possible to accomplish this? Is it possible for me to manually archive them?
As we all know, Google Takeout is an excellent way to download Google data to your computer, but it does not allow you to restore those Google Takeout files to your Google account. As a result, many users are seeking a way to Transfer Google Takeout to New Account. So read on to find out the best way to upload Takeout folders to a New Google account.
Way to Move Google Takeout to New Account
Method 1. Using Advik MBOX Migrator

Method 2. Using Manual Technique
Method 1. How To Transfer Google Takeout to New Account
Download and install the Advik MBOX Migrator Tool on your computer. The astute software is the optimal solution for transferring files/folders from Google Takeout to another account. This application embraces all types of mbox files, whether they are created by Google Takeout, The Bat!, Mozilla Thunderbird, Eudora Mail, and other email clients. Furthermore, the software comes with a plethora of features and functionality that will astound you:
Support MBOX files of 25+ Email Application
Convert .mbox files into 20+ Format
Bulk Export MBOX files in single click
Steps To Export Google Takeout to New Gmail Account;
Follow the given steps to Export Google takeout File/ folders to your New google account:
Step 1. Launch MBOX Converter Application into your PC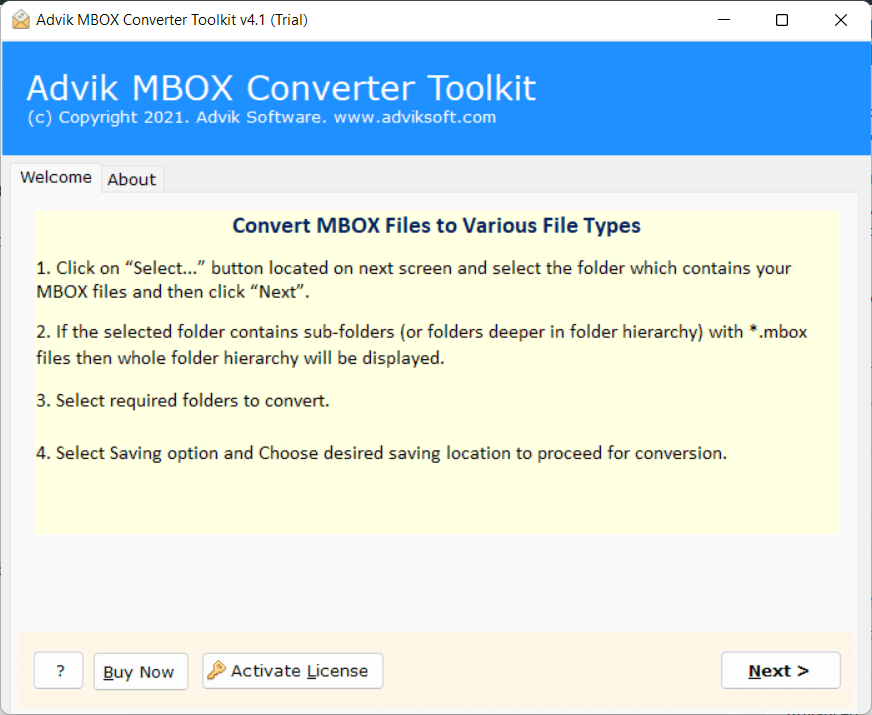 Step 2. Click on Add File Option to import .mbox files into the software panel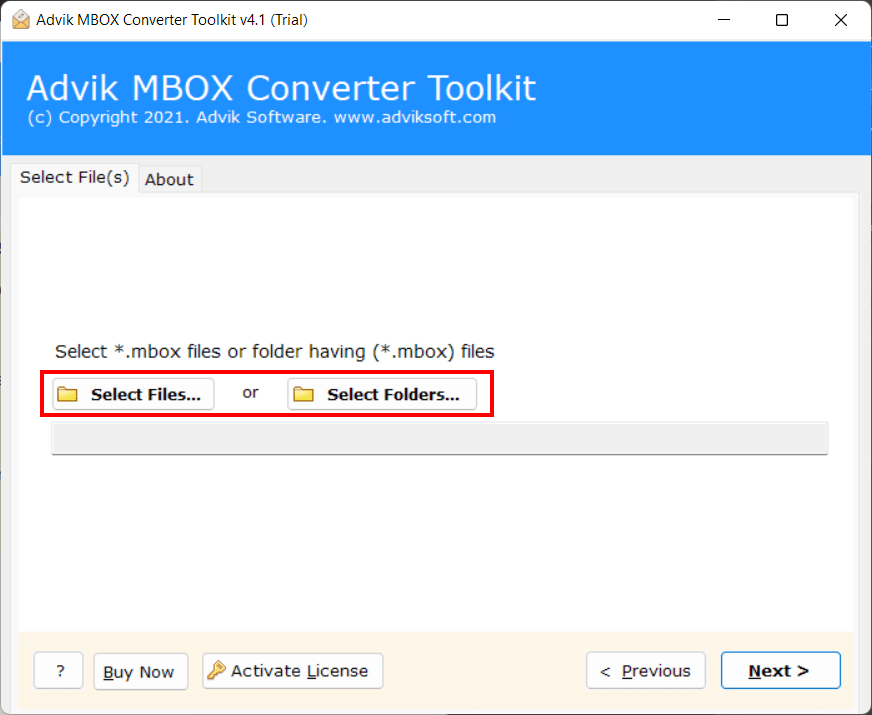 Step 3. Mark the desired Files / Folders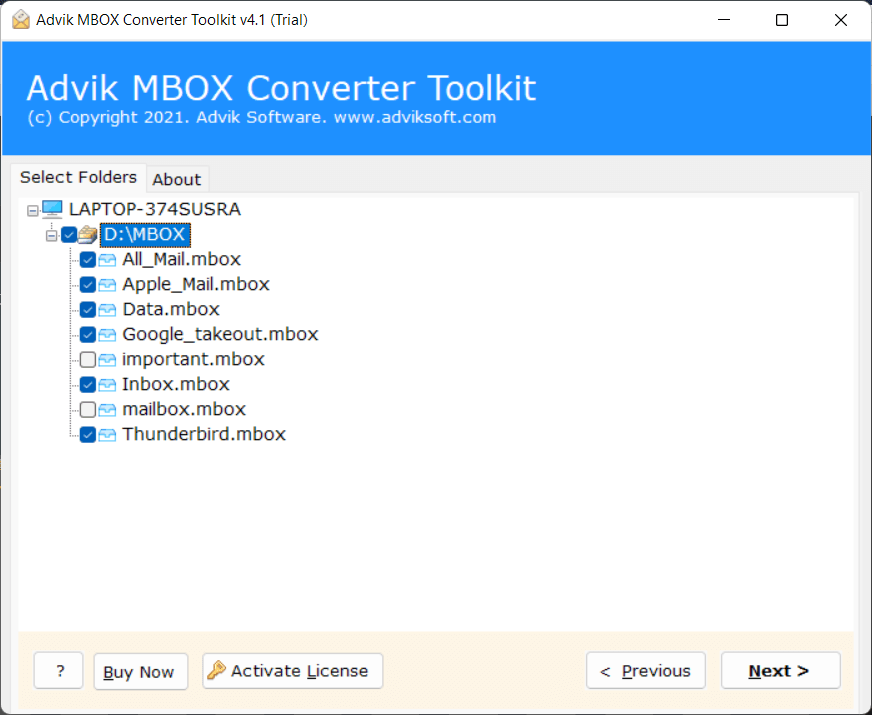 Step 4. Choose Gmail as a Saving Option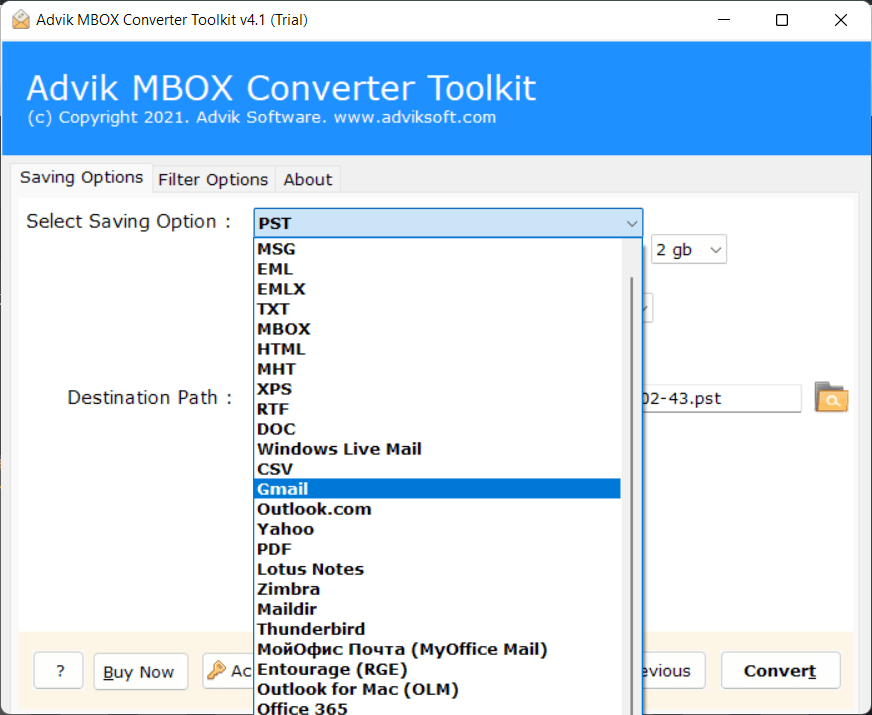 Step 5. Enter Gmail Login Details.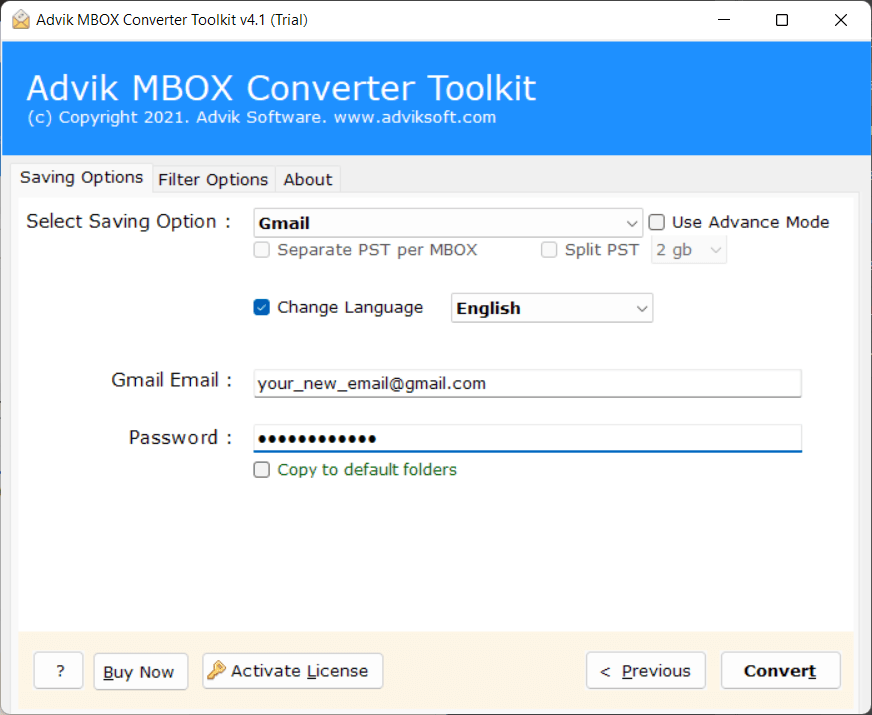 Step 6. Click on Export Tab to transfer files from Google Takeout to New account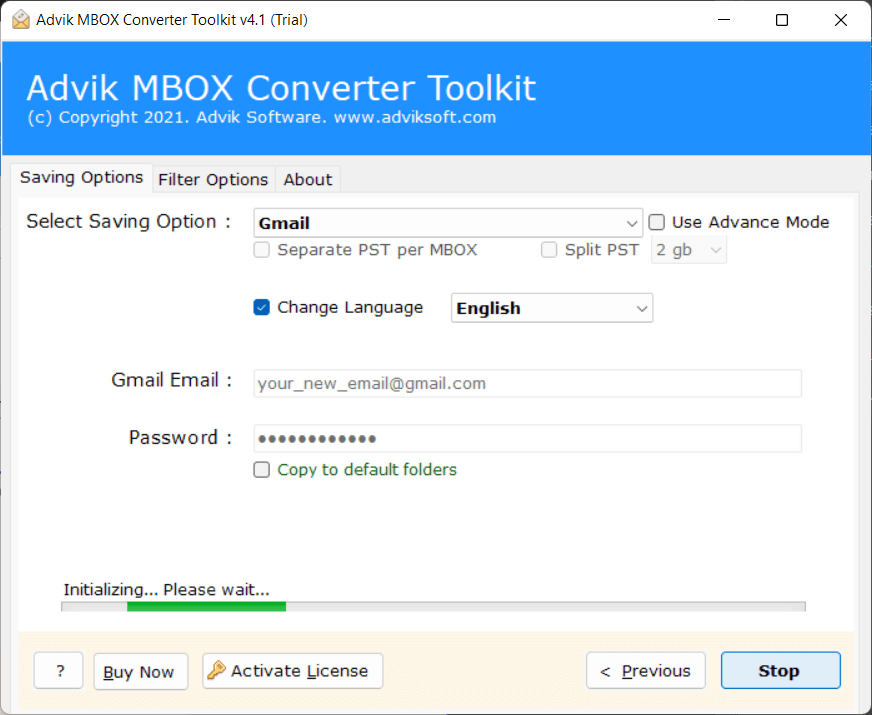 After the conversion has been completed successfully, click the OK button. Sign in to your new Google Account in your browser to access the resulting files.
Special Features:
Import Google Takeout to Gmail in Batch
No Email File Size Limitation
Extract Email Attachments from MBOX Files
Offer 20+ Saving Option
Preserve The Original Folder Structure
Combine Multiple .mbox Files Into One
Compatible with all Windows OS
24/7 Customer Support
Method 2. Export Google Takeout Folders to New Account
Step 1. First and foremost, open Thunderbird into your Windows Machine
Step 2. Go to Tool Menu and click on Account Setting option
Step 3. Now, Click on Account Actions and choose Add Mail Account.
Step 4. Enter Email id, password to setup your Gmail account
Step 5. After setup, install import/export plugin
Step 6. Now right click on any folder
Step 7. Click import mbox option
Step 8. Now import google takeout file
Google takeout files can now be easily accessed through your new gmail account. Although the manual method appears to be simple to use, it can only export a limited number of files.
Drawbacks:
Can not convert multiple accounts at a time
Does not support Batch Conversion
Strong possibility of data loss
Move Google Takeout into New Gmail Account Safely
In the preceding section, we discussed the top two methods for exporting your Google Takeout Folders into another Gmail Account: one is automated methods, which is a secure and safe approach to archive Google Takeout files/folders, and the other is manual methods, which is useful for people with good technical knowledge and only suitable for a limited number of files.
Switch to the smart and handy software application to export unlimited email files and folders from your old Google Takeout to new account without losing a single piece of information.