How to transfer Outlook from Mac to Windows?
Outlook, a popular platform that uses .pst files to store data, has a user base of millions across the world. It can be used both in Mac as well as in Windows. However many Mac users are looking for ways to transfer their files/emails to Windows because of the comforts and additional advantages of using Outlook in Windows. In this blog, we have discussed some methods that are useful to convert Outlook emails from Mac to Windows.
Before we go any further, let's understand the need to transfer Outlook from MAC to Windows…
"After using Mac for more than ten years, I recently switched to Windows but my previous emails are still in Mac Outlook. I need to transfer them to Windows Outlook. Please suggest a way to do it effectively."

"My previous employer used Mac Outlook, but my current employer uses Windows Outlook, so I need to migrate my data from Mac to Windows." I tried the manual method, but it is extremely slow and time-consuming. "Can you recommend a quick way to accomplish this?"

"I used a Mac for a long time until recently one of my relatives introduced me to Windows. Now I use Windows but the issue is that I want to access my old Outlook for Mac emails into my windows. Is there any safe and fast way to do it?"
You can find thousands of queries as above related to transferring email from Mac to Outlook
Benefits of Transferring Outlook from Mac to Windows
Users can access Outlook for Mac mailboxes in the Windows platform.
Freedom to Move your Outlook Emails with Ease
Windows Outlook File can be used in Outlook for Windows as well as Outlook for Mac
and many more…
Migrate Outlook from Mac to Windows
Method 1. Automated way – using a third-party tool

Method 2. Manual method to migrate outlook from Mac to Windows
Method 1. Automated method – using the Advik OLM to PST converter.
Used by millions worldwide, the Advik OLM to PST converter is the best way to convert Outlook files from Mac to Windows. This application comes with many amazing features which makes it unique and one of its kind.
Convert data in 1 click with ease
Best speed in .olm to .pst conversion
Maintain folder hierarchy
Safe and secure
Convert OLM to PST in bulk
Steps to Transfer Outlook from Mac to Windows
Step 1. First of all, Launch the application on your PC.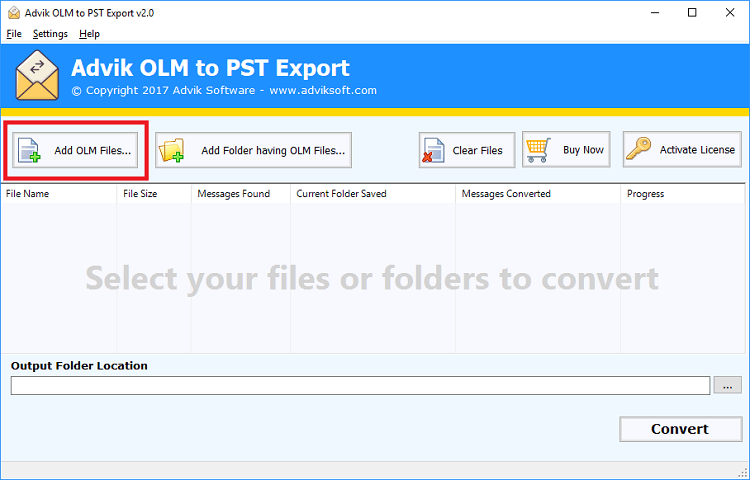 Step 2. Add .olm files that are needed to be transferred by clicking on the select files.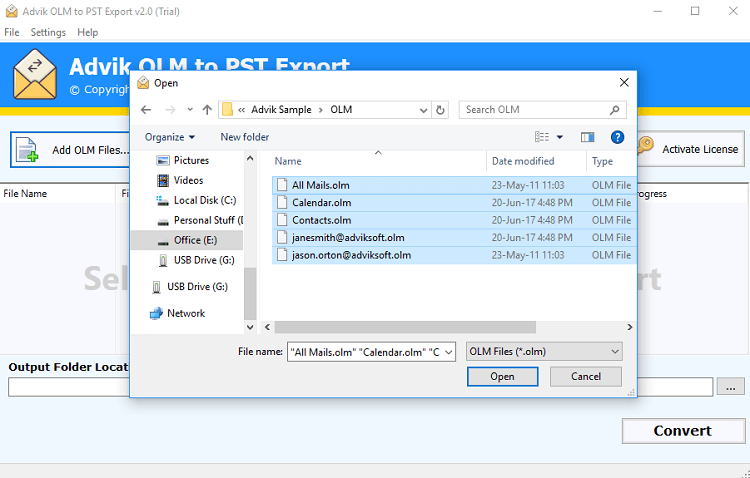 Step 3. Choose Target Location.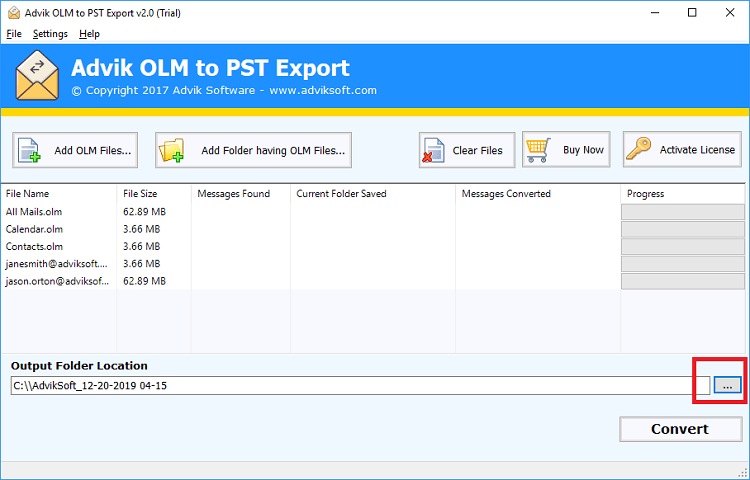 Step 4. In the last step, click on the Convert tab and enjoy the easy migration.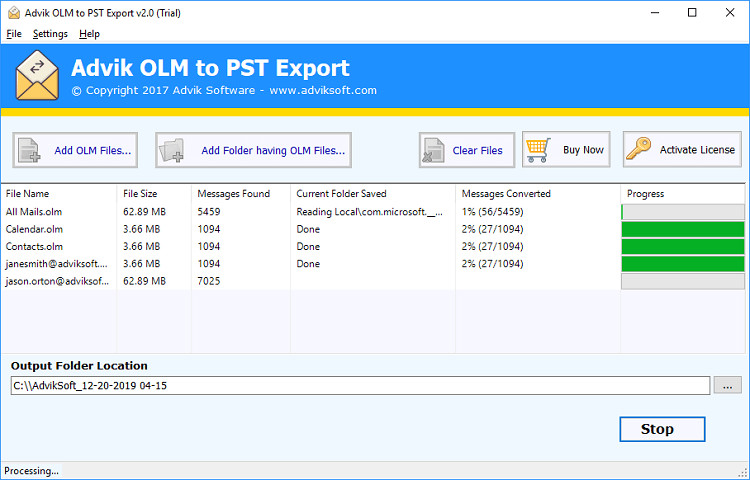 This method of using this wonderful tool to migrate Outlook files/folders/emails from Mac to Windows is best, easy, and fast. Once the conversion is completed, users can access their files at the saved destination anytime and anywhere.
Special Features
Compatible with Outlook 2013/2016/2019 edition data files
Compatible with all versions of windows
Can convert non-accessible .olm files
Can transfer encrypted .olm files
Can migrate large files easily
Works with non-English files also
Super-easy User interface
24*7 customer support
Method 2. Migrate Outlook from Mac to Windows using the manual way
This manual method is free but is not easy to execute. It is described below step by step.
First of all, users need to transfer Outlook emails to OLM files. To do so follow the steps outlined below.
Step 1. Run the Outlook on your Mac and click on the option 'Export'.
Step 2. Choose files that you want to migrate.
Step 3. Choose the name and location where you want to save the file.
Step 4. When this process finishes, your Outlook mails will be saved as .olm files at the desired location.
Step 5. Now, users need to add their Gmail account to their Outlook account by entering their credentials.
Now, Users need to export Outlook for Mac data to Gmail. Users need to follow the following steps to complete this task.
Step 1. Launch the Outlook Mac, right-click on the Gmail folder and create a new folder.
Step 2. Open the tool tab in this folder and choose Import.
Step 3. Select folders that you want to export and click on the option Move.
Step 4. Now, open the Gmail folder and copy the same files/folders that you had imported in the New folder.
Now your selected files/folders/emails have been added to the Gmail folder.
Now, in this final step, Users need to transfer OLM data from Gmail to Outlook PST. To do that, users need to follow the below steps.
Step 1. Run the Windows Outlook software and configure the same Gmail that you have set up in Outlook for Mac.
Step 2. Open File — Import/Export
Step 3. Choose Outlook file (.pst) and click Next
Step 4. Choose the Gmail folder that contains all your OLM file data and click on Next
Step 5. Choose the destination and click on finish. Your Outlook files have been transferred from Mac to Windows successfully.
As it can be seen, the manual method is quite complex to execute. Some other drawbacks of this method are listed below.
Drawbacks
Repetition. All steps must be repeated for each email/file.

It is a complex method that needs technical knowledge to transfer files

Requires a Gmail configuration

High probability of data inconsistency.
Transfer Outlook from Mac to Windows accurately
Within the above blog, we discussed methods to convert Outlook files from Mac to Windows. One technique is uploading the emails manually and the alternative is the usage of the Advik OLM to PST converter tool. This tool is a smooth, speedy, and secure method to convert emails while the manual method requires quite a little time and entails complicated steps. Apart from being fast, there are multiple useful features of the tool described above.
So, do not waste more time on the manual method. Opt for the fully-featured free trial of this notable software today and enjoy the superfast migration of your Outlook files from Mac to Windows.
Why Choose the Advik OLM to PST converter?
This smart device is lash with many fantastic features out of which some are described below;
Supports easy migration of large data file
Can convert data of many mailboxes at once.
Maintain Folder structure
Preserve Email Attachments
Easy-to-use interface
Comes with an advanced filter option.
Can work with all versions of windows.
Used by millions worldwide, the software is designed by skilled specialists. This super easy-to-use tool is very helpful for people who can not use the manual approach due to a lack of technical knowledge.