Yahoo Email Account Hacked and Password Changed – Solution!
Summary: This technical guide will show you how to recover a Yahoo account if it has been hacked. You may have worried about finding a solution that makes your Yahoo account difficult to access. Check out this blog to find the solution to problems like Yahoo email account hacked and password changed.
Some related user queries;

Someone hacked my Yahoo account and changed everything, what to do?

How do I contact Yahoo customer support as my yahoo email account hacked and password changed?

How can I recover my Yahoo password without phone number or email?
Most Common Reasons for Yahoo Mail Hacking
Hackers have an easier time breaking into your Yahoo Mail account for a variety of reasons. The following are some of the most common reasons:
If you're using the same password for multiple email accounts.
You've used a password that's easy to guess, such as password1234, Yah00, or passw0rd.
If you used an unsecured Wi-Fi network to access your Yahoo account.
You used an untrusted device or a public computer to access your Yahoo mail account.
If you shared your password with an unknown person, a colleague, or a relative.
You were the victim of an email phishing scam.
The above reasons were the most common factors behind Yahoo mail hacking. Hackers were so smart that they are always looking for a clue that will help them hack your account and access it.
Now we will move on to give you the best solutions to solve "Yahoo email account hacked and password changed" issue.
Solutions to solve "Yahoo Email Account Hacked and Password Changed" Issue
Typically, hackers will redirect your emails to their own email address and delete your contacts list. The reason for this is that they send out an email pretending to be you and demanding/requesting or asking for money from your contacts. Simultaneously, they don't want you to notice any of this because if you do, their plan will fail. The solutions, that we have provided in this blog, can also be helpful for you, if you want to recover a deleted folder in Yahoo Mail.
Let's go to some methods that will help you to solve this problem. If you are reading this article, please go through this method and apply it as soon as possible.
Method 1: Reset your Yahoo Mail Password
If you are trying to access your account get failed due to incorrect password. Then, you must understand that someone has intentionally changed your password. Now, this is a time to reset your password through the steps which are mentioned below:
1. First, click the "I can't access my Yahoo account" link on the login page. This will take you to Yahoo's help page where they can help you update your password.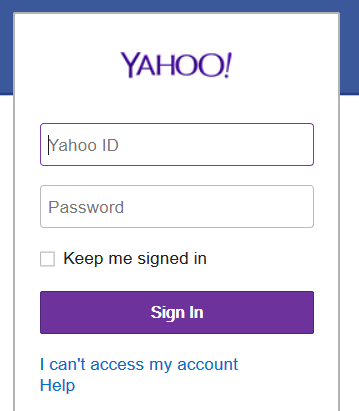 2 Click "My account has been compromised" and tap "Next".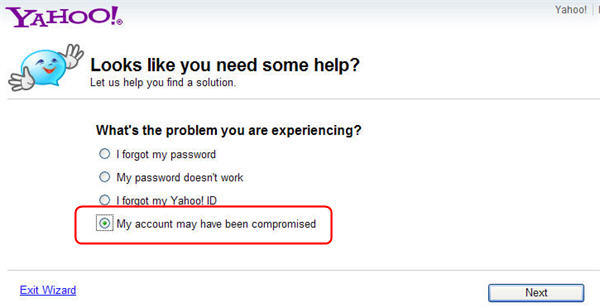 3. Now, under "My Yahoo ID", enter your Yahoo email address and tap on the "Next" button.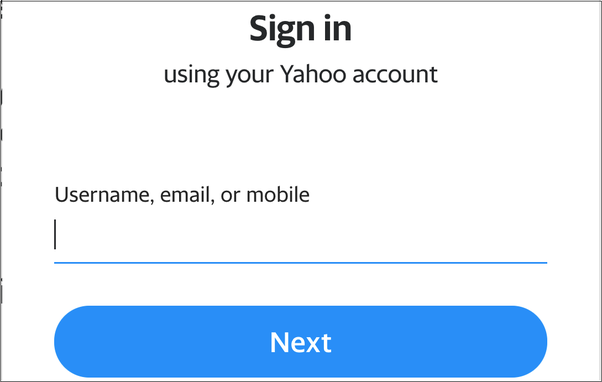 4. Choose how you want to change your password with an alternate email address or mobile number.
In the email address you will receive a link that you need to click to reset the password, and in the phone number you need to enter a verification code.
When you have filled in all these details, tap on the "Next" button.
5. Now choose one of these options and reset your password. Enter your new password and make sure your new password is different from the previous one.
6. Tap the "Next" button to return to the Yahoo login page.
7. Now log in with your new password and your new email address. You will then be redirected to a page where you have successfully reset the password.
Method 2:  Through Recovery Email Address
1. If you have updated your recovery email address in Yahoo account. Then, you can use this now to solve "Yahoo Email Account Hacked and Password Changed".
1. Visit this link https://www.yahoo.com/ in web browser and open Yahoo login page.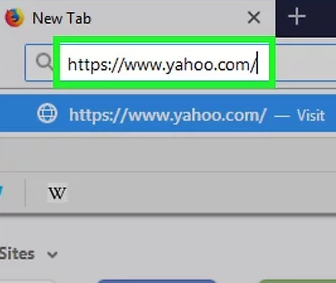 2. Tap the Sign In button.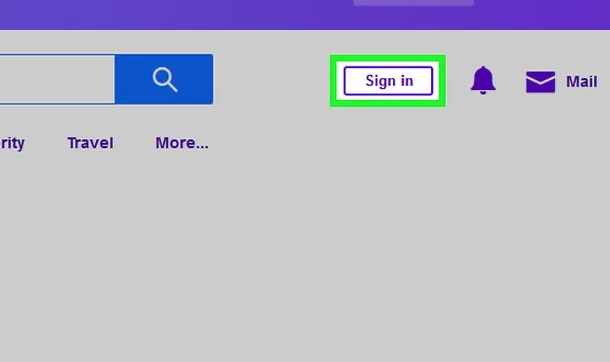 3. Now click on "Trouble logging in?".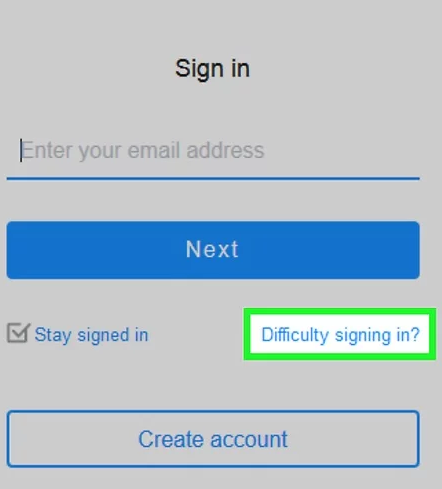 4. Now enter your recovery email address that you have in your Yahoo account.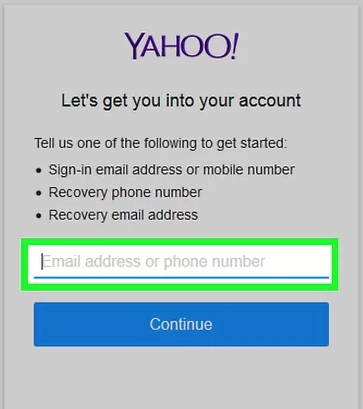 5. Click the "Next" button to continue.
6. Tap Yes to "Text me a verification code".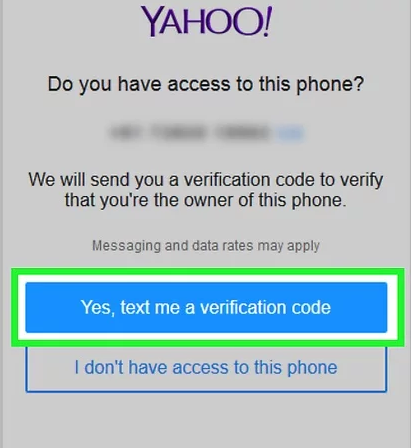 7. Enter the verification code sent to your recovery email address and click Verify.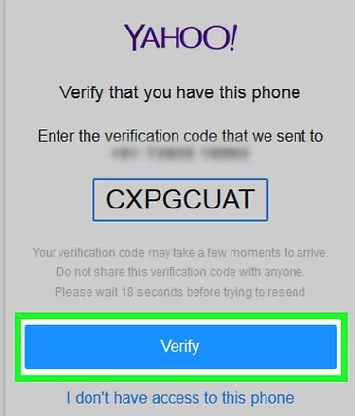 8. Now you will see a list of Yahoo accounts using your recovery email address. Select your Yahoo account that you want to restore.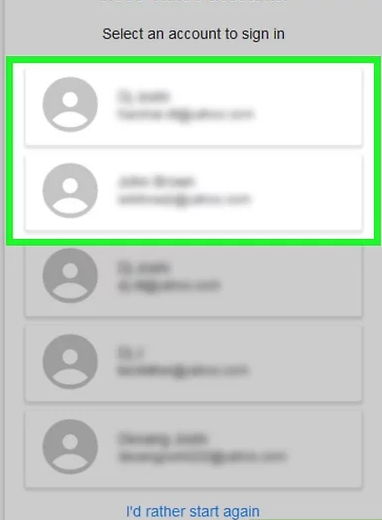 9. Change your password immediately and don't share it to anyone.
Expert tip to prevent "Yahoo Email Account Hacked and Password Changed" issue
Always make sure that you have enabled two-step verification to make your Yahoo mail account more secure and protected.
Never reuse a password across multiple accounts. Always use a different password for each account.
Always log out after using your account and access it from a trusted device to secure yahoo account from hackers.
Backup your Yahoo Mail account with a reliable and hassle-free solution that helps you access your emails even after they're hacked or deleted. You always have a copy of your important data. Advik Yahoo Backup Tool is one such advanced tool that you can use to do this.
You can download mirror copy of your Yahoo emails in your needed file format from 30+ saving options like PST, EML, PDF, MBOX, MSG, CSV, DOC and many more. So make a wise decision in choosing such methods. This tool comes with a free download version, so you don't have any hurdles to make your account more secure.

Epilogue
Now we are finished with the solutions and prevention methods to fix "Yahoo Email Account Hacked and Password Changed" issue. If you are facing such problems, then you need to follow the steps mentioned above to secure your Yahoo account. However, in order to avoid such circumstances in the future, you must have a backup of your data so that you don't lose any of your important information.