How to Backup MDaemon Emails to Computer?
Summary: Are you also looking to backup MDaemon emails to Computer? If that's the case, keep reading. Here, we'll show you how to use an expert solution to download MDaemon emails in an easy way. In this article, we have presented two different ways you can back up emails from both MDaemon Mail Client and MDaemon Cloud. So here you can find both solutions in one place. All your queries about both will be resolved at the end of this article.
Introduction:
MDaemon is one of the most extensively used mail servers and email clients in the world. With clients in more than 90 countries relying on it to meet their small to medium-sized business needs. MDaemon is a dependable and secure mail server that doesn't require a lot of setup time or have significant per-user fees.
MDaemon supports IMAP, SMTP, and POP3 protocols, and its feature-rich and user-friendly architecture ensures reliable performance. It comes in a variety of languages and includes features like mailing lists, content filtering, and numerous domains, as well as flexible management and an open standards design.
Why to Backup Emails from MDaemon to Computer?
There are many reasons why users wish to Backup MDaemon emails to their local storage. Some of them are explained in detail below:
Nowadays most of the official work is done by email but receiving lots of mail on a daily basis makes it difficult to find any particular mail for every client or organization when required. But, If you are using an email client like MDaemon then it becomes necessary to backup MDaemon emails to clean up your email server space.
Once you've saved your MDaemon backup to any format, you may easily share the database of your MDaemon email server.
You can also make a backup of MDaemon Email Server and move all MDaemon data to another email software if necessary.
If you want to migrate MDaemon mailboxes to Outlook, for example, you'll need to backup MDaemon emails to access in Outlook.
Users can readily access the data with other applications at any time by taking a backup of MDaemon email.
MDaemon data can be accessed at any time without an internet connection by making an MDaemon email backup in any supported application format.
Read Also: How to Transfer Emails From MDaemon to Gmail or G Suite?
Methods to Download MDaemon Emails to Computer Locally
Continue reading to find the solution to backup MDaemon emails. In this section of the blog, we have explained the best two methods to download MDaemon emails. So, let's begin.
Method 1: How to Backup MDaemon Emails to PC? – Complete Guide
Many users are still searching for a tool that creates backup of all MDaemon mail files in a very systematic manner with all attachments in exact format. Users try manual methods for their task but unfortunately there are no manual methods available.
So here is an Advik MDaemon Converter which creates backup of MDaemon emails to computer locally by converting them into different file formats such as PST, PDF, MSG, HTML, MBOX etc. MDaemon Converter tool also provides the facility to users to save the data at their destination location on their system. This tool saves backup of all MDaemon files with all attachments, including contact, calendars, notes and tasks etc.
Download this free software and check the performance and efficiency of this wizard for free.
Why Should You Choose Advik MDaemon Converter Tool?
You can choose to backup MDaemon emails to PC:
Well established formats like Outlook PST, MSG, MBOX, EML, XML, PDF files.
User Friendly Interface
Maintain Folder Structure
Multiple Saving Option
The steps with screenshots below show the results you get with this amazing tool. Follow the steps which are mentioned below to get desired results:
1. Install and Run Advik MDaemon Converter on your Computer.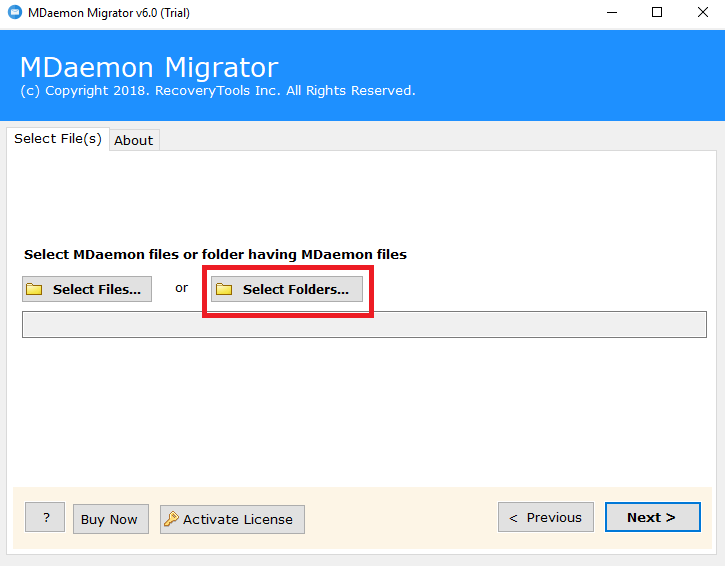 2. Now, You have two options, either choose MDaemon files or a folder having MDaemon files. Browse and add MDaemon mailbox folders.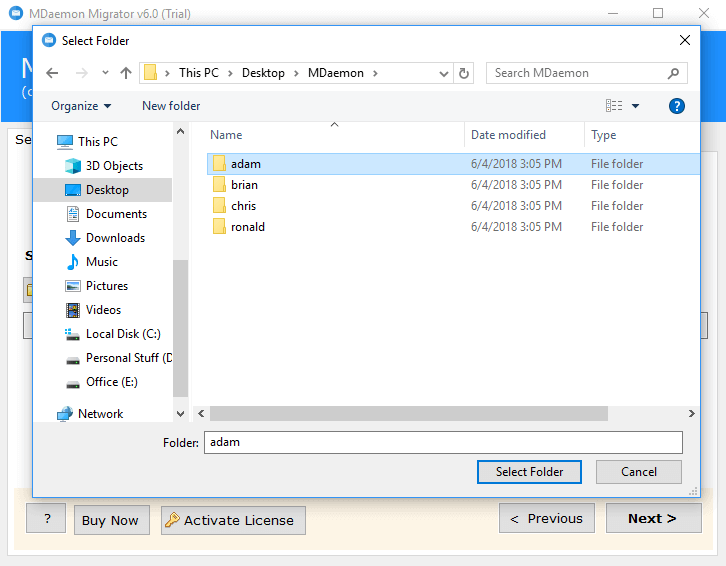 3. In a few seconds, this tool will quickly scan all of your folders and subfolders of your MDaemon Mailbox, now choose the desired one and click "Next".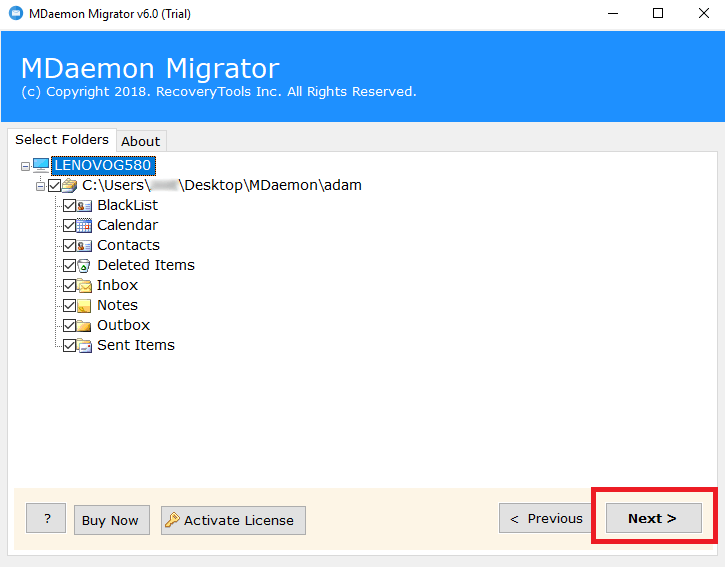 4. Select your desired file format from the list of multiple saving options. Here we will choose "MBOX" as a saving option.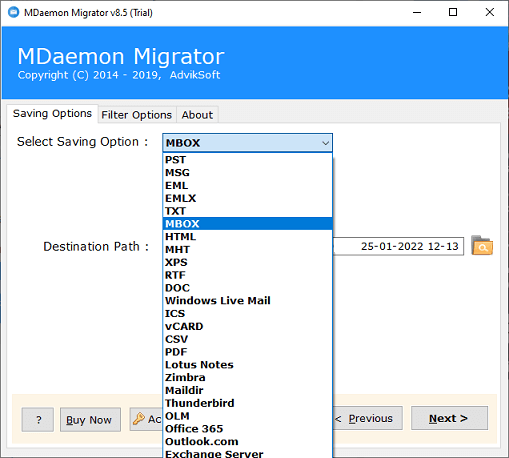 5. You can also apply filter options to enhance the MDaemon Backup process.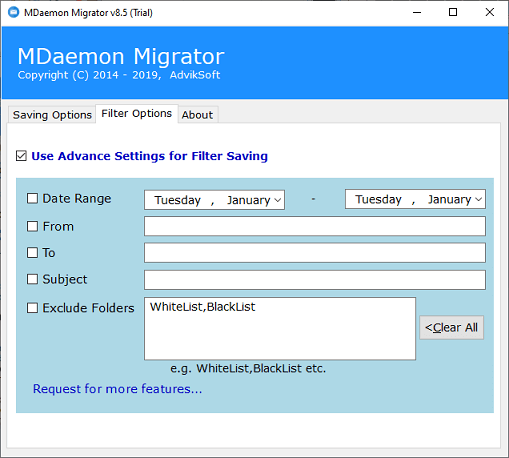 6. Choose the desired destination Path to locate your MDaemon backup files.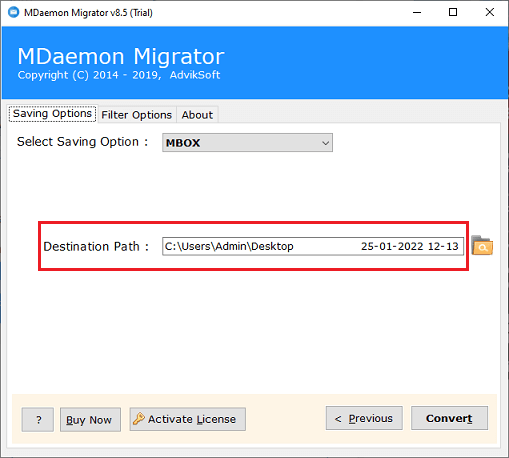 7. Finally! Click on the "Convert" Button to start the Backup process.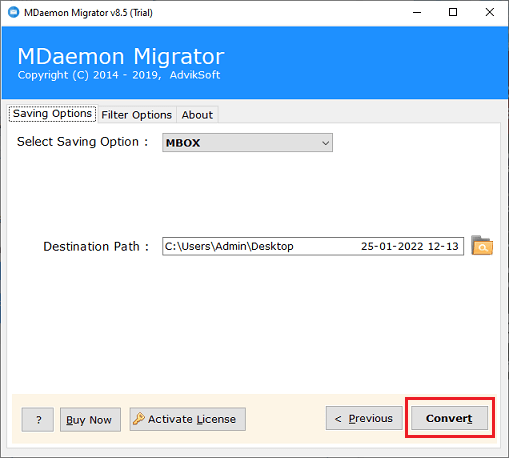 This tool will instantly complete the MDaemon Backup Process. This is one of the easy and simple ways to download emails from MDaemon to Computer locally.
Method 2. How to Download Emails from MDaemon Cloud to PC? – Step-by-Step- Guide
Another way to backup MDaemon emails to computer is the Advik Email Backup Wizard. This Email Backup software is designed with many useful functions that can help you to download emails from MDaemon Cloud in various file formats according to your choice. It offers popular file formats such as PST, MSG, EML, EMLX, PDF, HTML, CSV, ZIP, MBOX and more.
Download this free tool and analyze the MDaemon Backup Process now:
Follow the Given Steps to use Advik Email Backup Software to save MDaemon emails to PC:
1. Install and run Advik Email Backup wizard on windows machine.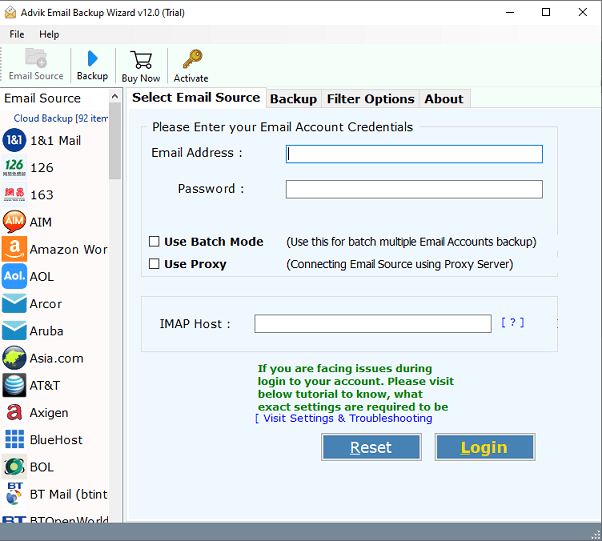 2. Select "MDaemon Cloud" from the list of various email source.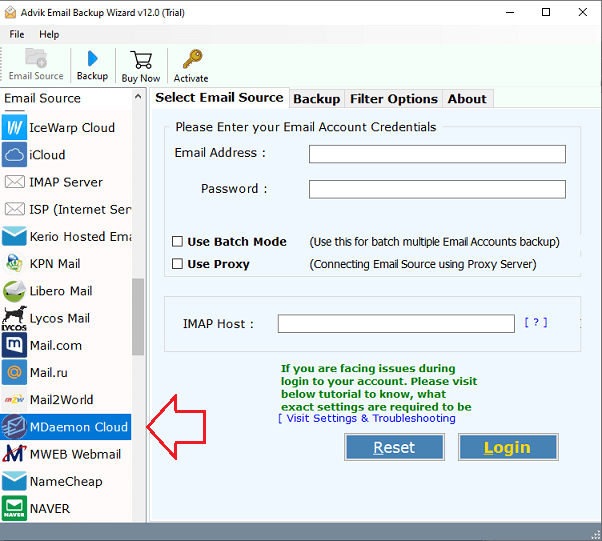 3. Now, Enter the following details in the login panel
Email Address: MDaemon email address
Password: MDaemon account password
IMAP Host: webmail01.myworldclient.com
IMAP Port No: 993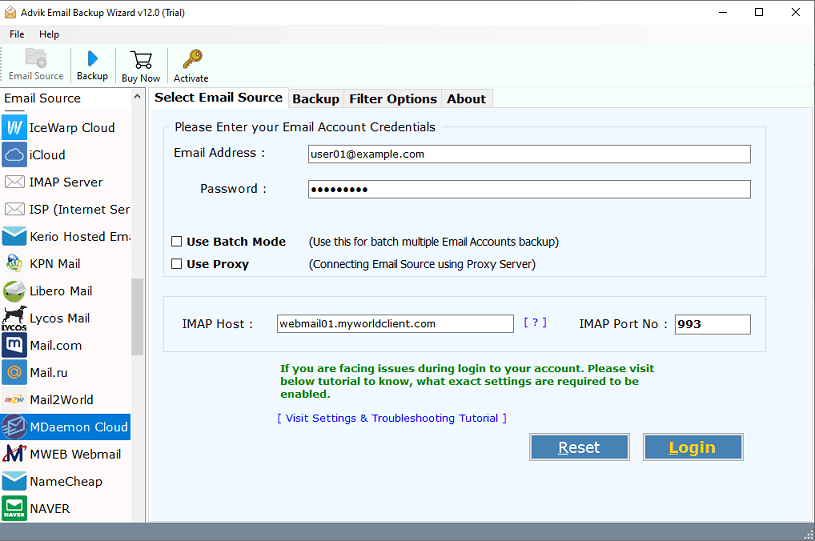 4. Press "Login" Button after filling up the above details in the interface.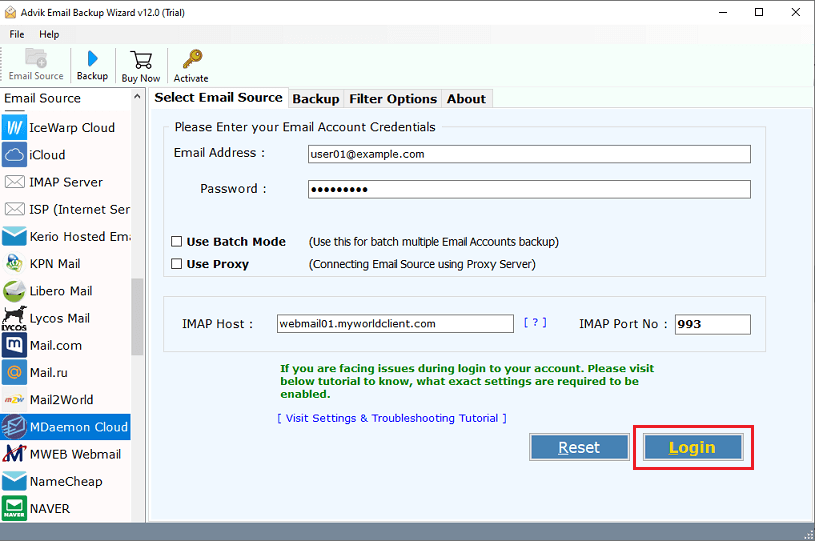 5. Choose the email folders from which you need to backup MDaemon emails.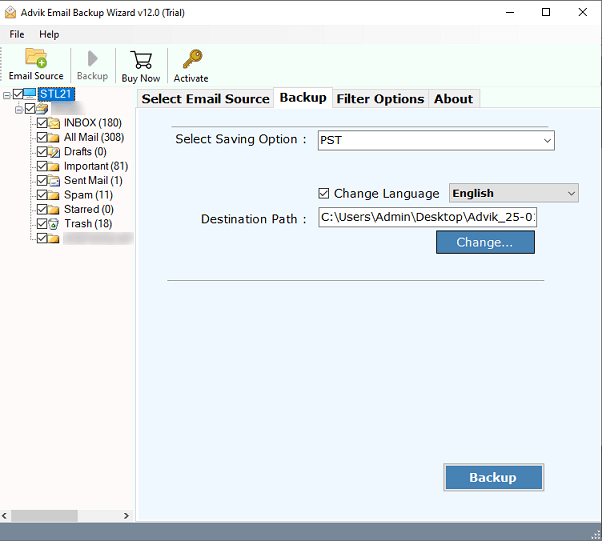 6. Select the desired saving option from the list. Here we will choose "MBOX". However, you can choose according to your requirements.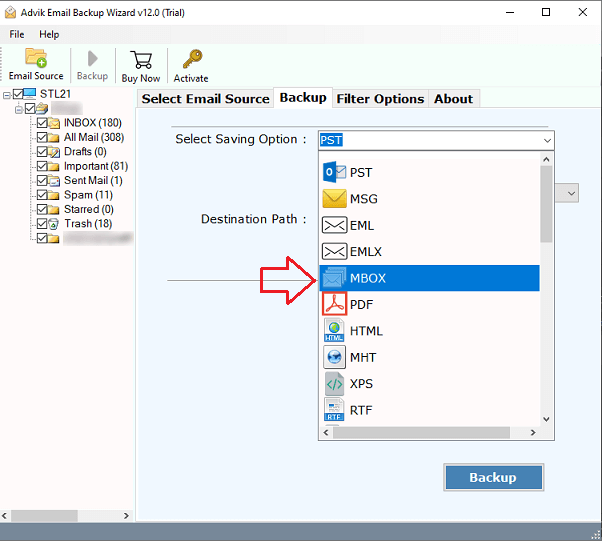 7. You can also use the Advanced Filter options to Backup Selective Emails.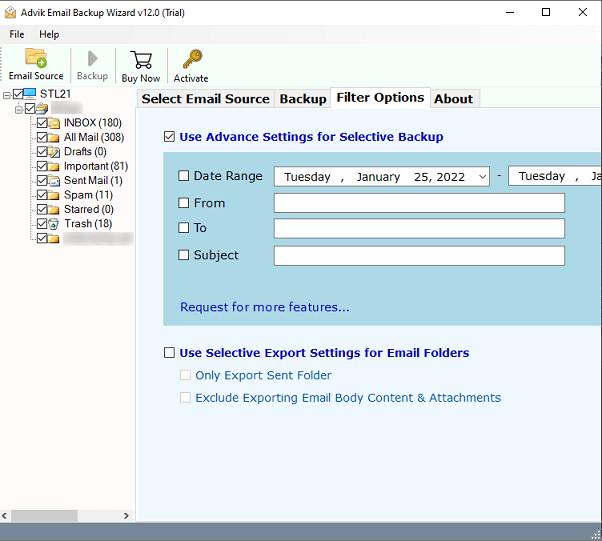 8. Choose the destination location to save the resultant backup files.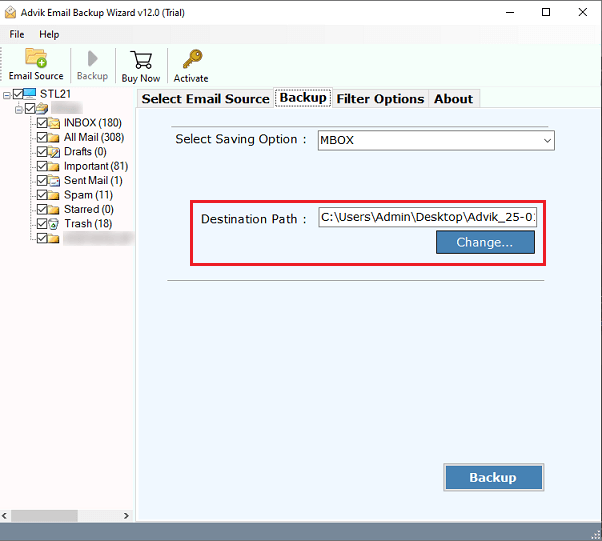 9. Initiate the MDaemon backup process by clicking on the "Backup" button.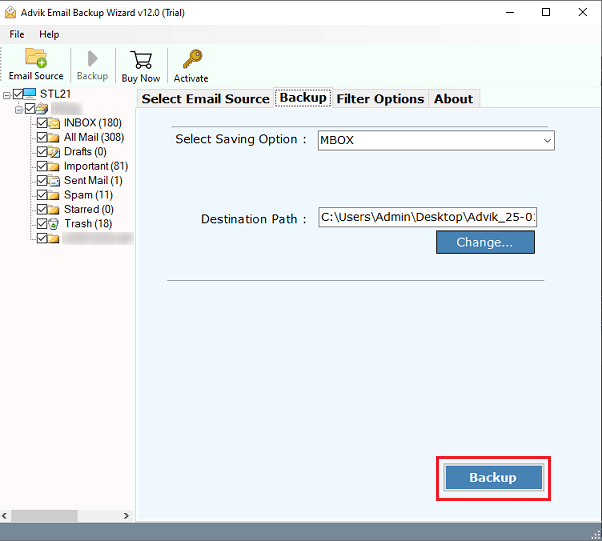 Highlighted Features of the Best MDaemon Email Backup Wizard:
1. Maintains the structure of email folders:
During the backup process, the software preserves the original folder structure of MDaemon emails. This program allows users to simply backup MDaemon emails with all of their components and elements.
2. Back up Attached Emails in Bulk:
This MDaemon Backup tool has a lot of fantastic features. It allows the users to Backup emails from MDaemon in batch mode also. This saves both time and energy of the users. This Email backup wizard is the quickest solution that produces desired results.
3. Offer a variety of file-saving options:
This MDaemon Email Backup Utility is a reliable tool for exporting emails from various cloud email accounts to PST, PDF, MBOX, HTML, XPS, RTF, ZIP, DOC, TXT, EML, EMLX, MSG, and other file types.
4. Create backup of all MDaemon emails:
Advik Email Backup Tool is a program that automatically backs up multiple emails from your Inbox, Spam, Sent, Draft, and other folders. You can also use date range, email address, and subject filters to backup just important or chosen emails from a Webmail account.
5. Maintain email properties:
Email attributes are preserved when you save emails to a specified file format. It's a program with a sophisticated algorithm. Also, It completes the task flawlessly in the lowest amount of time.
Final Words
In this article, we have covered the reasons and two best methods with simple steps for saving MDaemon emails to computer. Download the suggested solutions if you want to backup MDaemon data directly to PC. Users can simply save several MDaemon emails on their computer with the help of this application. In addition, You can test the MDaemon backup tool's free trial version to test the software's functionality before purchasing it.