Export Apple Mail Emails to PDF Format with Attachments
Hi, I am looking for a way to print multiple Apple Mail emails for some official reasons. I tried by myself but I was able to export a few of them and get fed up with this manual approach. So, is there any way that could help me to convert my all Apple Mail emails to PDF? Suggestions would be highly appreciated!!
Searching for a suitable method to convert Apple Mail to PDF file? If yes, then in this technical article, we will guide you with the best solutions. Don't worry!! We are here to help you out if you have the same query. You will get a remarkable and secure solution that instantly exports all your Apple Mail to PDF file type at once.
Let's move ahead with the methods and a few advantages of PDF file format.
Advantages of Using Portable Document File (PDF)
PDF is the most effective format to backup documents. It is considered an extremely secure document format and is platform-independent. Additionally, it is portable because PDF files are simple to transfer from one location to another.
Nonetheless, users are looking for a solution to convert multiple Apple Mail emails to PDF format for a variety of reasons. Here are a few of them;
Flexibility: Adobe PDF files are operating system-independent formats. Since these files don't have any compatibility problems, they are considered the ideal format for sharing.
Standard File Format: For many businesses or personal use, PDF files are used as the standard document format. It is a password-protected format that is safe. It is also the accepted norm for a variety of professional transactions due to its flexibility.
Legal Compliance: Files in the Adobe PDF format are recognized for use in court proceedings. It is advisable to turn in emails as PDF documents if you wish to use them as evidence in court.
After learning some useful advantages of PDF files, let us move the Apple Mail emails to PDF conversion methods.
Methods to Convert Apple Mail to PDF Documents
There are many practices to save Apple Mail emails to PDF format but we will discuss the two best among them. The first method is manual and uses native means for email conversion. The second method is an instant and automated one that export multiple Apple Mail emails to PDF with attachments.
Method 1. How to Print Apple Mail Email to PDF?
Open the Mac Mail program on your computer.
To open the email message in Apple Mail, double-click on it.
Then, click File in the menu and select the Export as PDF option.
Choose the location where you wish to save exported Apple Mail emails.
Thus, in this way, you can easily convert individual Apple Mail to PDF file format.
Note: Repeat the same steps for the remaining Apple Mail email messages.
Use the professional solution in the following approach if you wish to export multiple Apple Mail emails at once.
Method 2. How to Convert Emails from Apple Mail PDF with Attachments?
By making the use of Advik MBOX to PDF Converter, one can batch save Apple Mail email as PDF with attachments at once. The utility provides a few easy simple steps to convert Apple Mail to PDF without investing much time and effort. It allows to add multiple Apple Mail MBOX files to the software in a single attempt.
Moreover, this powerful utility is completely reliable and also enables users to export Apple Mail to PDF as per their requirements. Such as that, with its advanced email filters users can choose selective Apple Mail emails on the basis of specific date range, sender/receiver, Cc, Bcc, etc. With this tool, users can also export emails from Apple Mail to Office 365, Gmail, Zoho Mail, AOL  Mail, Outlook.com etc.
Easy Steps to Save Apple Mail Email as PDF in Bulk;
Before beginning with this method, export mailbox from Apple Mail to MBOX file and proceed with the further steps.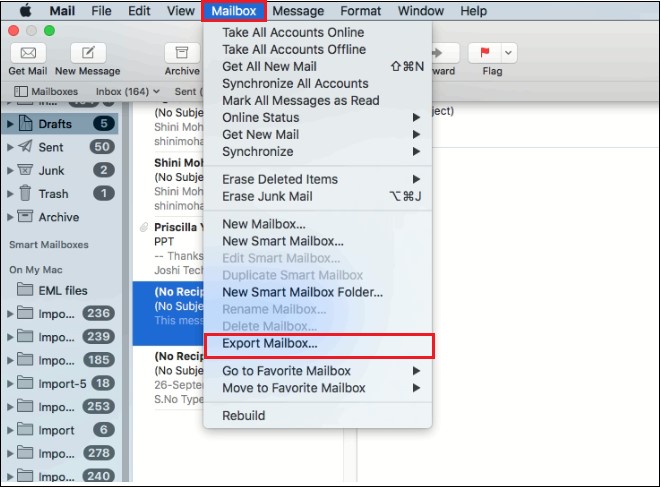 Run the MBOX Converter utility on your PC.
Click Select MBOX files or folders and tap Next.
Choose the required email folders from a quick preview.
Select PDF as a saving option from the drop-down list.
Provide the destination path and click Convert to start.
Finished! This conversion process will be completed within seconds and deliver a report after that.
Advanced Features of Apple Mail to PDF Conversion Tool
The following are some advantages of using this utility are explained below;
Batch Conversion: You can convert multiple Apple Mail mailboxes to Portable Document format at once using the software's batch conversion feature. You can easily save your time and effort while handling a large volume of Apple Mail emails or MBOX files.
Maintains Data Integrity: The Tool makes sure that your data is intact throughout the Apple Mail to PDF conversion process. It keeps the Apple Mail emails' original formatting, folder structure, attachments, and metadata (sender, recipient, subject, date, etc.)
User-Friendly Interface: This utility has an intuitive interface that is simple to use. Technical know-how is not required to utilize the program efficiently. Both inexperienced and experienced users may easily navigate the conversion process with its user-friendly UI.
Import Apple Mail to Webmail Services: You can convert and export Apple Mail emails with the help of this advanced utility which provides a multitude of conversion options. Such as that you can import emails from Apple Mail to Gmail, Office 365, Zoho Mail, Outlook.com, Exchange Online, iCloud, etc.
Multiple File Formats: With the help of this tool, you may convert emails from Apple Mail to a variety of widely used file formats. Such as MBOX to PST, MSG, EML, PDF, HTML, MBOX, TXT, CSV, and more. You can select the format that best fits your requirements.
Technical Support: In order to help users with any questions or problems they could run into when using the software, the tool offers 24/7 technical support. This ensures an error-free experience in quick handling of any issues that could come up.
Final Words
This technical post is all about the two useful ways to convert Apple Mail to PDF file. You can either use the Apple Mail in-built print command or take the benefit of advanced utility to export multiple emails from Apple Mail to PDF. However, using the manual method you can only print a single Apple Mail at a time. To convert Apple Mail emails to PDF in bulk, go for the suggested tool.