How to Export Gmail to Webmail Account? – Complete Guide
Summary: Want to export Gmail to Webmail? If yes, then you have landed on the right place. As there are thousands of users who want to import emails from Gmail to Webmail account in a batch. However, there isn't any possible solution available. Do Not Worry! Today I am going to share an alternate approach with you. At the end of this article, you will be able to migrate/transfer Gmail emails to webmail account in bulk. 
What exactly is Webmail and how does it work?
Webmail is a web-based email system that allows you to access and use your email from practically anywhere with an Internet connection. It does not require any program installation, unlike Thunderbird or Microsoft Outlook. It's a type of service offered by some businesses and Internet service providers.
Users using webmail accounts can send, reply, read, and organize their email into saving attachments and folders without having to install or use an email application software like Microsoft Outlook. The webmail service gives you a web page via which you can access your email account, and it stores all of your emails on their computers and storage systems.
Most Common Reasons to Export Gmail to Webmail
When a user has to move emails from Gmail to Webmail, there are a variety of reasons. Stay here if you're one of the people who want to move emails from Gmail to Webmail. To begin, we'll look at some of the most typical reasons why a user would need to migrate Gmail emails to Webmail.
When a user wishes to move from Gmail to webmail, it might be for both personal and business reasons.

Other webmail clients may be safer than Gmail in terms of security. As a result, a user wishes to switch from Gmail to webmail.

If someone has an official Gmail account, they may want to move their data from Gmail to their personal webmail account when they change jobs.

When a person wants to migrate from Gmail to a webmail account, there might be a variety of reasons for the investigation.

Webmail is simple to use because it does not require the installation of any software.
Method 1. Export emails from Gmail to Webmail with Mozilla Thunderbird
You can see how to export Gmail emails to Webmail using Mozilla Thunderbird in this section.
Step 1. Export MBOX File from Gmail account
1. Simply login into your Gmail account and go to Google's data download website.
2. By selecting Gmail Labels, you may choose whatever data you want to include.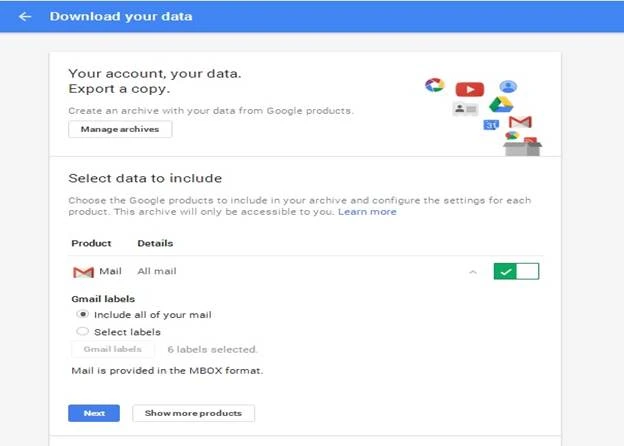 3. You have two choices; choose the one that best suits your needs.
If you want to include all of your emails in the exported MBOX file, choose the option "Include all of your mail".
To modify the data that you wish to export MBOX from Gmail, select the option "Select labels".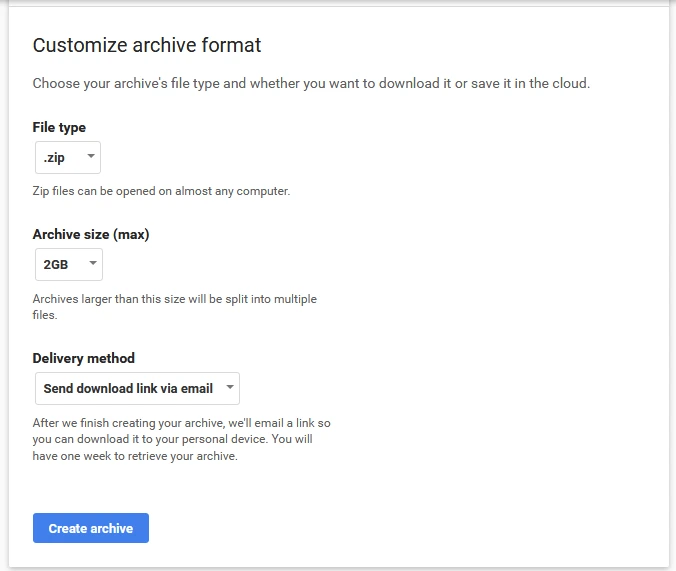 4. To download files as per your choice, click next after selecting "Gmail labels" and then pick the needed file type and delivery method.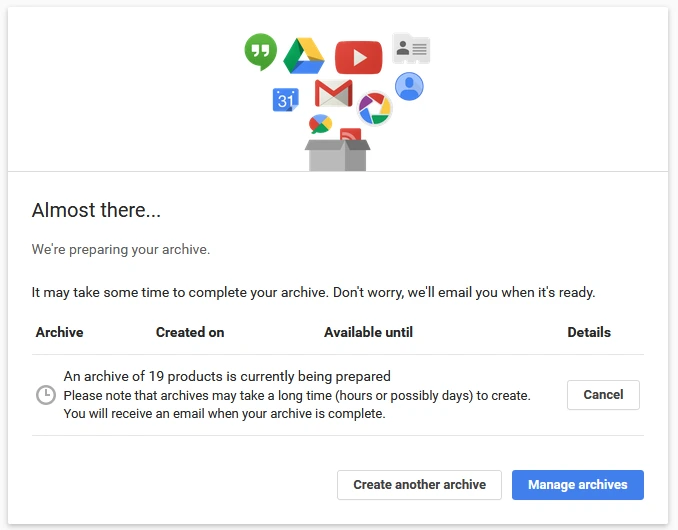 5. Then Click "Create an archive".
6. The time it takes to create an archive mailbox varies depending on the size of the mailbox, and after it's done, an email notification with the download link is sent to your email address.
7. Click Download archive in the email that contains a link to download a .zip file.
After extraction, the exported MBOX from Gmail comprises emails in either a single file if you choose "include all mails" or many MBOX files if you choose "Select labels".
Step 2. Add webmail account to Mozilla Thunderbird
In this section, we'll explain to you how to set up a Webmail account to Thunderbird. 
1. If you already have Thunderbird installed, open and choose "Account Settings.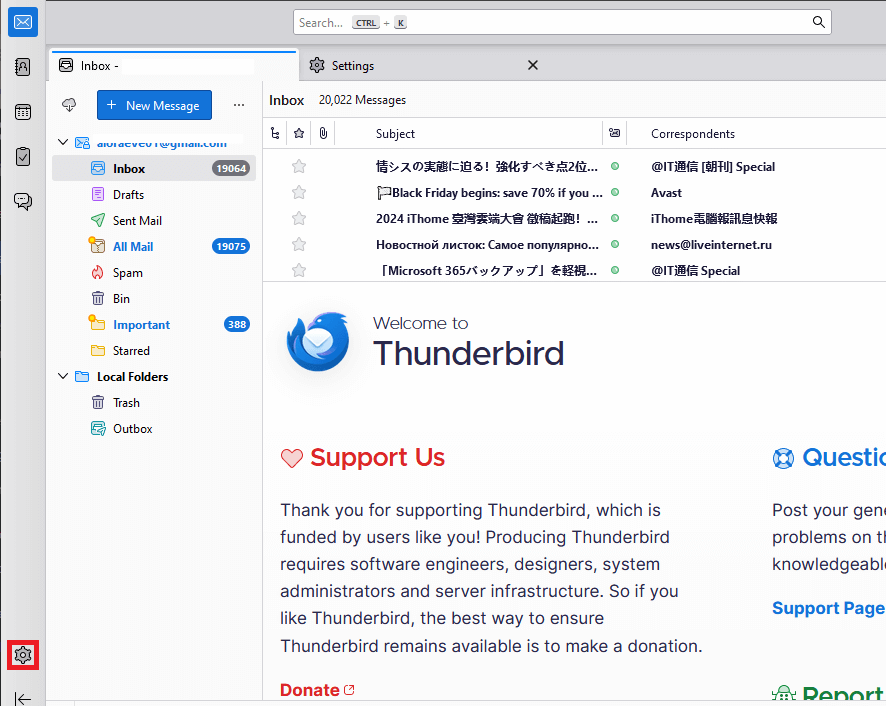 2. Select "Add Account" to add webmail account.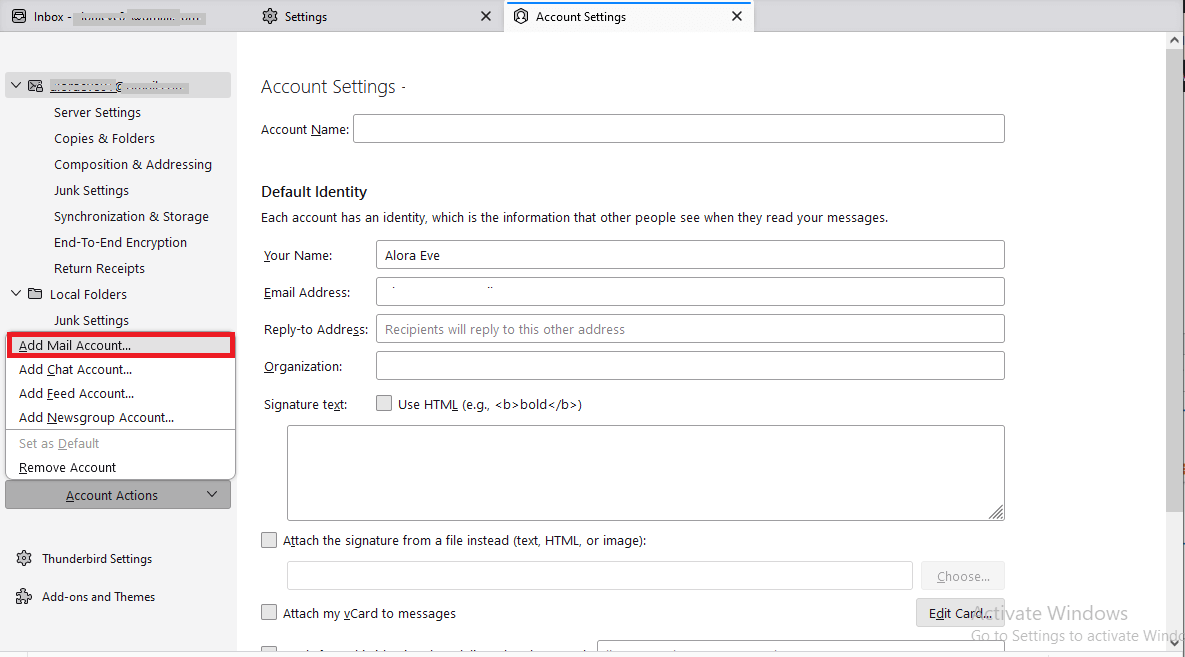 2. Enter the following details as shown in the below screen:
Your name:
Email address: 
Password: 

3. Now, click the Configure manually button after filling above details.
4. In the new window tab, enter the following details:
Incoming server >>Protocol:

IMAP >>

Server:

mail.domain.com >>

Port:

993 >>

SSL:

SSL/TLS >>

Authentication:

Normal password >>

Username:

full email address 

 

Outgoing server  >> Protocol:

SMTP >>

Server:

mail.domain.com >>

Port:

465 >>

SSL:

SSL/TLS >>

Authentication:

Normal password

Username:

full email address 
5. When you fill in the above details, then press the "Done" button.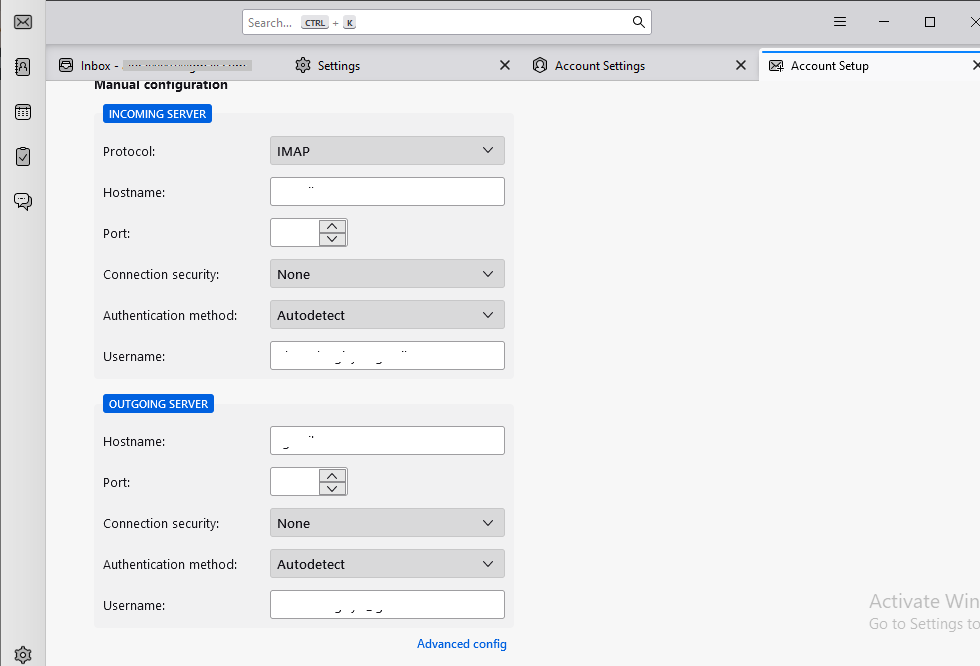 Now your webmail Account has been successfully added in Mozilla Thunderbird.
Step 3. Import Gmail emails (.mbox file) to Webmail
1. Now Restart Mozilla Thunderbird in your system.
2. Click on the bar icon on the right-hand side of the Thunderbird application.
3. Now, Choose the Add-on option from the drop-down menu to start the process of exporting .mbox files.
4. Now, Select the Up & Coming Option.
5. In the Add-On options, Browse the Import/Export Plugin in the search Bar. Download and install it. once you install it, you will be asked to restart the Thunderbird again.
6. Now, Go to your mailbox folders, right-click on the "All Mail" option >>ImportExportTools>>Export Folder. Do the same as shown below in the screenshot.
7. Now, go to the Thunderbird main page, right-click on Local Folders, and choose New Folder from the drop-down menu.
8. Create a name for the folder.
9. Right-click the newly formed folder and select ImportExportTools NG >> Import MBOX file from the context menu.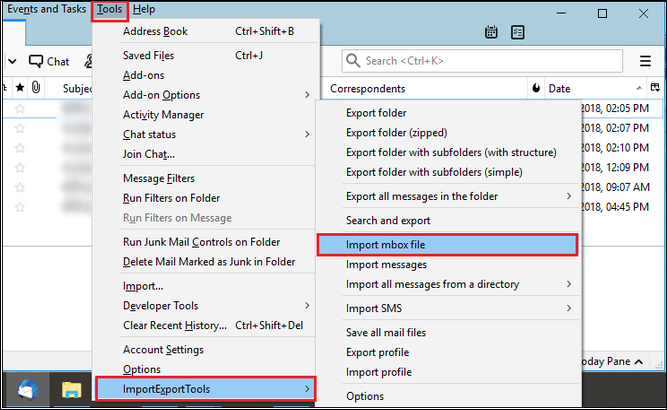 10. Select the import methods and click OK and Tap "Open" after selecting your MBOX file.
Now, by following this complex and lengthy process you can export Gmail emails to webmail using Thunderbird
Limitations of Manual Solution:
The following are some of the drawbacks of using the procedures described above:
The process takes too long to complete, and logging into a Gmail account takes a lengthy time.
Many users are unaware that deleting email data from Thunderbird would automatically delete it from their Gmail account, posing a risk of data loss.
Method 2. A Quick Way to Transfer Gmail Emails to Webmail Account
Yes, you might be frustrated seeing this method but need not to copy every mail again and again. The below solution will help you to migrate from Gmail to Webmail account in an easy way.
Check out the Advik Gmail Backup tool, this software is specially designed to export emails from Gmail to various email service providers. You can migrate from Gmail to Office 365, Yahoo Mail, Outlook.com, GMX Mail, Fastmail, and almost any webmail account. Using this software you can move the Gmail folder to webmail directly.
Steps to Export Gmail Email
Advik Gmail Backup

s to Webmail Account are;

Step 1. Run the Advik Gmail Backup Tool in your system.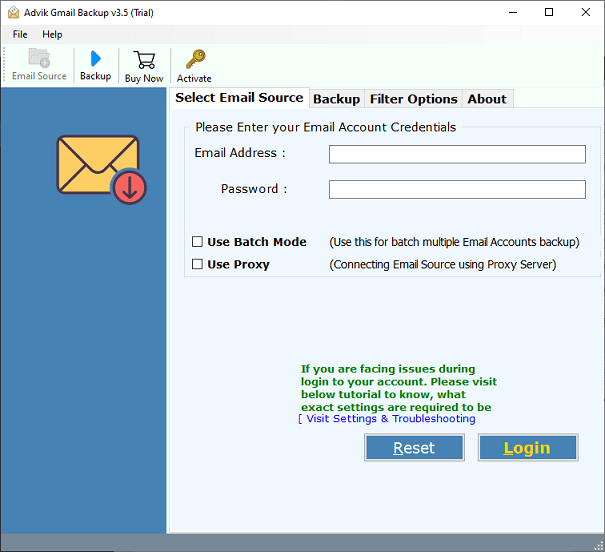 Step 2. Enter your Gmail Login credentials and Sign in your Gmail account.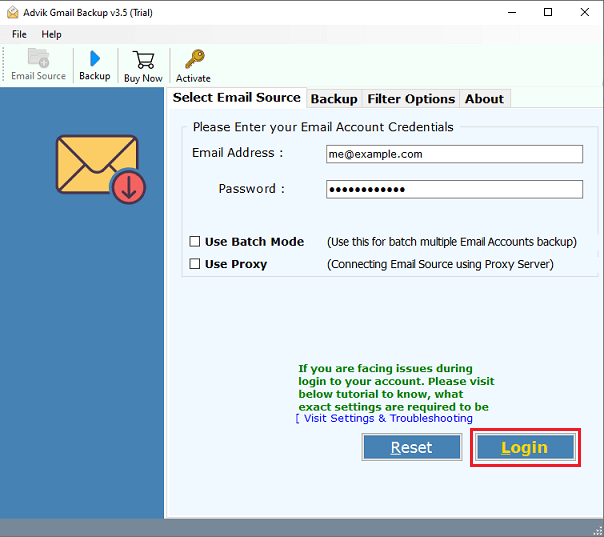 Step 3. Choose mailbox folders to export Gmail to Webmail Account.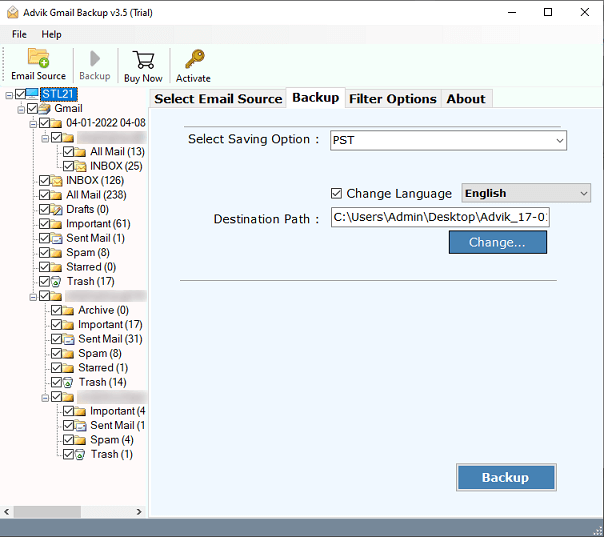 Step 4. Select IMAP as a saving option from the list.
Step 5. Enter your Webmail login credentials.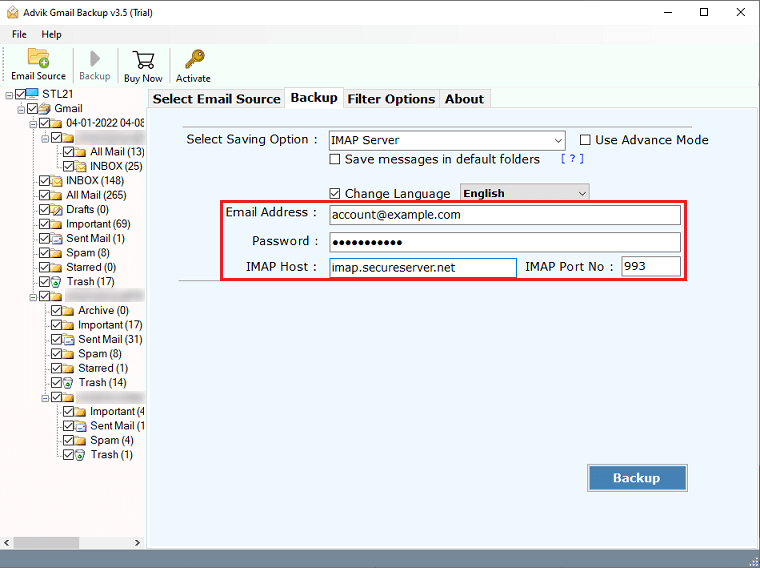 Step 6. Click "Backup" and analyze the process.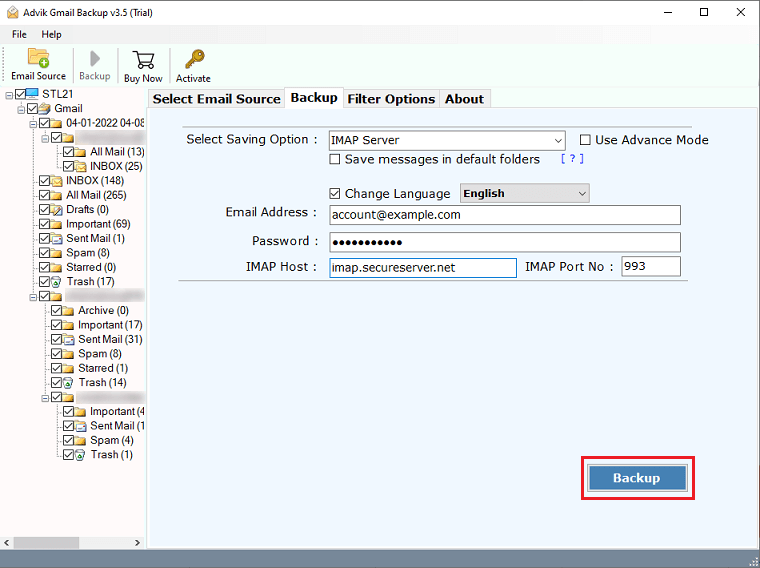 Finished! This is how you can import Gmail emails to Webmail account in a batch.
Why choose Gmail to Webmail Migration Tool?
Here are some of it's amazing features that you won't find in any other software.
Maintain mailbox folder hierarchy: This software maintains the original folder hierarchy structure during the migration procedure. As a result, you may easily transfer emails from Gmail to Webmail.
Migrate to Outlook Email Clients: Using this backup wizard you can also export Gmail emails to Outlook 2019, 2016 and all other editions.
Preserve Key Elements and metadata: During the Gmail to Webmail migration process, this is the finest application for maintaining all email properties. You can quickly obtain precise information whenever you need.
Multiple File Formats: Export Gmail to PST

, EML, MSG, MBOX, PDF, TGZ, XPS, DOC, EMLX, RTF, and many more with attachments. Hence, it also ensures that no data loss will occur in the entire process.

Cloud to Cloud Migration: This tool is capable enough to provide an option for

email migration

so that users can easily transfer emails from Gmail Yahoo Mail to G Suite, Office 365, Outlook.com, Rediffmail, Zoho Mail, AWS Workmail, AOL Mail, 123 Mail, GMX Mail, Yandex.Mail, etc.
User-Friendly interface: The program has a very simple user interface that is Simple to use. Users, both technical and non-technical, can quickly handle issues such as how to export Gmail to Webmail.
Final Words
Till now we had discussed how to export Gmail to Webmail with complete mailboxes. This is one of the best alternate approaches that will help to reduce manual efforts and time. we have also explained the manual solution, but we have analyzed that it takes too long to transfer emails from Gmail to webmail. Hence, it is suggested that users should use professional tool to complete their process in no time and also save their manual efforts.