How to Import Gmail to Yahoo Mail- Top 3 Easy Methods
Quick Overview: Want to move emails from Gmail to Yahoo Mail without wasting any minute? Execute the email migration via Advik Gmail Backup Tool and export emails in bulk with attachments. We'll show you how to migrate from Gmail to Yahoo Mail in this blog. We're going to solve this issue because many users have asked for a way to import Gmail emails into their Yahoo account. 
Run software and sign in with your Gmail credentials.

Select email folders and choose Yahoo as a saving option.

Enter Yahoo Mail login details and click Convert.
User Query:
"I want to import Gmail to Yahoo Mail with emails and attachments. What is the step-by-step process? I am facing technical glitches during manual configuration. Please help!"
– User from Google forum
"I have been using Gmail for the last 6 years, now I want to migrate Gmail to Yahoo Mail and also want to migrate my complete mailbox data from Gmail to Yahoo Mail account. I tried some of the manual methods for the same but those methods are complex and need much technical expertise. Is there any easy method available, so that I can migrate Gmail emails to Yahoo Mail account?"
– Jessica Edward
Want to export emails from Gmail to Yahoo Mail? If yes, then you have landed on the right page. At the end of this article, you will learn to migrate Gmail to Yahoo Mail without configuration. Read this article and get the best method to transfer Gmail emails to Yahoo mail account directly.
Why do we Migrate from Gmail to Yahoo?
There are plenty of reasons if you look around. Some of them are explained below:
Gmail's web interface is quite good at organizing, archiving, and searching. Some users, however, prefer to view messages in other applications or online interfaces because they are more familiar or have more functionality. 

Gmail does this for web-based providers like Yahoo by allowing users to forward all messages received to any other email account of their choice.

You can even forward mails that fulfill certain criteria to external destinations using filters. You can set up a Gmail account and get messages directly without needing to forward them to email applications like Microsoft Outlook and Apple Mail.
Methods to Export Gmail Emails to Yahoo Mail – Complete Guide
There are currently two ways by which you can transfer Gmail emails to Yahoo Mail. Both methods are practically tested and worked well.
Method #1. Using Advik Gmail Backup Tool (Automation)

Method #2. Using IMAP Configuration (Manual)

Method #3. Add Gmail mailbox in Yahoo
In the below segment, we are going into deep discussion with instructions to be followed for safe email migration. So let's begin the tutorial.
Method #1. How to Import Gmail to Yahoo Mail With Ease
If you're seeking for the most efficient way to transfer emails from Gmail to Yahoo Mail, we suggest using Advik Gmail Backup Tool. It is the ultimate solution to migrate emails and attachments from Gmail to Yahoo Mail account. 
This software is able to transfer complete mailbox data including Inbox, Outbox, Sent Mail, Spam, Trash, and all other folders created by users. The interface of the tool is very simple, which allows users to easily operate this software. Besides this, the software is loaded with plenty of benefits like;
Download this amazing tool now as trying this tool's free demo version is worth a shot.
Steps to Transfer Emails from Gmail to Yahoo Mail with Attachments Securely;
Step 1. Launch Advik Gmail to yahoo Mail Migration Tool in your system.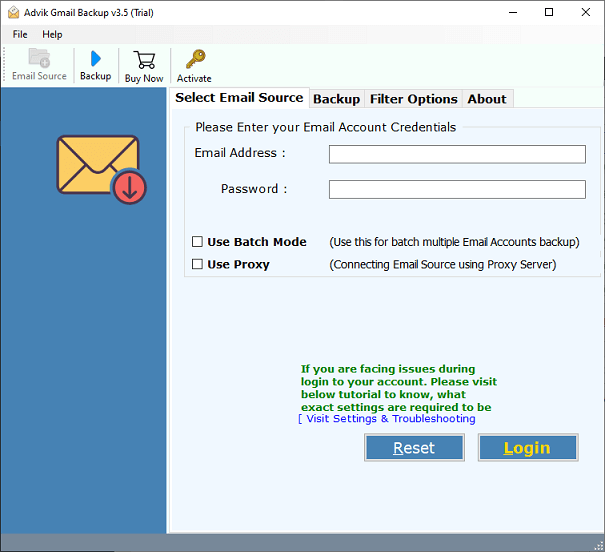 Step 2. Enter Gmail login details of account from which you want to migrate your emails.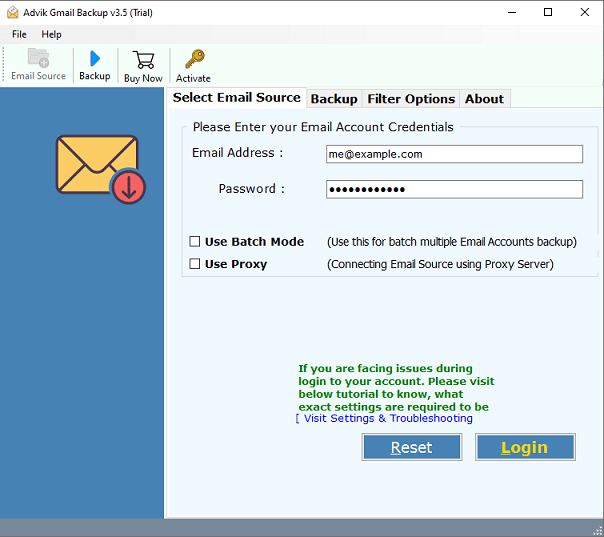 Step 3. Select the desired mailbox folder that you want to transfer.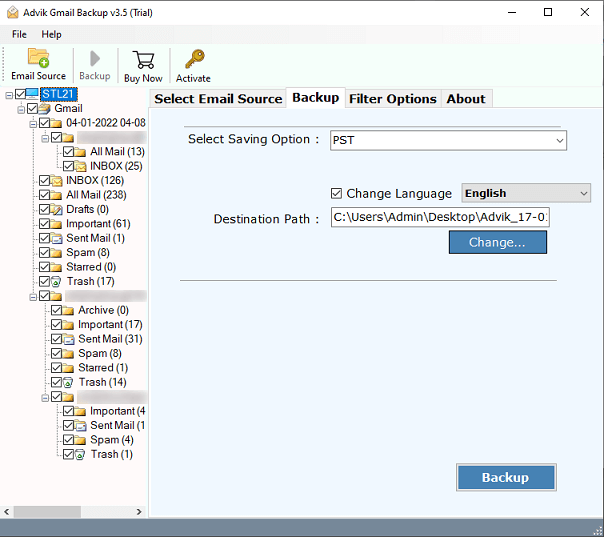 Step 4.  From Multiple Saving Option select "Yahoo Mail".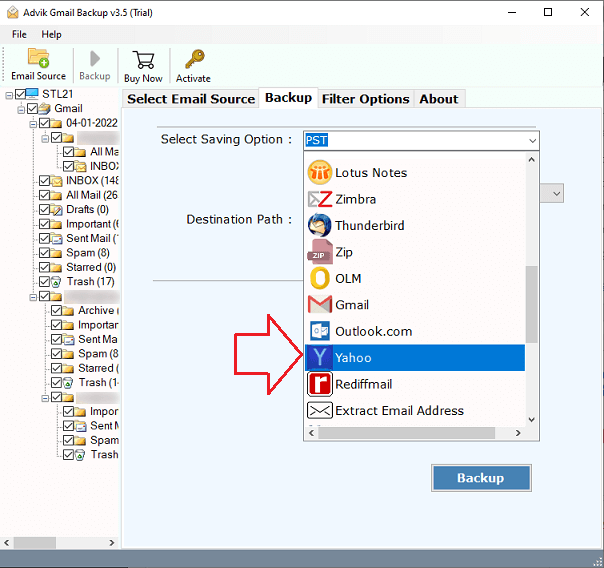 Step 5. Enter Yahoo login details and click on the "Backup" button.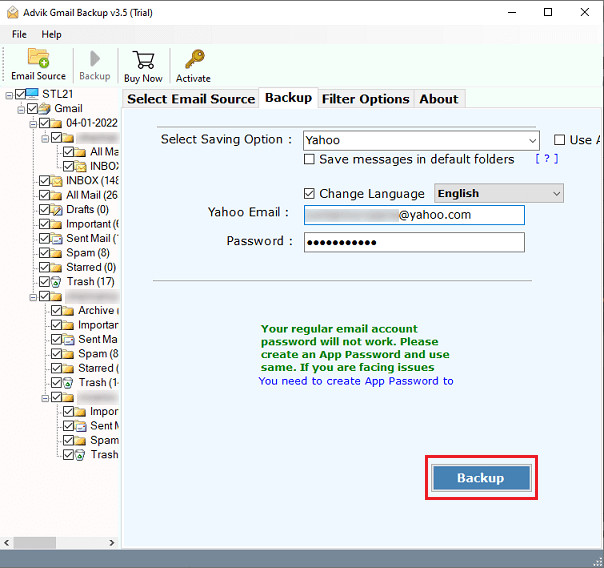 The software then starts the process of Gmail to Yahoo migration and will notify you once the task is completed. In the meantime, you can analyze the process of migration in real-time.
Watch Video Tutorial –
How to Migrate Emails from Gmail to Yahoo Mail?
Benefits of Using a Gmail to Yahoo Migration Tool
Advance Filter Option:
This software allows users to backup Gmail emails selectively. Several users would like to download only certain emails or folders. Advance Email Filter Option is created especially for these types of users to Transfer only Specific emails. For desired email backup, you can apply email filters based on Subject Name, Email Address, Date From, and Date To etc.
Folder Selection Option:
You can choose the folder you wish to transfer with Gmail Backup Software. In Gmail, you'll typically find Inbox, Sent Items, Drafts, Important, and many folders. With this Gmail backup tool, you can now select the email folder you want to download and ignore the others. 
30+ file formats:
Now you may export Gmail emails in a variety of popular file formats. Advik Gmail Backup Software converts and downloads emails in over 30+ different email formats. Backup or Convert Gmail folders to PST, PDF, EML, MSG, EMLX, MBOX, HTML, MHT, XPS, RTF, DOC, TGZ, and NSF, among other formats. So that you may access your Gmail emails in a variety of ways even when you're not connected to the internet. 
Migrate Gmail to any cloud email service provider:
Using the same utility you can transfer emails from Gmail to a variety of other email services. You can migrate from Gmail to Office 365, Yahoo Mail, Yandex.Mail, Outlook.com, G Suite, Rediffmail, and many other services. The nicest feature about this method is that it doesn't require any manual setting or a separate plugin. This tool takes care of the entire Gmail migrating process.
You can infinitely export Gmail emails to any targeted email source. You can also export unlimited Gmail Backup with Complete Emails and Attachments Securely on your system without encountering problems.
You can batch extract attachments from Gmail using this tool, and you can also download all attachments from selected emails.
Method #2. Migrate Gmail to Yahoo Manually Using IMAP/POP3
The manual solution (.i.e. IMAP) to migrate the mailbox is very lengthy, complex and can migrate emails from the INBOX folder only. You will not be able to migrate complete mailbox data such as Inbox, Outbox, Sent Mail, Spam, trash, and other important folders.
Also Read: Migrate Gmail to Office 365 – Quickest Solution
Follow the steps to import Gmail to Yahoo Mail manually
1. Sign into Gmail account.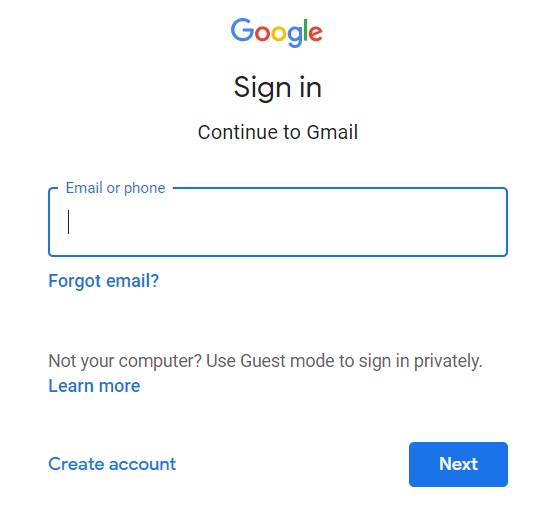 2. Click the Gear icon designated at the upper right corner and click Settings.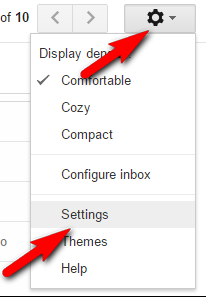 3. Click Forwarding and POP/IMAP tab.

4. Now select the "Add forwarding address" button to open the new dialog box.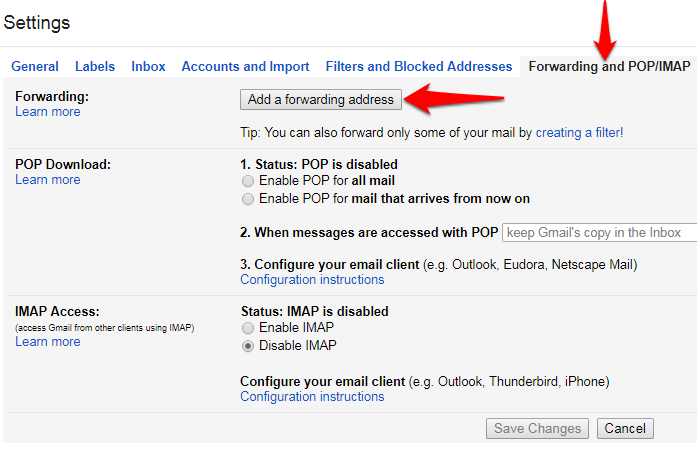 5. Enter your Yahoo email address and click "Agree" to Proceed.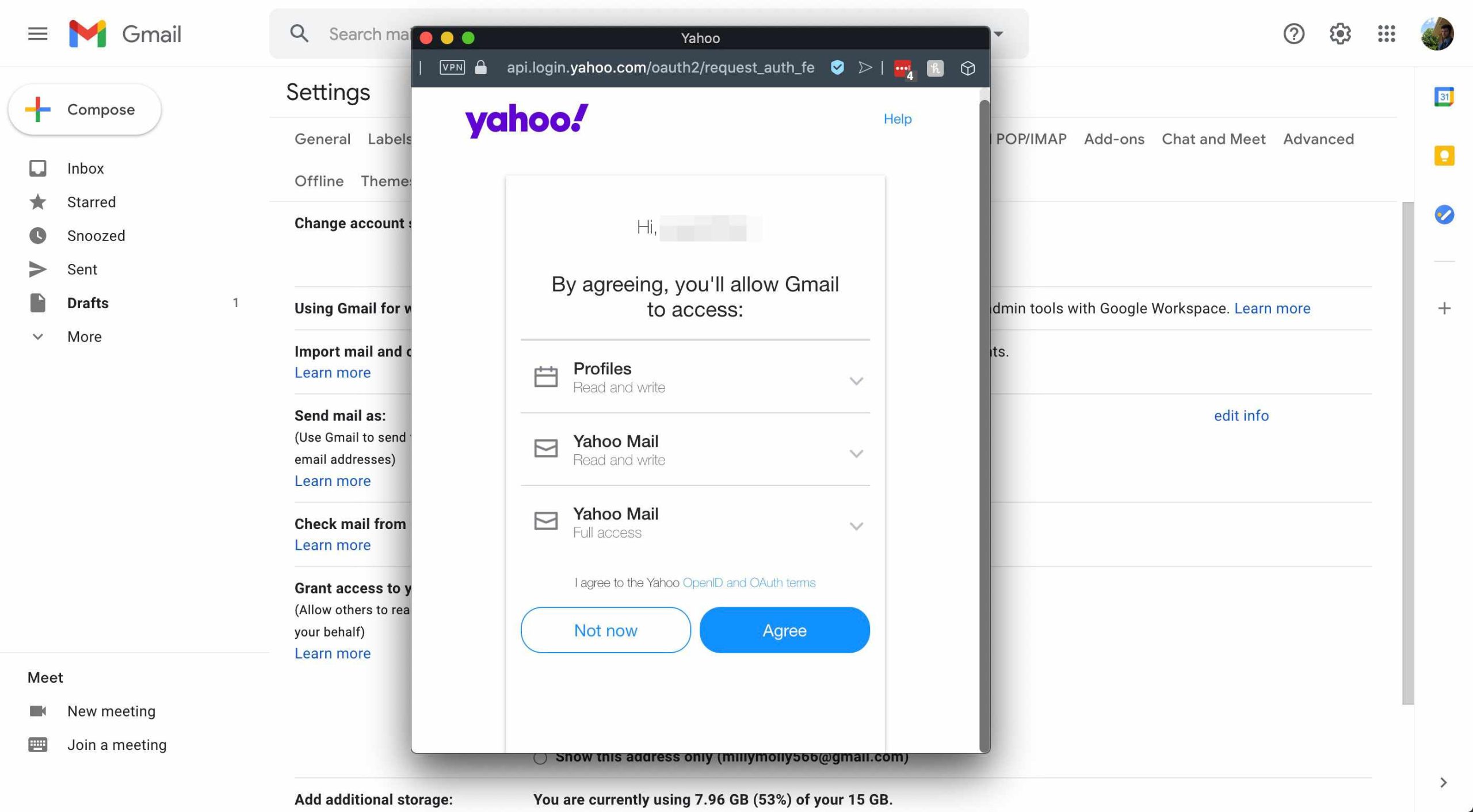 You will receive a confirmation email to your Yahoo account. Open Yahoo Mail account and click on the link to confirm.
Method #3. Add Gmail mailbox in Yahoo Account
1. Open your Yahoo Mail account.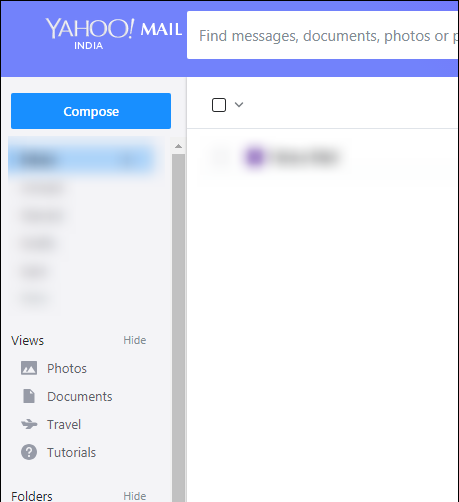 2. Click the gear icon and select Settings from the drop-down menu.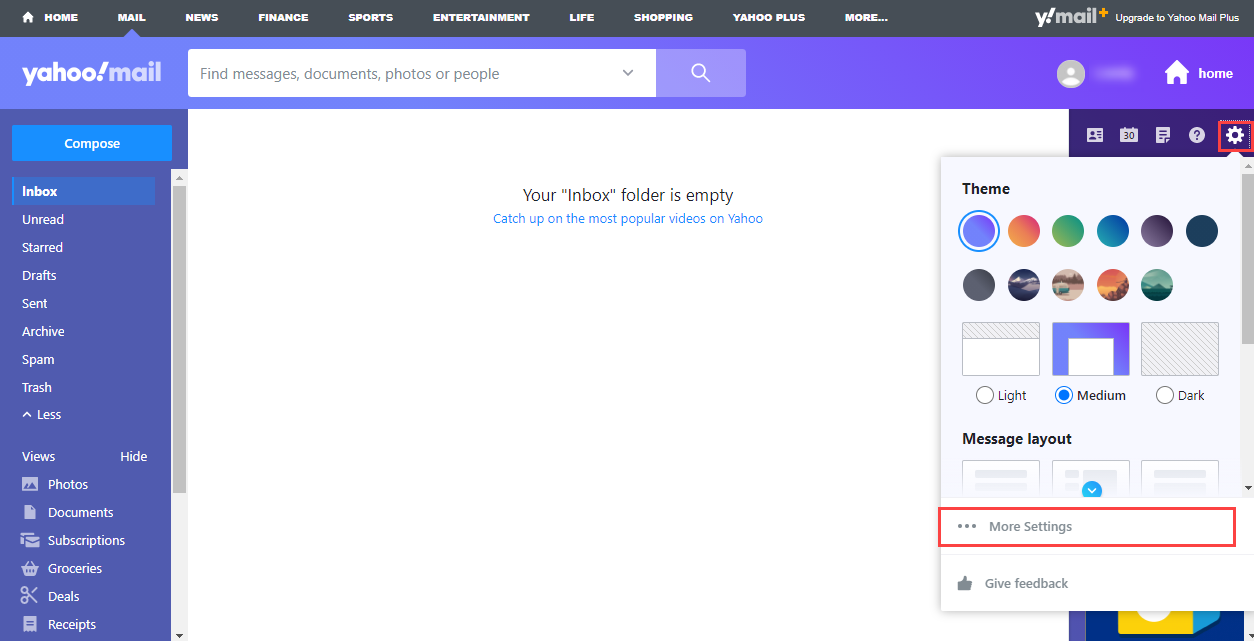 3. Navigate to Mailboxes >> Add Mailbox.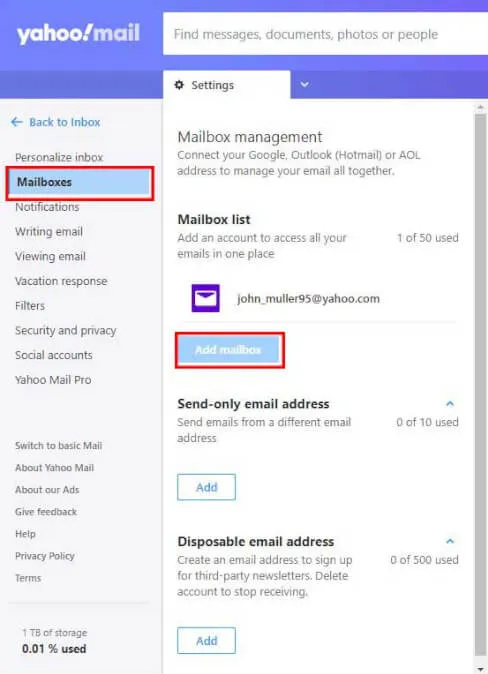 4. Now select Gmail from the list.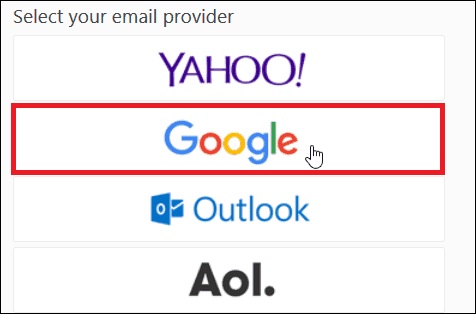 5. Enter your Gmail login credentials and click Proceed.
6. A pop-up Window will appear, sign in with your Gmail account.
7. After successful login, click the Proceed button.
Finished! Now you can access or Gmail mailbox folders in Yahoo Mail
Conclusion
After deep research, I had found these three 100% workable solutions to transfer emails from Gmail to Yahoo mail account. If you want to switch your data, you can choose any of the above solutions. As there are numerous solutions available to transfer emails from a Gmail account to a Yahoo account. However, we would like to personally recommend this software for transferring your Gmail account to your Yahoo Mail account. It's a good choice that comes with the free trial version. You can use the trial edition to test the working and functionality first.
Check Out: How to Download Gmail Emails to Hard Drive?