How to Export Yahoo Mail Folders to Another Yahoo Account?
"Hi I am searching a tutorial to transfer email from one yahoo account to another. Unfortunetly there is non available. Kinldy provide me Yahoo to Yahoo migration guide."

– User from Yahoo Community
"How to Export Yahoo Mail Folders to Another Yahoo Account? There are 4 mailbox folders plus 2 customised folders. I want to copy data from these folders to a new Yahoo account. Is there any solution available?"

– Jackson Edword
Looking to migrate emails from one Yahoo to another Yahoo account? This how-to guide is for you! Here, we'll be showing you how to export Yahoo Mail folders to another Yahoo account in an easy manner.
Yahoo Mail is the third largest web-based email service in the world with more than 200 million Yahoo Mail users. It provides lot of inbox storage, fast upload time, Good security along with mobile apps which allows you to easily access you emails. There are lots of features available in Yahoo Mail such as built in translator, import social media contacts, easy setup of account, etc. which makes it a good choice.
However, Yahoo does not provide any official solution to transfer Yahoo Mails to another Yahoo account.
To transfer Yahoo Mail folders to another Yahoo account, we have come up with an excellent solution. Read on!
How to Transfer Emails from One Account to another Yahoo With Ease
As we discussed, there is no official solution provided by Ymail to migrate emails from Yahoo to Yahoo. Therefore, we needed to use third party software for this task.
I would like to suggest you to Download and install Advik Yahoo Backup Tool for this. The user Interface of this tool is very simple and it provides most accurate and powerful migration of emails from one Yahoo to another Yahoo account. Hit the button below to download this tool for free and read on for step by step instruction on how to transfer Yahoo mail to another Yahoo.
Notice: Enable Less Secure Apps/Third Party Access and Generate One Time Password to use that for Signing into the Advik Yahoo Backup Tool.
Steps to Export Yahoo Mail Folders to Another Yahoo Account are;
Step 1. Launch Advik Yahoo Backup tool.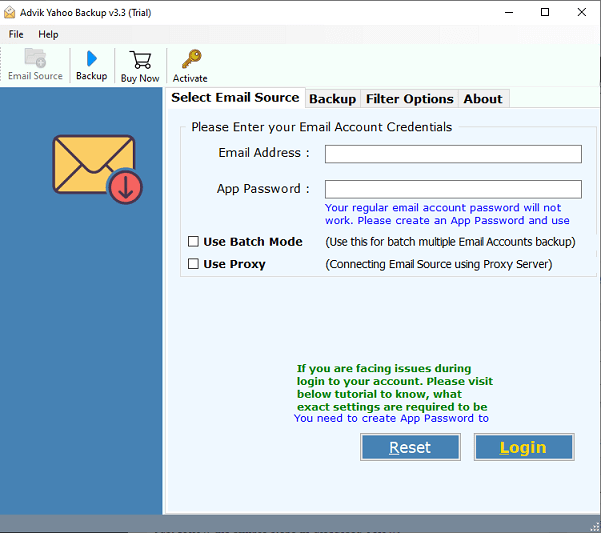 Step 2. Enter Yahoo Mail login details.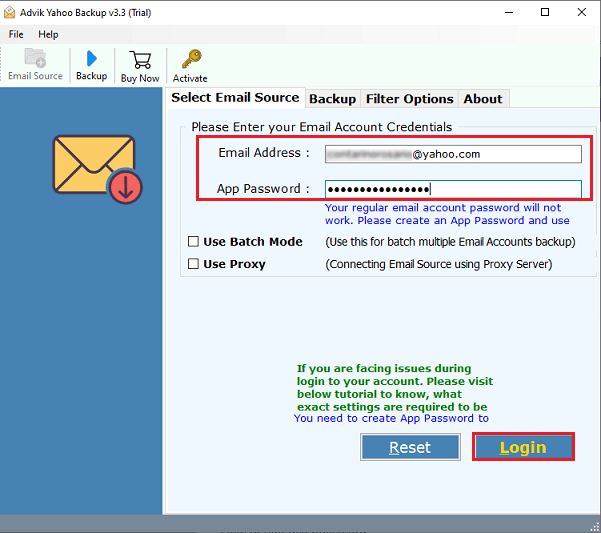 Step 3. Select desired mailbox folders that you want to transfer.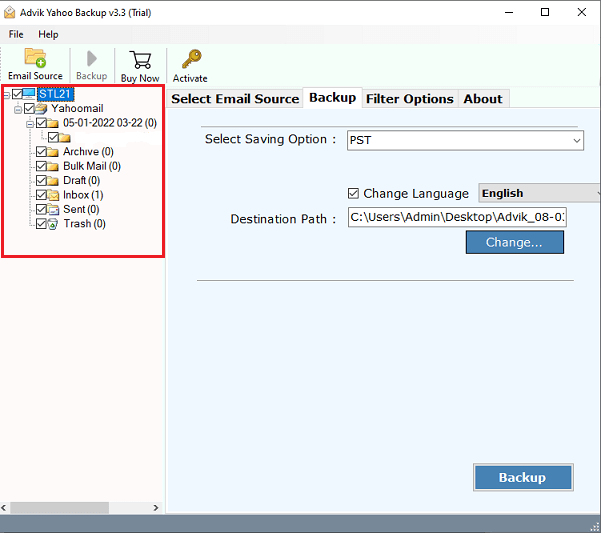 Step 4. From multiple saving list select Yahoo as saving Option.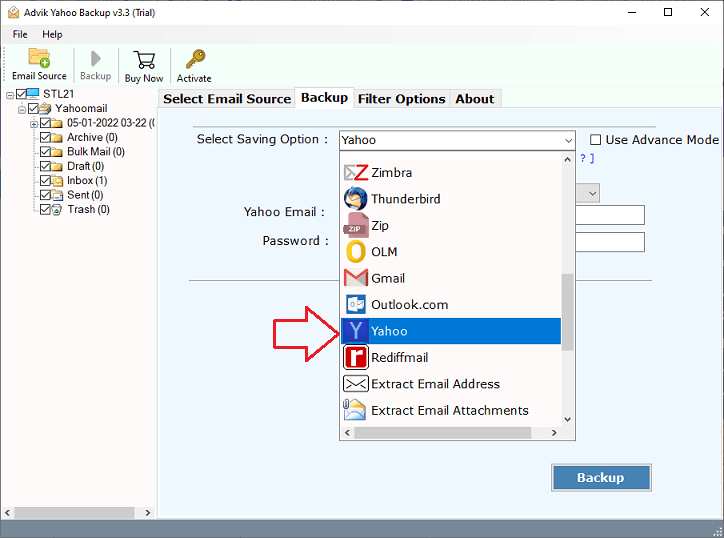 Step 5. Enter Yahoo login details where you want to migrate your emails.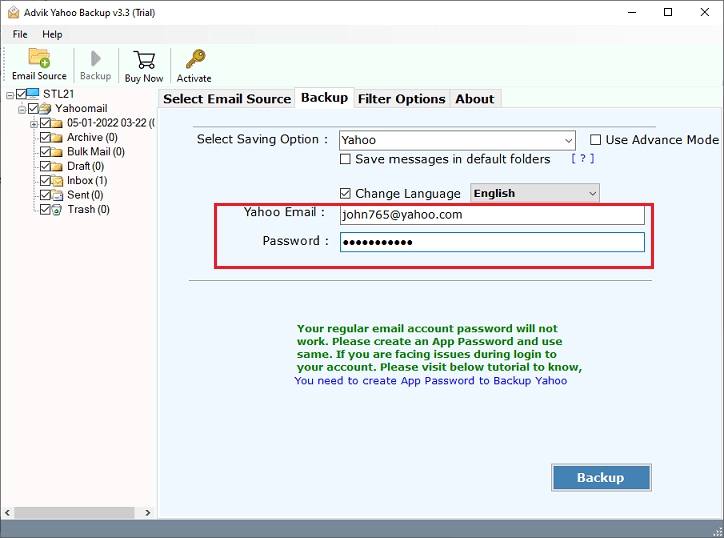 Step 6. Hit the "Backup" button and analyze the process of Migration.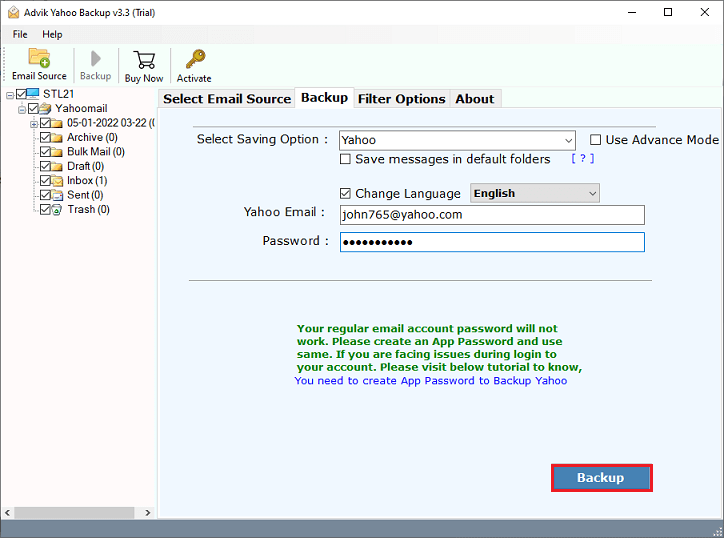 Once the migration process is completed, you can view mailbox folders in your new Yahoo Mail account.
---
Reasons to Choose Advik Software;
There are many reasons to choose Advik Yahoo to Yahoo Migration tool. Some of them are as follows;
Maintain Folder Structure; This software maintains the folder structure of emails during the export process of Yahoo mail folders to another Yahoo account. So that you can easily navigate your emails after the migration process.
Include Attachments; Attachment plays very important role in email messages. Today most of the confidential information sent and received through attachment files. That's why this software is programmed to keep all attachment files intact.
Preserve Key Elements; During Yahoo to Yahoo migration process all the key elements of the emails such as to, from, Cc, Bcc, Hyperlink, Unicode characters, etc. remains same.
Multiple output Format; You can use this software to download emails from Yahoo Mail into various file formats such as Yahoo to PST, MSG, EML, MBOX, PDF, XPS, TGZ, etc.
Cloud Migration; Apart from Yahoo to Yahoo Migration, this software also allows users to transfer emails from Yahoo to Gmail, G Suite, Office 365, Outlook.com, and any other email service that uses IMAP protocol.
Free Demo Download; You can download this software for free to check the working and efficiency of the tool.

Dedicated Customer Support; In Case you stuck somewhere while using this tool, you can contact our customer support for further help.

Conclusion
There may be various reasons for which you may want to move Yahoo Mail emails from One account to another account. Whatever your reason is, if you want to export Yahoo mail folders to another Yahoo account easily and efficiently then, you may have to employ a third-party program like Advik Yahoo Backup Tool to transfer Yahoo mail to another Yahoo account as recommended in this tutorial.
---
You can also solve some of the queries given below using this method.
"How can I export Yahoo mail folders to another Yahoo account?"
"How to transfer Yahoo mail to another Yahoo?"
"How can I transfer Yahoo mail folders to another Yahoo account?"
"How to import Yahoo mail to another Yahoo account?"
"Suggest me the easiest way to export emails from one Yahoo Mail to another Yahoo Mail account. "
"Where can I get the best Yahoo to Yahoo Migration Tool?"
Read Also: Import Yahoo Mail to Gmail – Complete Guide