How to Export Yahoo Mail to PST file for Outlook 2019?
Are you searching the best way to export Yahoo Mail to PST? If yes, then your search has now come to end. In this article, you will learn to transfer emails from Yahoo to PST in an easy manner. This is the easiest way to download your Yahoo emails into PST format. before going further let's take a look at PST and Yahoo Mail.
PST stands for Personal Storage Table. PST file format is developed by Microsoft for MS Outlook. This file is a master repository file for storing emails, folders, labels, attachments, and all other personal information that is used by Outlook.
Yahoo Mail is also known as Ymail. It was launched in 1997. Yahoo Mail has the storage capacity of 1 TB, the user can send emails of up to 25 MB including attachments (up to 100 MB via the built-in 'Attach Large Files' app). The user can access Yahoo Mail from Web or by using any third-party email client application.
Yahoo mail does not provide any official solution to export backup of Yahoo mail mailbox. In order to export the backup of Yahoo mailbox to PST file format, you can use the Advik Yahoo Backup tool. This tool allows users to export backup of Yahoo mail in multiple formats including PST file format.
Note: Generate One Time Password from Yahoo Mail to Sign in from Advik Yahoo Backup Tool
---
Steps to Export Yahoo Mail to PST file format;
Step 1. Run the tool and enter your Yahoo login credentials.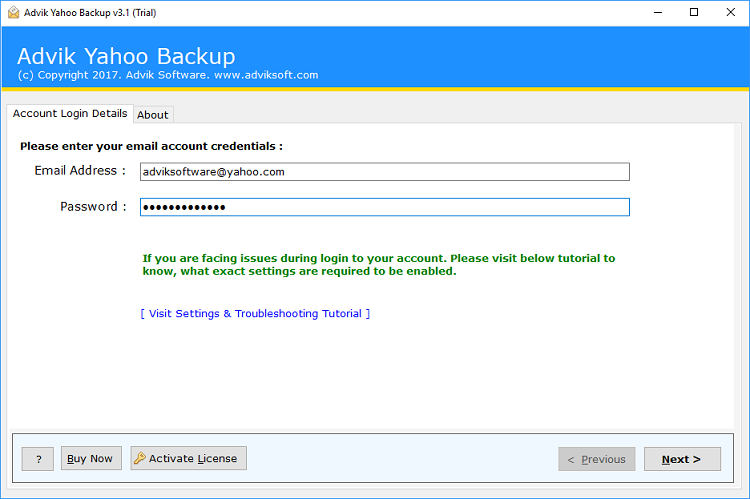 Step 2. Select mailbox folders to export.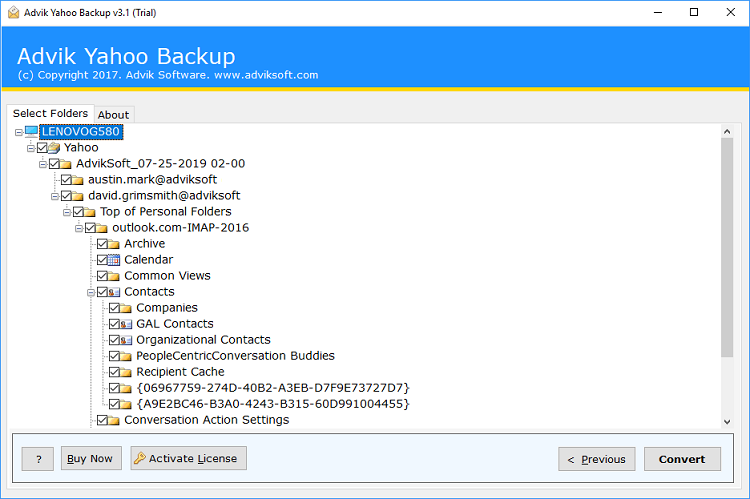 Step 3. Select PST from Select Saving Option.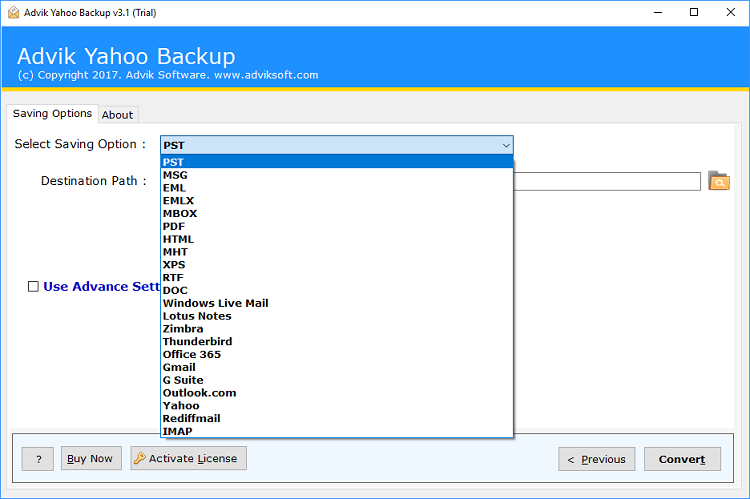 Step 4. Click on the Convert button.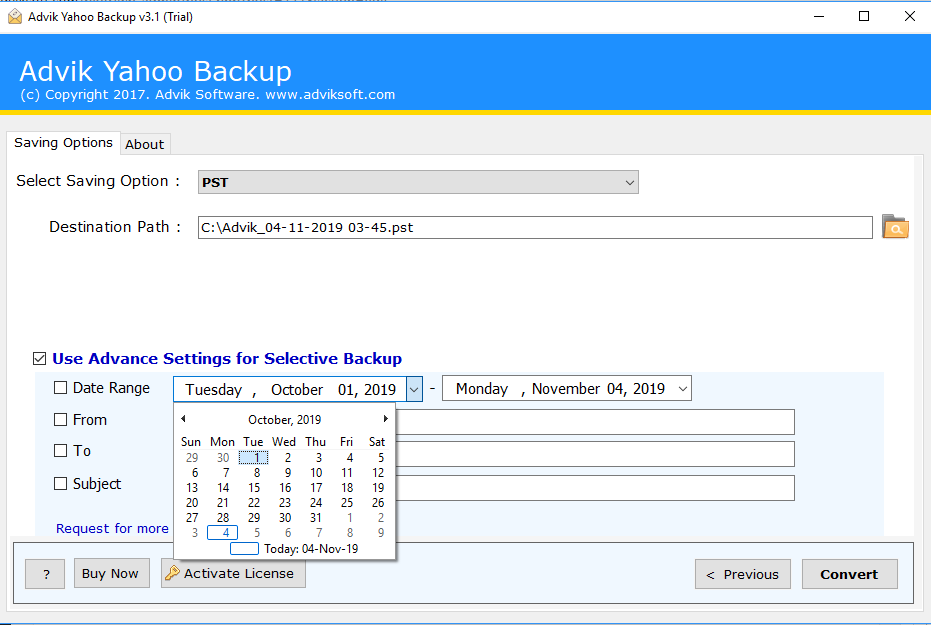 Optional: Apply Email Filters if required for selective email conversion.
That's it, the tool will immediately start the process of exporting. As soon as the export process completed the tool notifies you, then click OK.
This is how you can export Yahoo emails to PST file for Outlook. Now you can easily import this converted .pst file into Outlook to access Yahoo emails without any configuration.
---
Reasons to Choose Advik Software.
Advik Yahoo mail to PST Software is loaded with advanced features that make it stand out from the crowd. Some of the best features of this tool are as follows;
Maintain Folder Structure: The folder structure of the email remains the same during the export process of yahoo to PST. This makes navigation of emails easier after conversion.
Retains key elements: All the key elements of emails remain the same during the process of conversion. These key elements include "to", "from", "Cc", "Bcc", "hyperlinks", "Unicode texts", "embed images", etc. The layout of the emails also remains the same.
Accurate Result: Advik Yahoo to PST software provides the most accurate results. So that none of your data lost during Yahoo Mail to PST export.
Simple User Interface: The User Interface of this tool is very simple. Anyone with a basic knowledge of computers can easily be able to export Yahoo Mail to PST.
Advanced Filter Option: This software allows users to export Yahoo to PST using Advanced filter Option. These Advanced filter includes combination of "to", "from", "subject". "date range", etc.
Free Demo Download: You can download Yahoo Mail to PST Converter for free to check the efficiency and working of this tool. Hit the button below to download this tool for free.

Dedicated Customer Support: In Case you stuck somewhere while using this tool, you can contact our customer support for further help.

You can also solve some of the queries given below using this method.
"Can I Save emails from Yahoo to PST directly?"
"How can I export Yahoo Mail to PST in bulk?"
"Suggest me the easiest way to export yahoo emails to PST format?"
"Where can I get the best Yahoo to PST Converter software?"