How to Migrate Email from Gmail to iCloud Account?
"How can I migrate Gmail to iCloud Mail? I would like to move my personal email back to iCloud but didn't find anything on a quick Google search. Someone, please suggest any method that I can use to transfer data from Gmail to iCloud."

– Margot Robbie (UAE)

"Moving email from gmail to icloud is very complicated and lengthy task. Failed third time. I want to import Gmail to iCloud mail account asap. I have 6 Google Mail accounts and want to copy mailboxes in one single iCloud account. Help me with working solution. Thanks!"

– Guy Pearce (New Jersey)
If you are searching for the same but haven't found any solution yet? Then you don't need to worry at all because you have landed on the right blog. Here we will share the best solution to migrate email from Gmail to an iCloud account.
Most of us use Gmail for all our cloud computing needs. However, Apple's iCloud also has great things especially if you're a strong Mac and iOS user. If you want to export emails from Gmail to iCloud, but when it comes to the process, you have found nothing. Must read on to know the step-by-step process for transferring Gmail emails to iCloud.
How to Import Gmail to iCloud Account Easily?
Download and Install Advik Gmail Migration tool software on your Windows PC. This software will help you to migrate Gmail to iCloud Mail effectively. The utility is easy to use and gives users a direct option to perform this task. You can transfer emails from Gmail to iCloud Mail account with attachments. It will only require login credentials of Gmail account and iCloud account for this email migration. Users must enter the details of Cloud Mail applications such as Username, Password & IMAP Server Name. No iCloud devices connected to the system are required to use this tool.
With this utility, you can start moving email from Gmail to iCloud effortlessly. It offers the ability to import Gmail mailboxes along with attachment files. Completely secure, fast, and user-friendly tool to transfer data from Gmail to iCloud.
Note: Before proceeding please Enable IMAP in Gmail as well as in your iCloud settings.
Steps to Migrate Gmail to iCloud Mail Account are;
Step 1. Launch Advik Gmail Migration Tool in your system.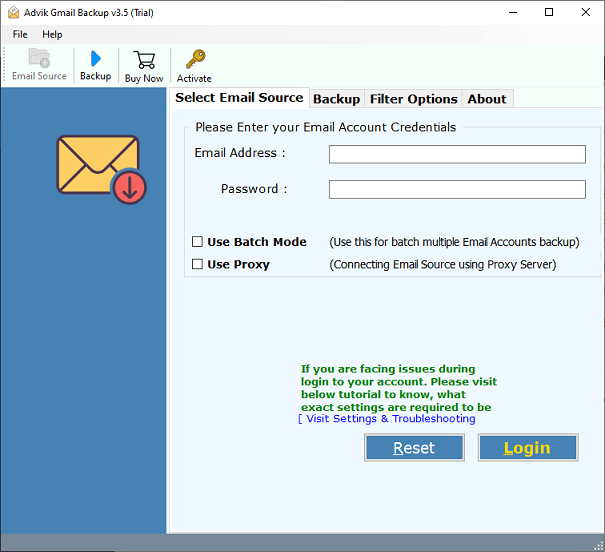 Step 2. Enter your Gmail Login credentials and Press the "Login" Button.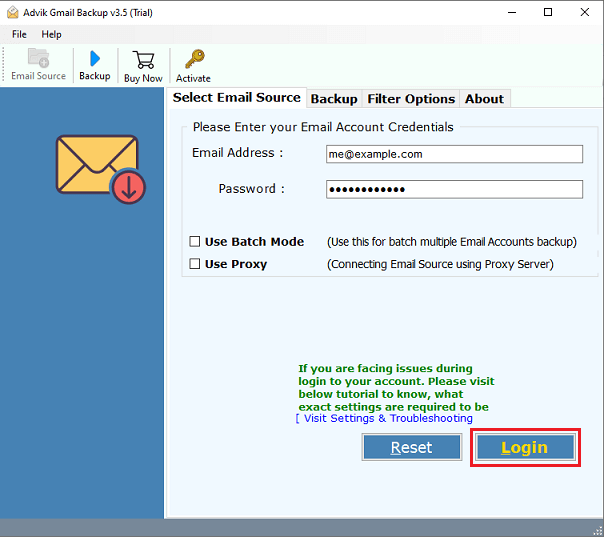 Step 3. In few seconds, this tool will quickly scan all of your folders and sub folders, select the desired email folders to transfer it to iCloud.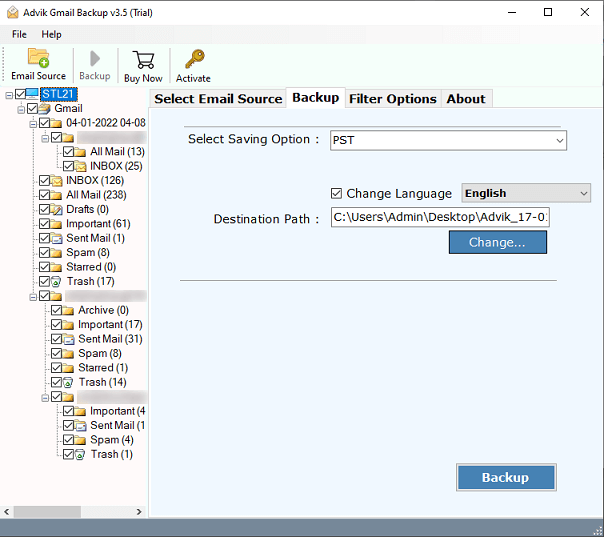 Step 3. Choose the "IMAP" option from the saving option list.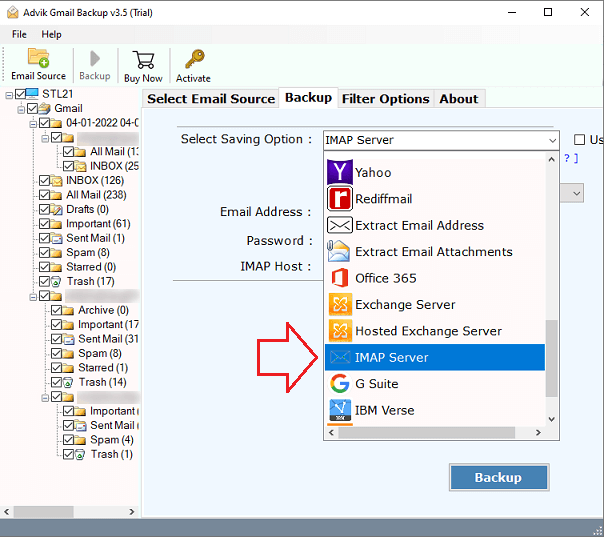 Step 4. Enter iCloud IMAP details such as iCloud email address, password, IMAP Host.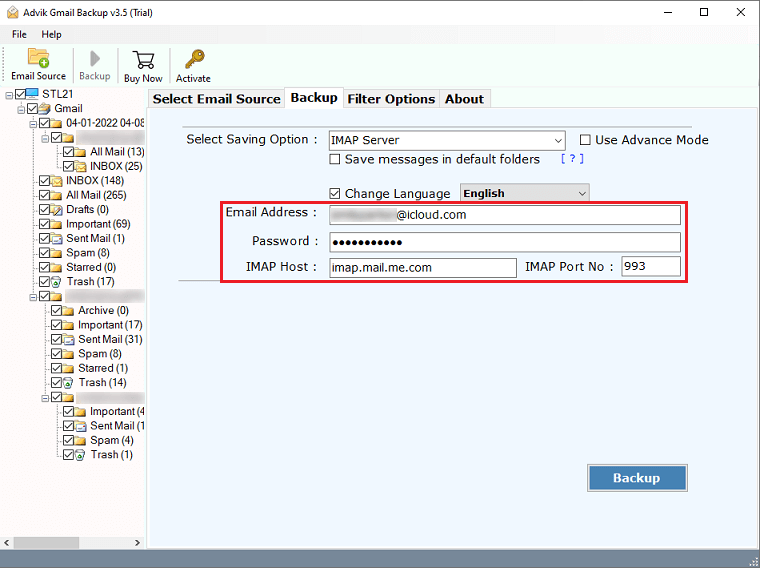 Note: Provide iCloud IMAP Server Name as imap.mail.me.com and port number as 993.
Step 5. Finally click the "Backup" button to start exporting Gmail emails to iCloud.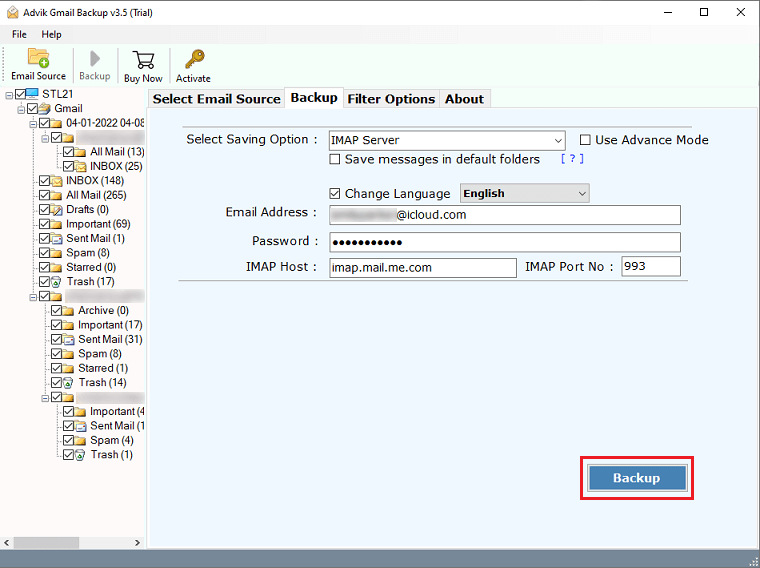 The software will start moving email from Gmail to iCloud with simple steps. You will receive a message when the migration process is complete. Now, log in to your iCloud Mail and review the Gmail emails.
Read Also: How to Save Gmail Emails to Flash Drive? 
Why Choose Advik Gmail to iCloud Migration Tool?
This is a highly advanced utility that comes with several beneficial features to fulfill the user's needs and deliver a fruitful solution. Here is the list of some highlighted features of the tool:
Cloud to Cloud Migration:
This software allows users to import Gmail emails to iCloud along with all inserted attachments like doc files, images, etc. It enables users to directly migrate Gmail to iCloud via login credentials of both accounts.
Email Saving Option:
It Provides an option to filter Google emails according To, From, Subject, Date Range, etc. Along with this feature, it also maintains original metadata properties and folder structure of mailboxes during the migration.
Selective Folder Migration:
This tool provides an option to select and move only required Gmail email folders into the iCloud account. So that you can eliminate folders that are not required. This function not only saves time and effort, but it also eliminates the need for complete backup.
IMAP Option:
With this premium feature of this tool, you can transfer emails from Gmail to Yahoo Mail, Office 365, Rediffmail, and many more. Just enter the email address of any email service and IMAP details and you will be able to export Gmail to any email service as per your wish.
Best Gmail to iCloud Migration Tool:
No Apple or Mac device needs to be connected to the system to start the migration. It is a completely Free trial edition available for which users can check working and efficiency. It is also safe from malware and gives users a fruitful result without size restrictions.
Multiple saving Options:
It allows users to Export Gmail mailbox to PST, PDF, EML, MSG, MBOX, TGZ, XPS, DOC, EMLX, RTF, and many other formats with attachments. During the file migration process, this tool ensures that there will be no data loss. 
Self-explanatory GUI:
Ease of access application for both technical as well as non-technical users. The interface of this tool is designed in such a way that it can be used by even common users.
Time to Conclude
In the above blog, we discussed the best way that user can easily migrate Gmail to iCloud Mail with just a few steps. Using the Gmail Backup tool, it is easy to import Gmail emails to iCloud directly without alerting a single data. Try it out and get unlimited advantages.
Frequently Asked Questions
1. Can I migrate specific email folders to iCloud Mail?
Ans. Yes, the tool offers the facility to select the required email folders to carry out the migration process.
2. How do I switch from Gmail to iCloud?
Ans. You can switch from Gmail to iCloud account by moving entire mailboxes from Gmail into iCloud mail account. Advik Gmail Migration Tool will help you to execute this task. Follow the complete steps as shown above.
3. How many Gmail accounts can we move?
Ans. The software allows you to move mailboxes from multiple Gmail accounts without any limitations.
4. Does the software allow you to filter Gmail emails and migrate required emails?
Ans. Yes, the tool has an email filtering option that allows you to filter emails by subject, date, from, etc.
5. Will I be able to import Gmail to iCloud with attachments?
Ans. Yes, the software provides support to import Gmail emails to iCloud along with all attachments. No matter how big your attachments are, they are also saved with emails.