How to Migrate Zoho Mail to Office 365? – Tutorial with Screenshots
You might have been thinking, "Is it possible to migrate Zoho Mail to Office 365?" We are pleased to help find this out! Scroll down to find out the best Zoho to Office 365 migration solution. At the end of this article, you will be able to export Zoho emails to Office 365 account instantly.
Zoho mail is one of the most popular email service providers. It offers desktop-based clients as well as a cloud email server. You can access its service online as well as via the app. It provides email, calendar, journal, notes, and all necessary mailbox services which are useful for a user.
On the other hand, Office 365 is a complete suite that offers webmail services, MS Office apps and services, Skype, and many more. Office 365 is more flexible as compared to Zoho mail, and easy to manage complete business activities on one platform.
Nevertheless, many users have encountered difficulties to perform Zoho Mail to Office 365 migration process and are now seeking alternative solutions. This article will explain the process to import Zoho Mail to Microsoft 365.
Need to Migrate Zoho Mail to Office 365
The Zoho Mail service provider is primarily useful for small businesses and organizations. However, it does have certain limitations, leading users to desire a transfer Zoho email to Office 365.
Accessing Microsoft 365 is effortless for users across various devices such as PCs, MacBooks, Tablets, and Smartphones, with the added advantage of offline data accessibility.
Subscribing to Office 365 grants users access to multiple suites of products for comprehensive data management, including Word, Excel, PowerPoint, and more.
Office 365 consistently enhances its business-oriented features, ensuring that users receive the latest updates, security patches, and bug fixes.
Due to the progressive nature of businesses, users prefer to migrate emails from Zoho Mail to Office 365, as it is particularly suitable for small and medium-sized businesses.
Microsoft 365 offers unique features like in-place archives, shared mailboxes, group emails, and various licensing options that are not available in Zoho Mail.
How to Transfer Email from Zoho to Microsoft 365? – Instant Solution
Manually migrating emails from Zoho Mail to Office 365 isn't possible. So, if you wish to find the easiest and most effective way to transfer Zoho email to Office 365, you require an automated tool. That's where Advik Zoho Mail Backup Tool comes in. It is an amazing application to migrate Zoho email to Microsoft 365. Also, you don't need to worry about the hierarchy of Zoho mailbox folders, this tool maintains it well. It has the capability to migrate Zoho Mail to Office 365 account directly. You will also get a choice to select Zoho mailbox folders in the preview pane to choose the email files of your choice.
Additionally, this tool also allows users to export Zoho Mail to PST, EML, PDF, MSG, DOC, HTML, MHT, XPS, RTF, and many more. This software also comes with a FREE trial version, so just download it on your Windows PC and follow the below-mentioned steps.
Now, let's understand the procedure to export Zoho Mail emails to Office 365.
Step-by-Step Guide to migrate Emails from Zoho to Office 365 Account
Step 1. First of all, install and run the Zoho Mail Migration Tool on your system.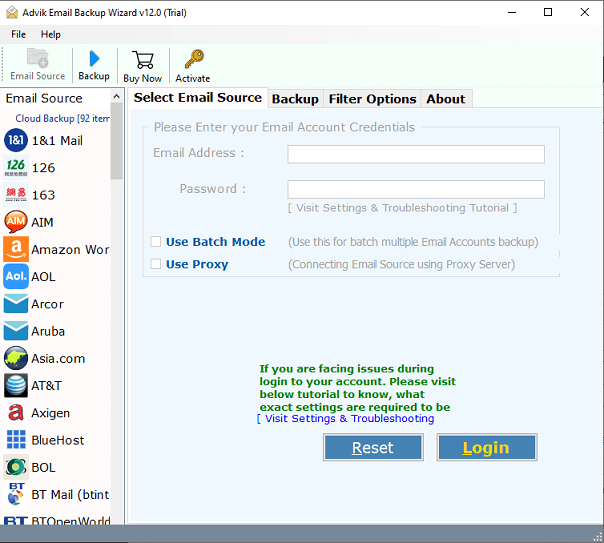 Step 2. Then, choose Zoho Mail as an email service from the list of various options and enter the account details, and press the Login tab.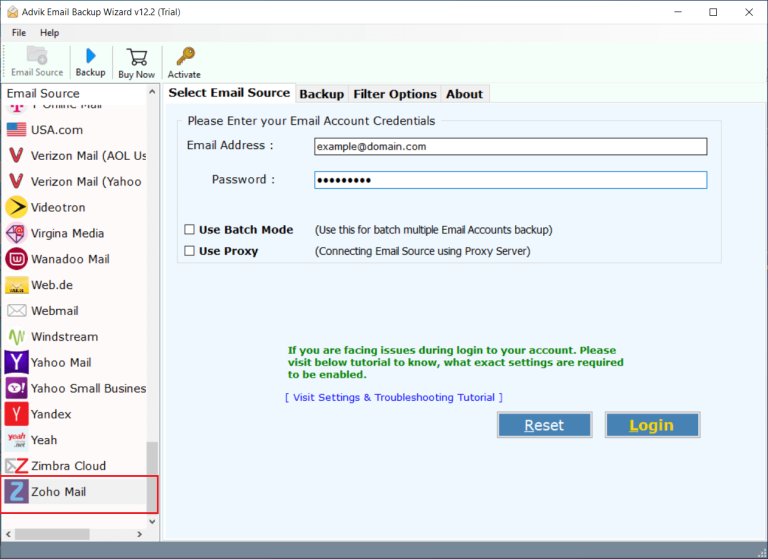 Step 3. After that, select the required Zoho Mail email folders in the software panel.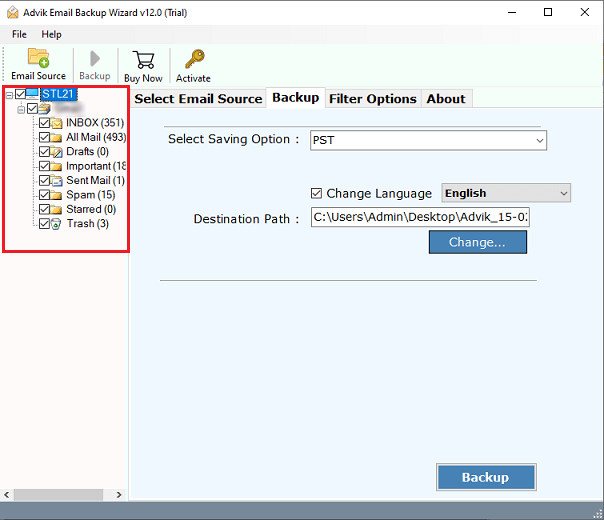 Step 4. Then, choose Office 365 as a saving option from the given drop-down list.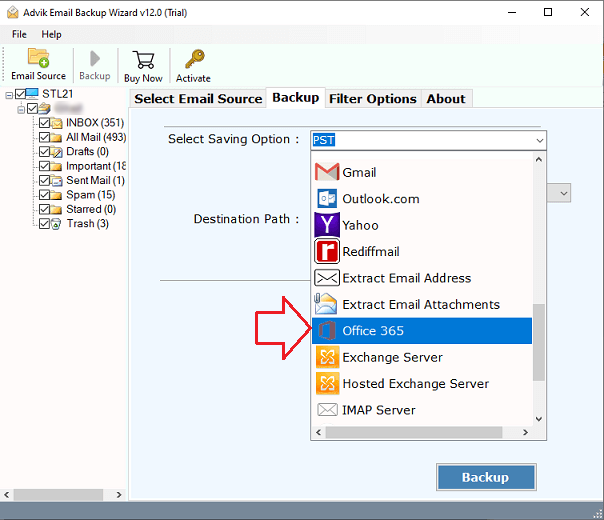 Step 5. Here, enter your Microsoft email address in the respective field and press the Backup button.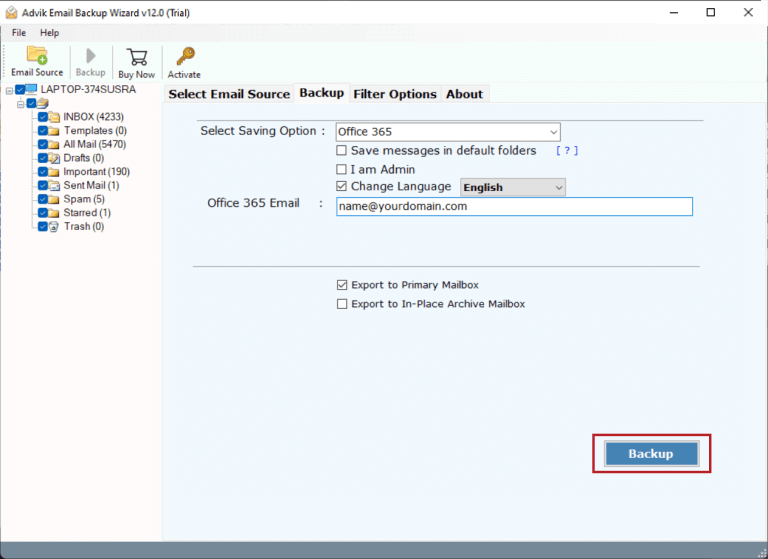 Step 6. After that, a new window tab from Microsoft will appear on your screen, enter your password and click the Sign In tab.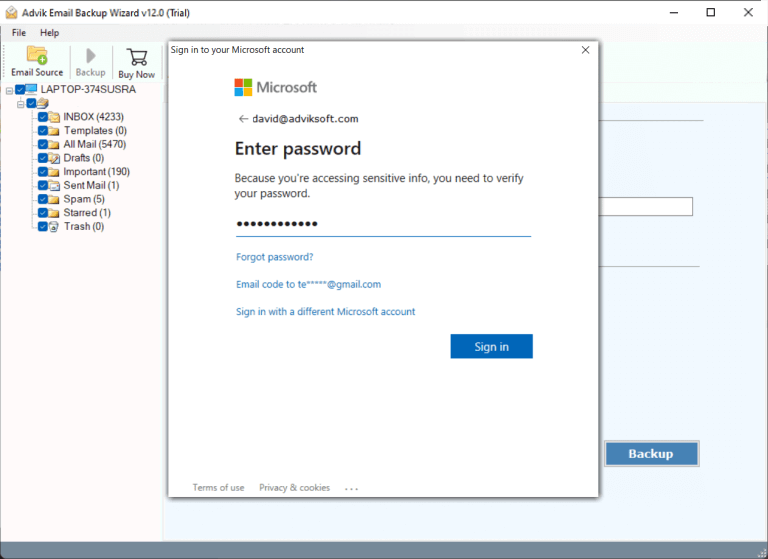 Done!! Now, login to your Office 365 account and check all the exported Zoho emails in it.
Now sit back and relaxed, the software will transfer Zoho emails to Office 365 account. Once the process gets completed, open Office 365 account and access Zoho emails over there. This is one of the widely opted email migration methods. Try now and migrate from Zoho to Office 365 Small Business Account.
Significant Features of  Zoho Mail to Office 365 Migration Tool
The Bath mode option enables the migration of emails from multiple Zoho accounts to Microsoft 365 simultaneously.
A user-friendly utility that only requires your account credentials to complete the migration task.
You have the flexibility to select specific folders for transferring important email messages between the two cloud accounts.
You can also import Zoho Mail to Thunderbird, Outlook, Gmail, Yahoo Mail, Exchange Server, Outlook.com, etc.
Migrate from Zoho to Office 365 using criteria such as date range, email address, subject, specific words, and folders.
There is a dedicated option to download all attachments from Zoho Mail in their exact format.
A distinctive feature allows the migration of Zoho emails to both the primary and in-place archive mailboxes in Microsoft 365.
The "I am admin" option grants the ability to choose any active O365 user account as the destination account.
You have the convenience of saving Zoho email messages directly in default Office 365 folders like Inbox to Inbox.
The utility creates a "SavingLog.txt" file that stores detailed information about the migrated email messages.
The Final Thoughts
This article explains the best way to perform Zoho email to Office 365 migration process without any changes. The mentioned tool is useful to migrate Zoho Mail to Office 365 directly. It also maintains and preserves the formatting of Zoho Mail emails throughout the email migration process. First, try its Demo version which is absolutely free, and then proceed to buy its license version.