How to Migrate GoDaddy Email to Zoho Mail – Best 2 Methods
Are you looking for an effortless way for Zoho Mail migration from GoDaddy? Want to import GoDaddy to Zoho Mail account? How to transfer emails from GoDaddy to Zoho Mail? Is it possible to migrate from GoDaddy email to Zoho Mail? These are the top queries that have been asked by GoDaddy users, who want to transfer their data into new Zoho Mail.
If you are landed on this page in order to find the solution, you are at the right place. Today I will be sharing with you two best ways to migrate GoDaddy to Zoho email account. At the end of this article, you will be able to copy or move GoDaddy email folders to Zoho Mail. So let's begin.
Method 1. Using Advik GoDaddy Backup Tool
Method 2. Using MS Outlook Client
Pick up any method that suits your requirement, both the methods have been done by our technical experts and executed safely.
Method 1. How to Import GoDaddy to Zoho Mail With Ease
Install Advik GoDaddy Backup Tool in your Windows machine. This software is specially designed to migrate emails from GoDaddy Business to Zoho Mail without losing any information. You will get the "Email Filter Option" to export selective emails and folders into Zoho CRM. Besides this, the software is embedded with dozens of features like;
Unlimited Zoho Mail Migration from GoDaddy
Advance Email Filter Option
Transfer Specific Email Folder Only
Migrate GoDaddy to Gmail, G Suite, Yahoo, Office 365, etc.
Simple and Self Explanatory User Interface
No Manual Configuration is Required
Maintain Mailbox Folder and Sub Folder Hierarchy
Following are the steps to Import Emails from GoDaddy to Zoho Mail.
Step 1. Launch Advik GoDaddy Backup Wizard and Sign In.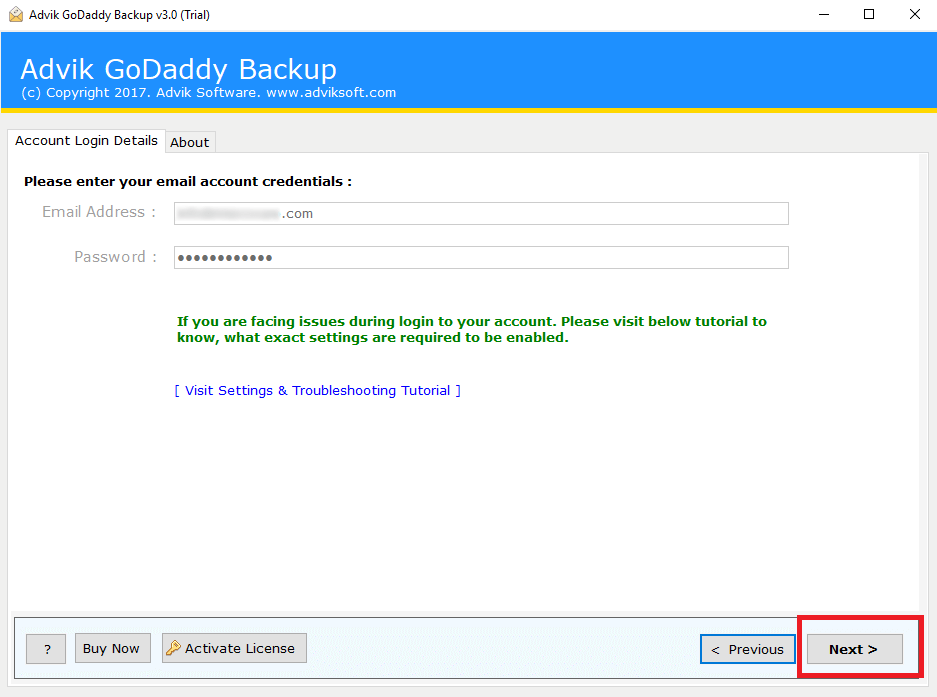 Step 2. Select email folders to copy into Zoho Mail and click Next.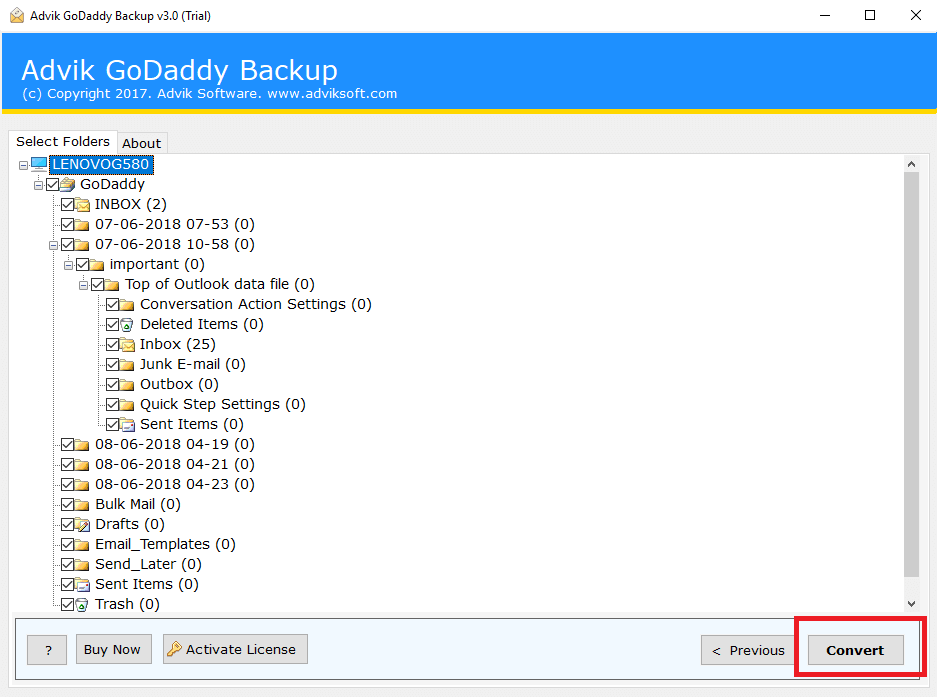 Step 3. Choose IMAP as saving option from the list.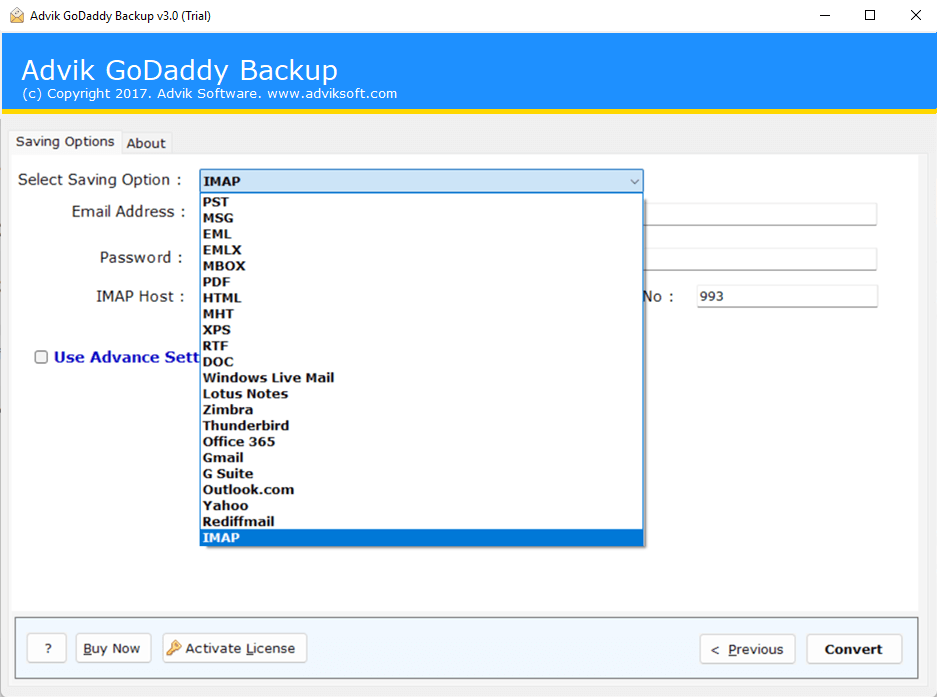 Step 4. Enter your Zoho Mail login credentials as shown below.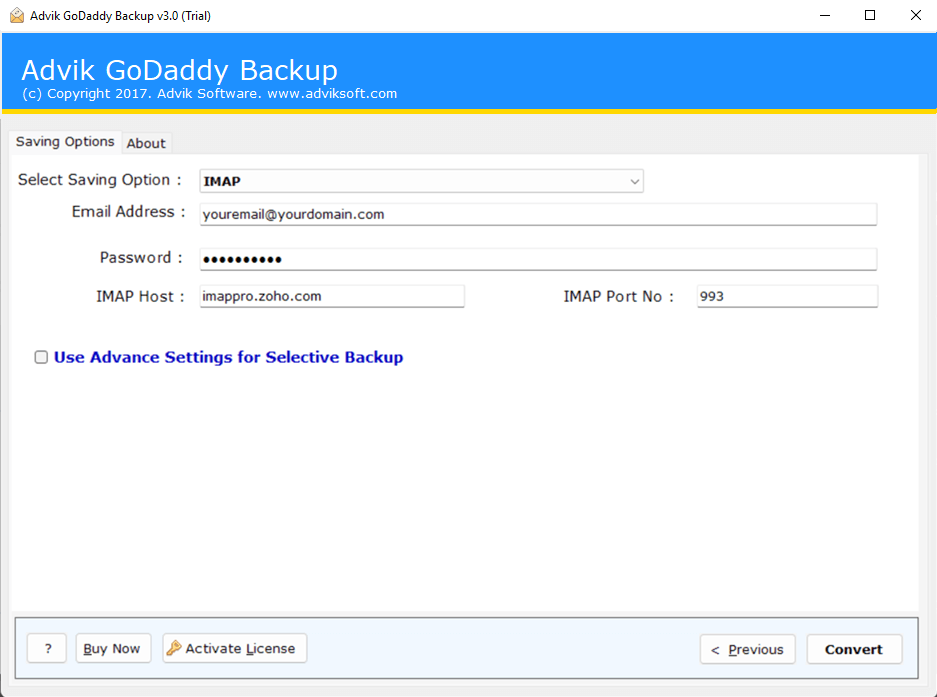 Step 5. Click Advance Setting to apply filters. (Optional)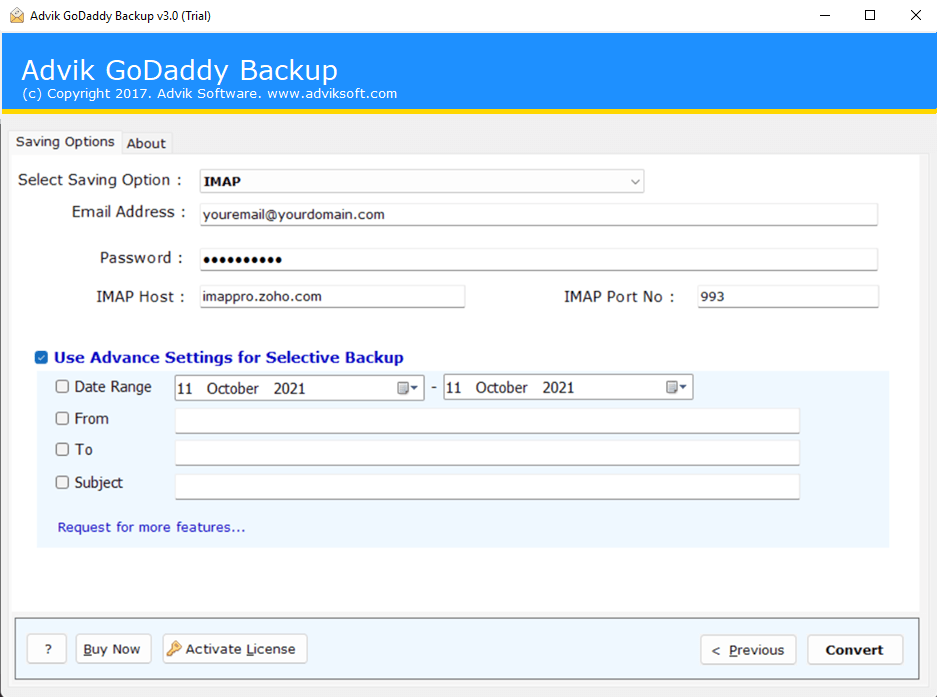 Step 6. Click the Convert button to start GoDaddy to Zoho Mail migration.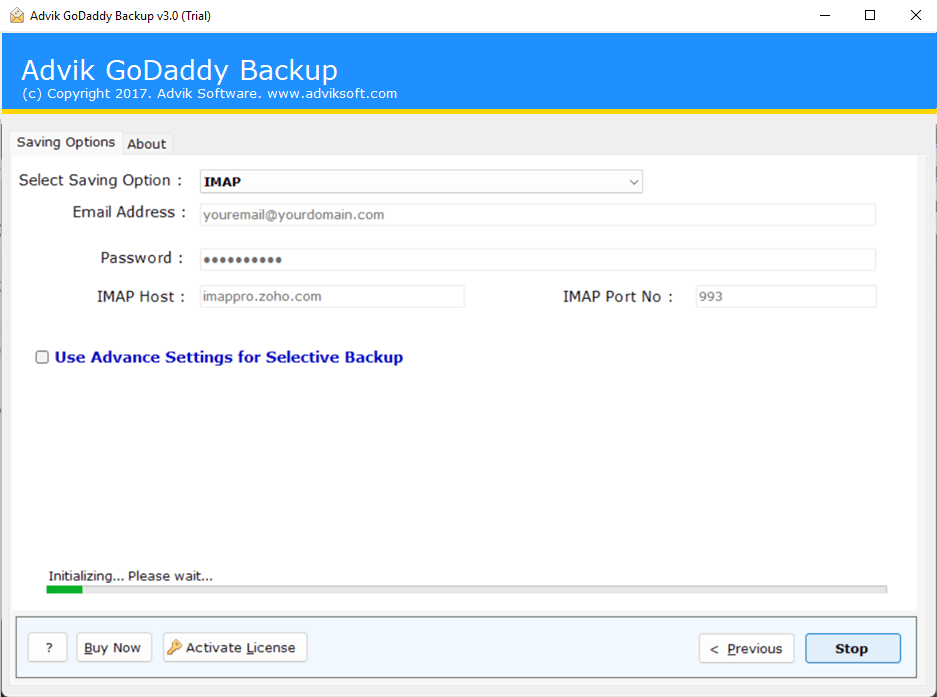 Now sit back and relaxed. The software will immediately start the email migration process. It will automatically copy your GoDaddy emails to Zoho Mail account with attachments.
Method 2. Migrate Emails from GoDaddy Business to Zoho
Another alternate solution that will guide to copy GoDaddy emails to new Zoho Mail account is right here. You have to install MS Outlook in your system. As we are going to follow manual trick for this method.
Now follow the below instructions to execute GoDaddy to Zoho Mail Migration with complete emails.
1. Open Microsoft Outlook in your system.
2. Click "Add Account" and add your GoDaddy Business email account.
3. Configure your email account and click Finish button.
4. Outlook will sync and load all your GoDaddy mailbox folders. Now click Open/Export option from menu.
5. Click "Export to a file" and click Next. Now, again select "Export to PST file".
6. Choose email folders for migration and click Finish.
MS Outlook will create PST file having GoDaddy email folders.
7. Now go to menu and click "Add Account" option.
8. This time, enter your Zoho Mail login credentials and setup your business account.
9. Navigate to menu >> Import/Export>> Import PST file.
Now select PST file that you had just created in earlier steps.
Outlook will now copy GoDaddy.pst file data in your Zoho Mail account.
This is how you can import GoDaddy to Zoho Mail account manually.
Want to Skip Manual Efforts? Download GoDaddy to Zoho Migration Tool
The manual solution includes complexity and a high risk of data loss. Thus, we like to advise you to choose Advik GoDaddy Backup tool that will ease your migration process. Also, the software will provide an email filter option by which you can select specific emails for migration.

Frequently Asked Question
Question 1. Can I transfer the Inbox folder only using an automation solution?
Answer. Yes, the software offers you to choose email folders to migrate. You can select Inbox, Sent, Items, Outbox, Public Folders, etc. separately.
Question 2. How many email accounts can I transfer in one day?
Answer. If you use a manual approach, then you have to create separate email accounts and repeat the PST file creation, and Import the same in Zoho Mail. However, if you choose Advik GoDaddy Backup Tool, you can migrate emails from multiple GoDaddy accounts in one day. Just login and migrate. No manual configuration is required in the automation method.
Question 3. Which method is time-saving? Either Manual or Automation?
Answer. It is crystal clear that the Manual method is time-consuming whereas the Advik Software is quite faster and provides instant email migration from GoDaddy to Zoho Mail.
Question 4. Can I export GoDaddy to PST file without Outlook?
Answer. Yes, take the help from software and export GoDaddy to PST without Outlook installation. The software is completely standalone.