How to Archive Emails in Gmail to Save Space?
As we know, Gmail is the most widely used web-based email client with over 1.5 billion users globally. So, you can actually understand the importance of Gmail. Despite this, it nevertheless faces a good number of problems. All users of Google are given access to 15 GB of storage, which is used to store all of the information associated with that Google account, including Gmail, Photos, Slides, Docs, Sheets, and Drive. Now, how users use this storage space is up to them. So, today in this blog post we will learn about the easiest and simplest ways to archive emails in Gmail to save space for free.
Instant Solution: Download Advik Gmail Backup Software to archive Gmail emails to hard drive and other file formats as you can export Gmail to PST, EML, MSG, PDF, DOC, HTML, MHT, XPS, RTF, and many other popular file formats with just this single tool. This tool will help you archive emails in Gmail to save space.
Although 15GB could fill up quickly for people who are regularly using all these service applications, especially for professional users. You'll see an error message that reads "Gmail Quota Exceeded" when this limit is reached, and you won't be able to send or receive emails after that. This will undoubtedly become a barrier to continuing, effective communication and eventually hinder the task. Therefore, it's important to control your Gmail storage. Here, we'll go through a few methods for managing your Gmail.
Do Archived Emails in Gmail take up Space?
Gmail offers users the option to keep less important emails in an archive inbox. All of the emails that you don't want to see in your inbox or other mailboxes can be saved in this archive box. Using the archive option in Gmail, one can transfer less-important emails to the archive mailbox folder.
Your less important emails can be kept in the archive mailbox like a vault for as long as you want. These emails will nevertheless use up space in your Gmail account.
If you were archiving Gmail emails to your computer, you shouldn't be doing so any longer. We will explain a reliable and easy tool in the part below that can be used to archive emails without any issues.
Methods to Archive Gmail to Free up Space
The most effective and easiest way to archive emails in Gmail to save space is to delete emails from the Gmail server and archive them on your PC. You can free up space and delete older emails that are no longer useful by keeping Gmail messages locally. This way, you'll have your emails and will always have access to any locally saved emails whenever you require them.
Google also provides an option to archive Gmail emails using Google Takeout. It is one of the best methods available to archive Gmail emails. You can take backup of all of your emails using the Google Takeout method, which you can then save to your computer. In order to clear some space, you can later manually remove emails from Gmail.
Other methods, such as Advik Gmail Backup Tool, are more effective than Google Takeout. You can use this tool to download Gmail emails to hard drive and delete unimportant emails from Gmail to increase Gmail storage space free.
Method 1. Archive Emails in Gmail to Save Space using "Google Takeout"
Use Google Takeout Service to backup Gmail emails with attachments. This is a free way that Google offers that allows users to take backup of Google accounts, including Gmail. To archive emails in Gmail to save space, follow the steps carefully.
Step 1. First of all, Sign in to your Gmail account and click this link to Open the Google Takeout page.
Step 2. Select the Deselect All option in the new window, then scroll down and choose the Mail option.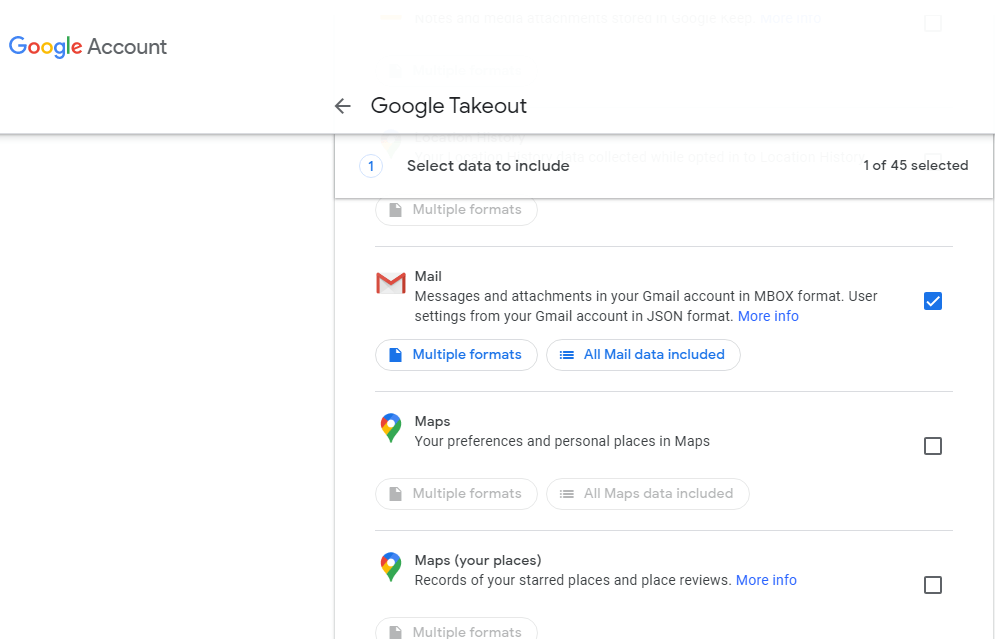 Step 3. The next step is to select Send Download Link via Email as the Delivery Method.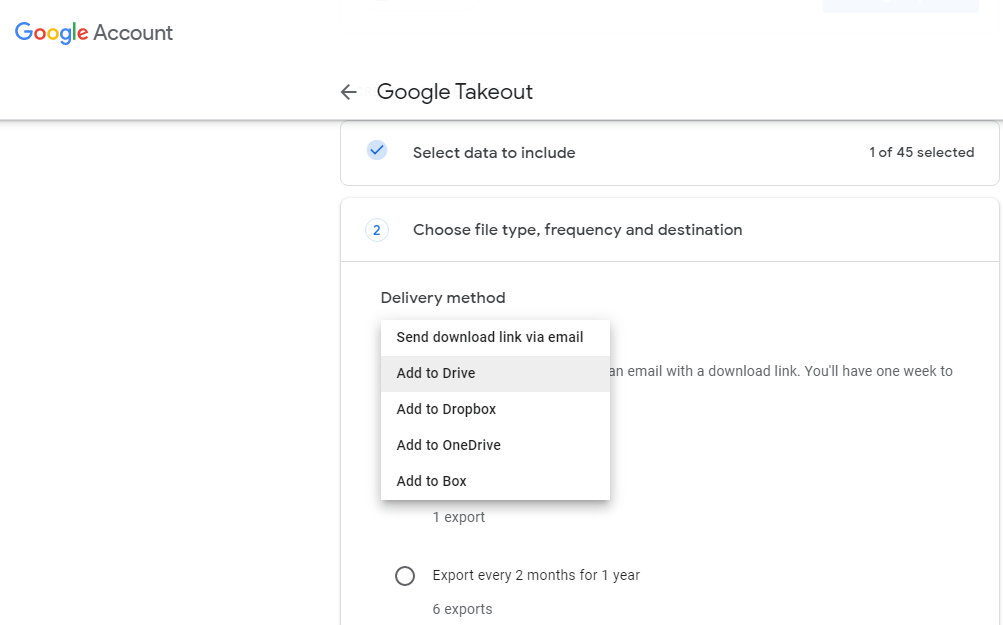 Step 4. Choose the file type; .zip as a file format and 2 GB file size. then click "Create Export" from the menu.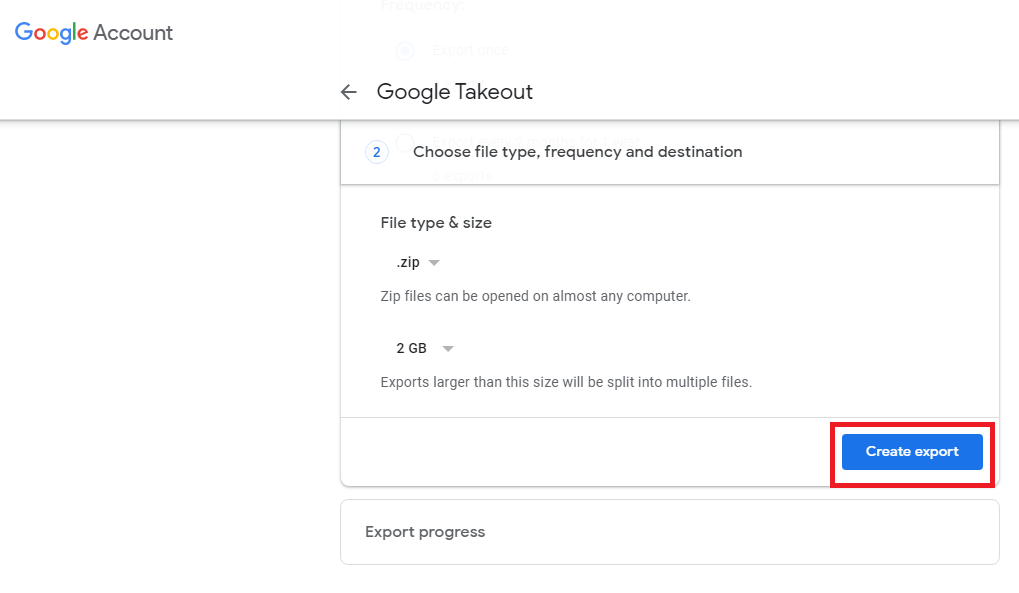 Step 5. Following that, the archiving procedure will begin. Click on the notification with the download button once the procedure is finished.

Step 6. Next, Go to your Gmail inbox. You will receive an email that consists of a download link there. To save your Gmail emails, click on it.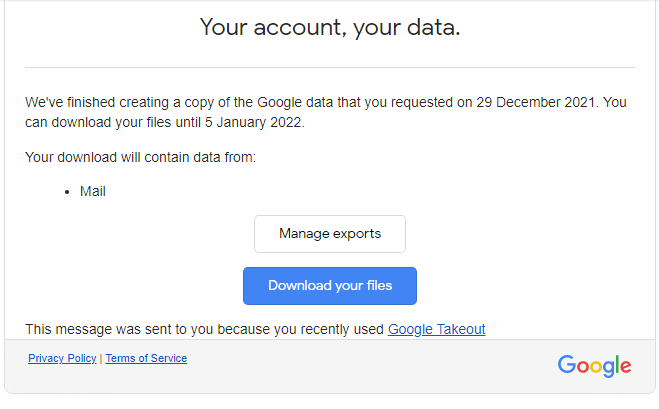 Step 7. From the .zip file, you downloaded earlier, extract the data to create an MBOX File, which consists of your Gmail data.
Complete! Here, you can export Gmail to MBOX file with the help of the Google Takeout tool. The email data file must be copied and pasted into your flash drive.
While using this manual method, you can download your Gmail emails to your computer but it has some limitations also;
Limitations of Google Takeout
No option to archive selective Gmail mailboxes
Only save Gmail email archives in MBOX format.
Requires a long time to create archive emails in Gmail to save space; sometimes it may take up to 3-4 days to complete Gmail archiving process using Google Takeout
Allows no option to save archived Gmail emails to the location you want.
Method 2. How to Archive Gmail Emails to Save Space? – Professional Solution
To easily archive emails in Gmail to save space use Advik Gmail Backup Tool on your Windows Utility. With this tool, you will get an option to directly archive Gmail emails in a few simple steps. Additionally, you can also use "Advanced Email Filter" options to back up selective emails on the basis of Date, From, To, Subject, etc. Along with that, this tool export Gmail to MBOX, PST, EML, PDF, MSG, DOC, HTML, and many other file formats as well.
The best part of this tool is that if you can also get rid of issues like Gmail storage showing full even after deleting emails, Gmail storage full not receiving emails as Gmail backup will play a crucial role in this types of scenarios. If you have already archived Gmail emails, you will no longer face such issues.
Procedure to Archive Gmail Emails to Computer Using Automated Tool
Step 1. First of all, Install and Run Gmail Backup Tool on your system.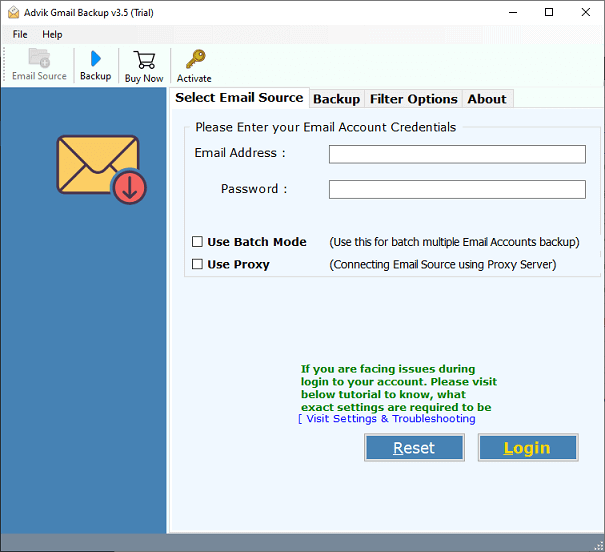 Step 2. Now, Enter Gmail Account credentials and press the "Login" button after that.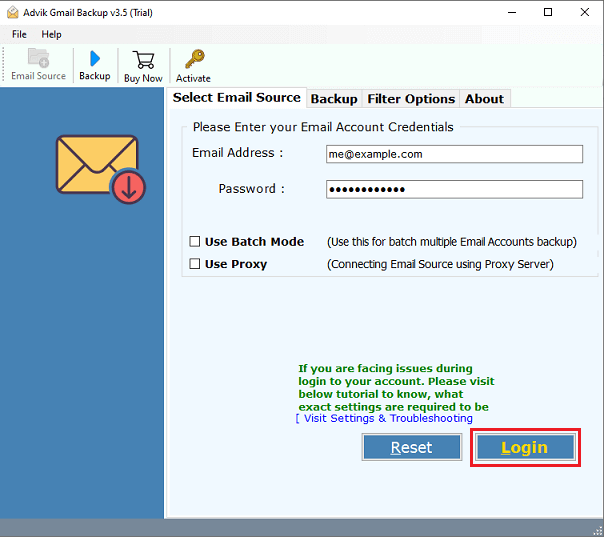 Step 3. This tool will automatically load all of your Gmail mailbox folders in the software interface, you need to
choose the emails of your choice and proceed further.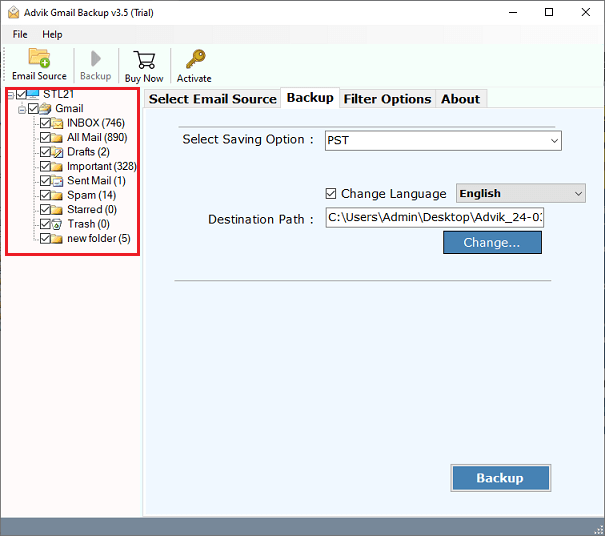 Step 4. Thereafter, select "MBOX" or any other file format as per your choice from 30+ saving options.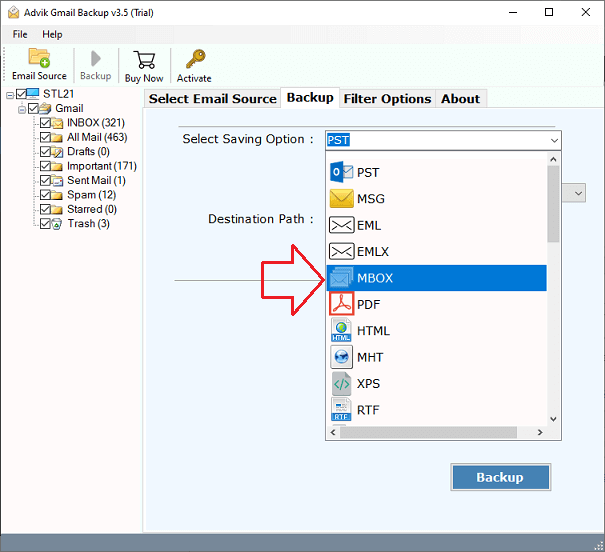 Step 5. This software will automatically detect Desktop as the default location to save the resultant Gmail archived files. Click on the "Change" to choose as per your choice.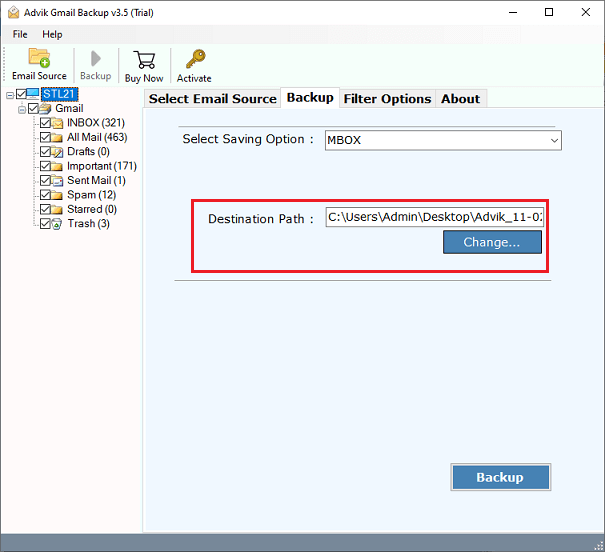 Step 6. Finally, tap on the "Backup" button to start Gmail archiving process.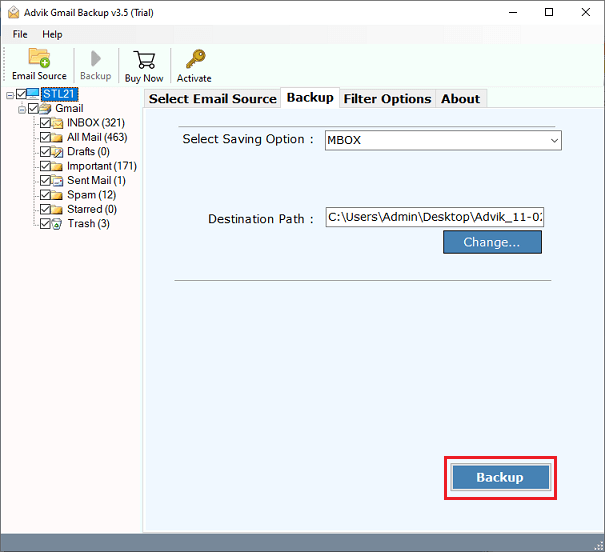 Finish!! See this way is the most reliable and suitable way to archive emails in Gmail to save space. So, we strongly recommend this tool to solve your query.
Concluding Words
In this write-up, we have described both manual and professional solutions to archive emails in Gmail to save space. As you can see the manual method takes too long and is also lengthy too. Thus, it is advisable that you must use an automated tool to save your time and manual efforts as well. Advik Gmail Backup Wizard will help you archive Gmail to free up space in an efficient and effective manner. If you still have any doubt, you can also download its FREE trial version and check out its functionality.