How to Convert MBOX to PST Manually – 4 Easy Methods
MBOX and PST are two different file formats of email storage. By default, Microsoft Outlook uses PST file to store its mailbox data. It contains emails, contacts, calendar events, notes, and journal.
Whereas MBOX is used to store emails and is created by dozens of email programs like Thunderbird, SeaMonkey, Google Takeout, Apple Mail, and many more.
In this post, we are going to discuss why MBOX to PST is converted, how to convert MBOX to PST manually without software, and which MBOX to PST converter software is the best. If you are also looking for the best solution to change MBOX to PST, this post is perfect for you.
Why Conversion of MBOX to PST?
MBOX file is a very sensitive file and the likelihood of MBOX file corruption is always high. To protect data, many users convert MBOX to PST to move email to MS Outlook. However, there are many other reasons such as work environment change, data migration, etc. For these reasons, the user needs to convert MBOX to PST format.
Top 4 Easy Ways to Convert MBOX to PST Manually
You can use manual methods to convert MBOX to PST manually. Here are the four main manual methods to convert MBOX to PST free. Outlook must be installed on your computer to use these solution methods.
MBOX to PST Conversion Solutions

Method 1. Using Professional Approach

Method 2. Using Outlook IMAP Configuration

Method 3. Convert Using Mozilla Thunderbird

Method 4. Convert MBOX to PST Using 4 Email Clients
At the end of this article, you will be able to convert .mbox to .pst manually in no time. Now select the method that is suitable for you.
Method 1. How to Convert MBOX to PST Using Professional Utility
Check out Advik MBOX Converter software for Windows. This application is designed to convert MBOX to PST without any data loss. The software is loaded with dozens of saving options and the most advanced features. Besides this, the software has few highlighted features that will surely impress you.
Maintain mailbox folder hierarchy
Convert large sized .mbox file
Convert MBOX to PST, PDF, EML, MSG, 10+ file formats
Upload MBOX to Gmail, Office 365, G Suite, and to various email service providers
Unlimited MBOX to PST file Conversion
Follow the steps to Convert .mbox file into .pst with ease
Step 1. Install and Run Adivk MBOX Converter in your PC.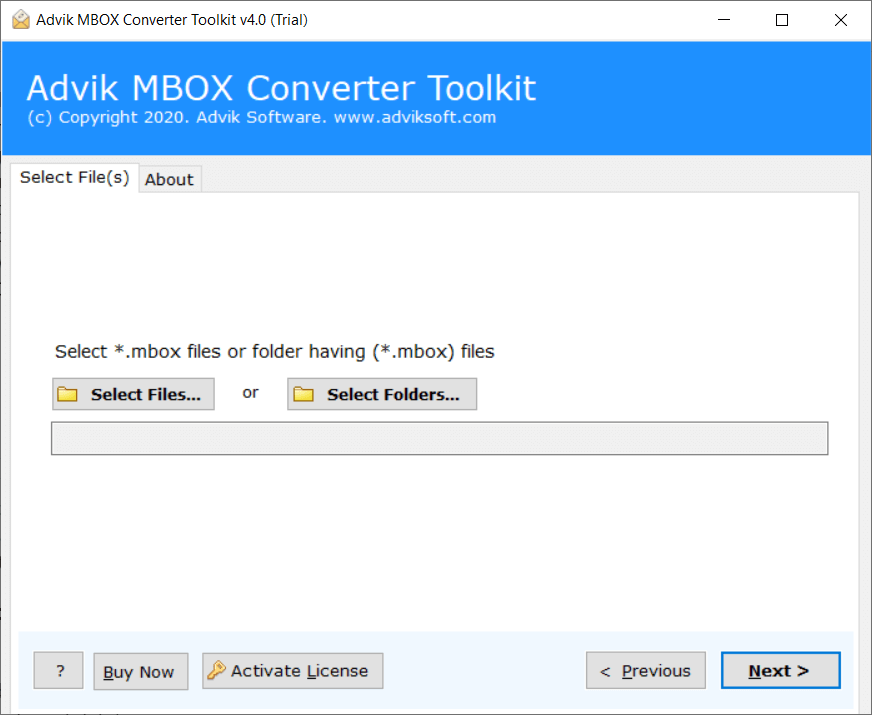 Step 2. Click Add File and locate .mbox file into software and click Next button.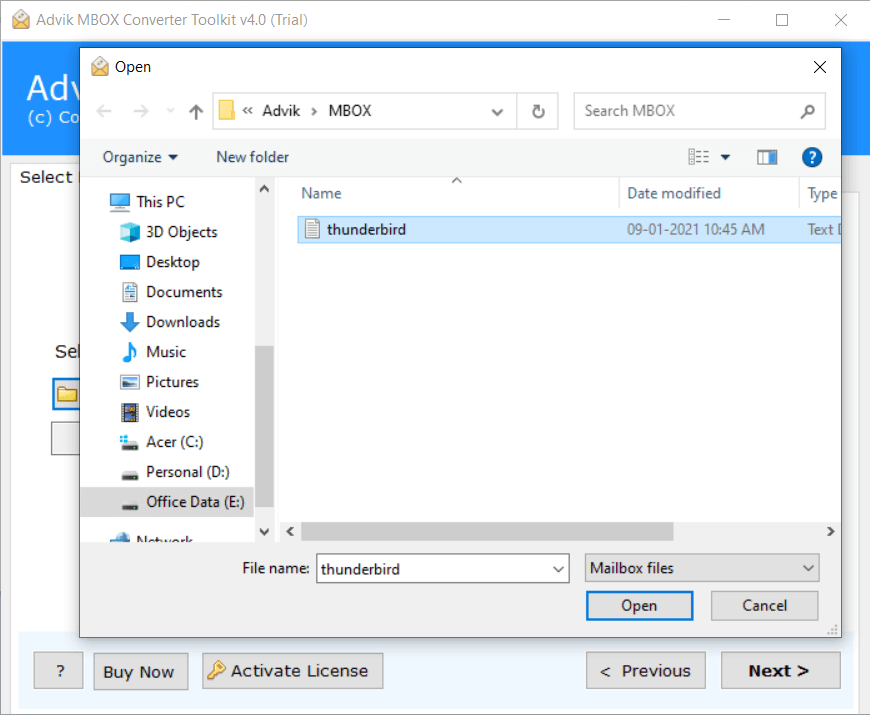 Step 3. Choose PST as saving option from the list.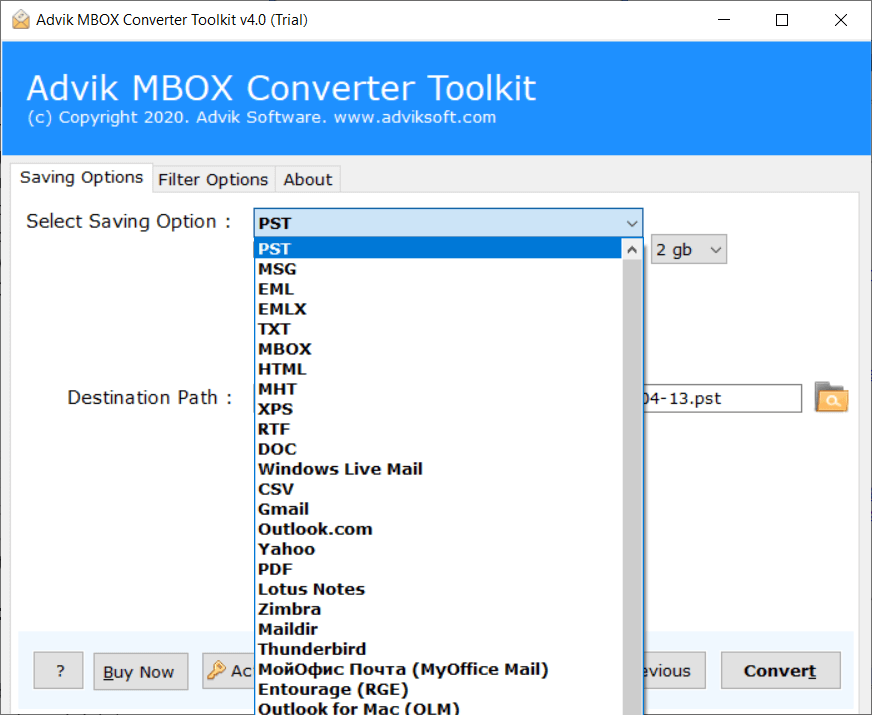 Step 4. Apply Email Filters if you want to export only specific emails onto new PST file.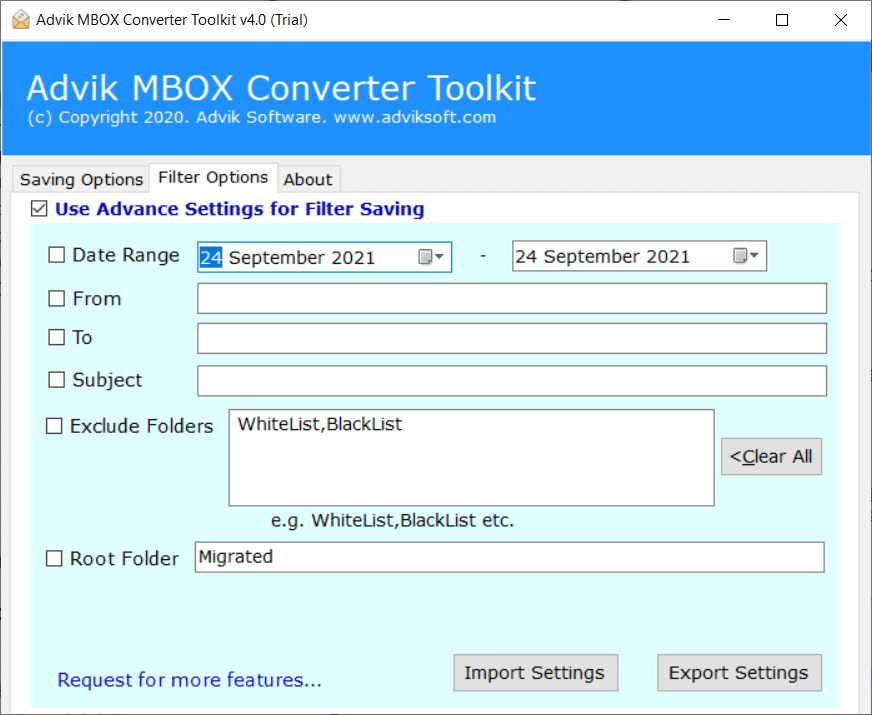 Step 4. Select the destination path where you want to save the resultant PST file.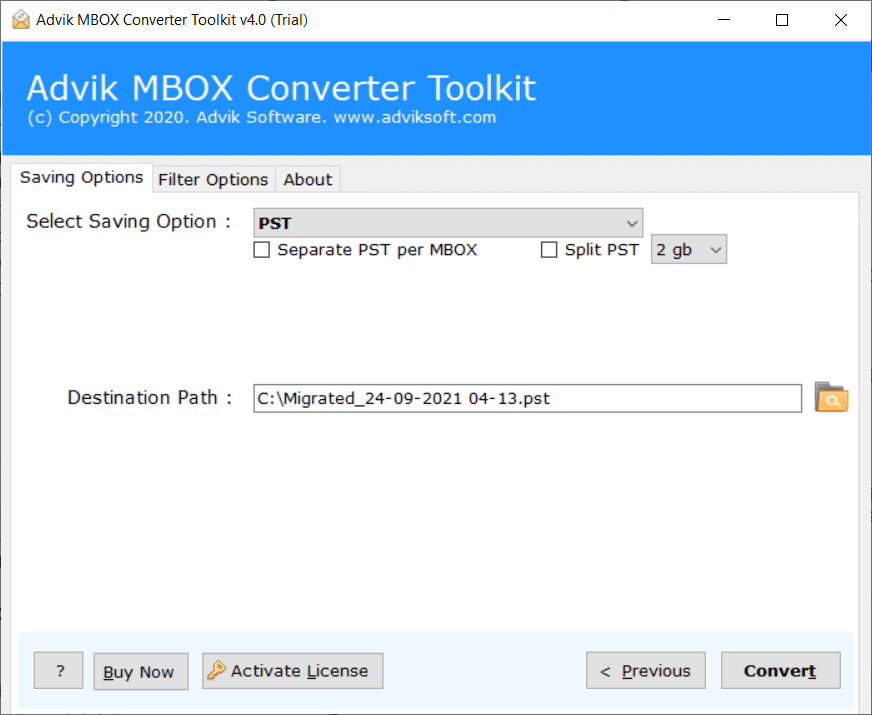 Step 5. Click Convert button to start conversion process.
The software will automatically start converting your mailbox file into Outlook data file. Later, the file will be available at your targeted saved location.
Method 2: Export Mailbox to Outlook PST using IMAP
Sign into your email account in MS Outlook.
Go to File option designated in Menu.
Click Open/Export Option.
Click export to a File and click Next.
Choose mailbox folders to convert.
Choose the target location and click Finish.
Microsoft Outlook will export MBOX data into PST file.
Method 3. How to Convert Thunderbird MBOX to PST Manually
Open Mozilla Thunderbird in your computer.
Right-click on the Folder menu and click Add Folder.
Name your folder as per your choice.
Select emails for conversion and move them to new Folder.
All your emails are now available in a new folder.
Select all emails and Right-click to choose Save as an option.
All emails will be saved in .eml file format.
Open MS Outlook, now drag and drop EML folder in Outlook.
Click Open and Export option and select the Import/Export option.
Choose Export to a file and click Next.
Choose Outlook data file and click Next.
Select the desired location where you want to save Outlook .pst file.
Click the Finish button and Outlook will export MBOX to PST file.
Method 4. Convert MBOX to PST Manually Using Four Email Clients
Start with Apple Mail
Launch Apple Mail on your system.
Click File >> Import Mailboxes.
Select all the files you want to import to the MBOX. Click Continue.
Browse to the location you saved in the MBOX file. Select all the files required to import and click Next.
When the process is complete, click Done. However, make sure all the necessary files are in the import area.
Continue with Eudora Mail
You must add the MBOX file extension. For example, rename the Adam data file to Adam.mbx.
Move the newly renamed Adam.mbx file to the directory where Eudora will save the files. (C: Settings application \ Qualcomm \ Eudora documents and data).
Launch the Eudora application and double-click the Adam.mbx file.
Use MS Outlook Express
Launch Outlook Express and Navigate to >> Import >> Messages.
Select Eudora from the list and click Next.
Go to the location where you saved Adam.mbx and click OK.
Please follow the steps below to complete the import steps and ensure that the files have been imported successfully.
Finalize with MS Outlook
Start Outlook and click the File option.
Click Import/Export option to import mails from MS Outlook Express.
After importing mails follow the method 1 steps to export PST file.
It's Your Turn Now, Choose the Suitable Method to Execute Mailbox Conversion Process
With the help of this best MBOX to PST conversion software, you can also repair MBOX files. It will recover data from corrupted MBOX file and convert all recovered data to new PST file. With this tool, you can also convert MBOX data into multiple file formats like EML, MSG, EML, TXT, DOC, etc. formats. To convert MBOX to PST for free, you can use the free demo version of this tool. The demo version allows you to export the first 25 items in each folder.
Final Summary
Now that you know 4 methods to convert MBOX to PST manually, you can use any method you want. However, it is recommended to use Advik MBOX to PST Converter. Although it comes at a price, it simplifies the MBOX to PST conversion process. On top of the benefits, the conversion from MBOX to PST is quick without requiring users to have the expertise or technical know-how. This saves you valuable time and manual efforts.