How to Extract Email Addresses from Gmail to Excel?
"I am suing Google Mail service from past 6 years. I want to know is there any option to extract all email addresses from Gmail to Excel file. I am tired of searching for an option for that. Unfortunately, I didn't find any option that commands Gmail to export all email addresses. Is there any alternate approach available? Kindly help me asap."
Are your issues the same as those mentioned above? If Yes, then congrats you got your solution in this article. As there are several users who are finding it difficult to export Gmail email addresses to CSV file. However, there is no official solution available for the same.
So we are going to discuss an alternate approach i.e. Advik Gmail Backup tool. This advanced program is built with an option to extract Gmail email addresses to Excel file.
Download this magical wizard in your system now. Using this program, you can export all email addresses from Gmail to Excel sheet including folders like Inbox, Sent Items, Trash, etc. However, you can apply email filters for the same.

Introduction:
Gmail tracks three email lists to help your business stay in touch with customers and partners. The collection of email contacts that you've manually saved to Gmail is called your My Contacts list. Gmail, on the other hand, tracks the email addresses of everyone you've previously communicated with through your Gmail account. It also tracks how often you contact these people and provides a list of the people you've contacted the most. You can also create groups to organize your connections even better.
Methods to Export Gmail Email Addresses to Excel Sheet
Need to export an email list from Gmail? No matter how big or small your requirement is, finding an easy-to-use and reliable solution is a challenge. In this section, we have mentioned both manual and professional solutions to make your extraction process even easier.
Method 1. How to Extract Email Addresses from Gmail? – Manual Method
Gmail's export feature can be used to extract any of these email lists. Below are the simple steps you need to follow to do this. However, you must be careful when using this method. As it might also consume your time and effort.
1. After logging into your account, click the Gmail drop-down menu on the left. Then select "Contacts".
2. Above your contacts, tap on the "More" option and select "Export".
3. Now click on "Group" and select the group you want to extract from the drop-down menu. You can select one of the contact groups you have created. or you can click "All Contacts" to extract all emails.
4. Select your export option from the list. i.e. Outlook CSV format, vCard format, or you can choose the default "Google CSV format", which also allows you to import it to another Gmail account.
5. Now click the "Export" button to start.
6. Now click on "Save File" and select "OK" to choose a location where you want to save the file. Finally, click "Save" to export the file.
Drawbacks of Manual Methods:
Your email list is your greatest resource. That is why you must follow a simple and quick tool that will not only save your time but also download safely in your desired location. Analyzing this manual method, we found the following disadvantages that you must see before proceeding to choose a method:
Lengthy and time-consuming process.
Technical expertise is required to use this method as it involves several steps that are not easy for ordinary users to perform.
It doesn't allow you to extract a list of email addresses but it extracts all other data with it, making it difficult for the users to find the list of extracted emails.
Method 2. How to Copy All Email Addresses from Gmail to Excel File? – Instant Solution
Now there is no more complexity in the extraction process. To overcome the disadvantages of the manual solution, we found the solution you were looking for. Advik Gmail Backup Tool is such an amazing software to extract Gmail email addresses in few seconds. It is a technology-driven software that provides 100% accurate results. The most amazing thing about this tool is that you can even export Gmail emails to Excel as well. This tool only extracts the list of email addresses from your Gmail account as you need.
It offers many features to extract emails from Gmail smoothly with just a single tool. Such as an Advanced email filter option, export Gmail to PST, MBOX, PDF, EML, MSG, DOC, and 20+ file formats. Stop wasting your manual efforts on manual methods and try this tool to solve all your questions about this problem.
Note: Enable Less Secure Apps and Create Gmail App Password to Sign in to Advik Software
Steps to Extract Email Addresses from Gmail to Excel are as follows;
Step 1. Run Advik Gmail Backup Tool in your system.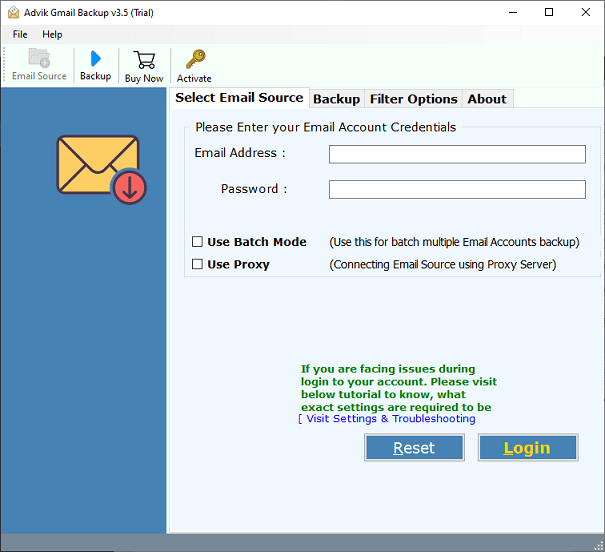 Step 2. Sign in using Gmail App Password and click Login button.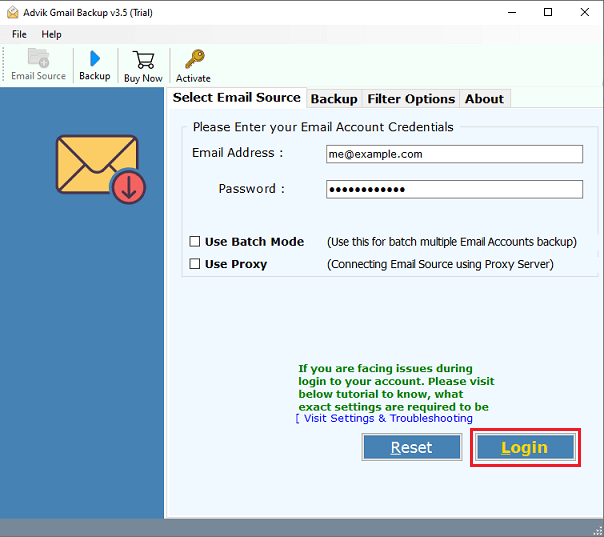 Step 3. This tool will automatically load all of your Gmail mailboxes. Choose the mailbox folder from your Gmail account.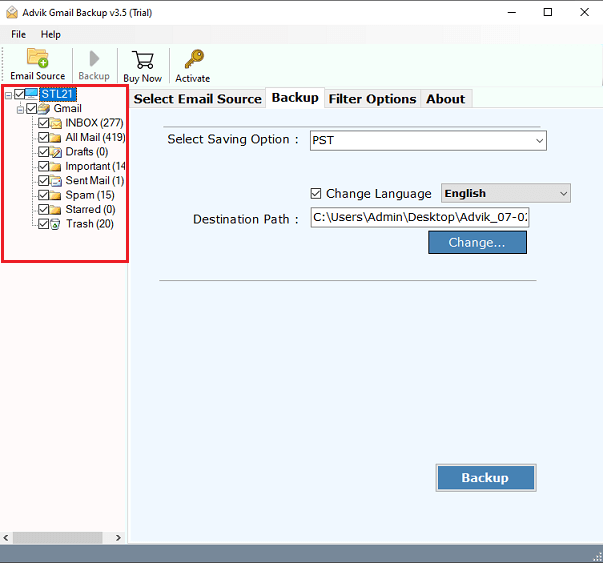 Step 4. Choose "Extract Email Addresses" as a saving option from the list of 30+ multiple file formats.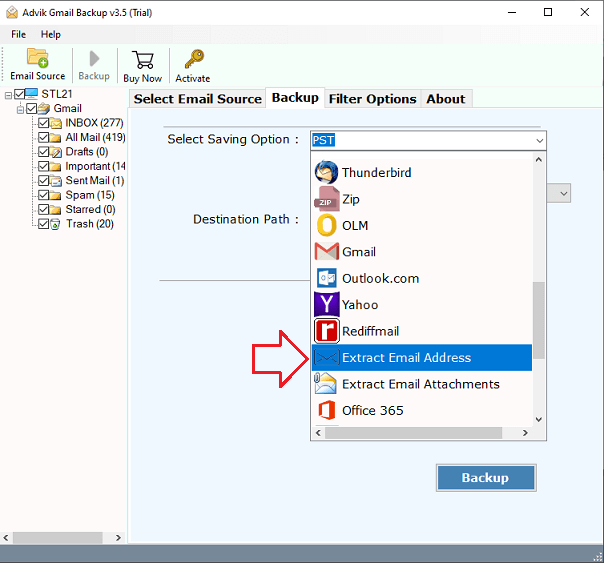 Step 5. You can also choose the "Advanced Email Filter Option" to selectively extract email addresses from Gmail. You can apply email filters option by Subject Name, Email Address, Date From, and Date To for desired Gmail extraction.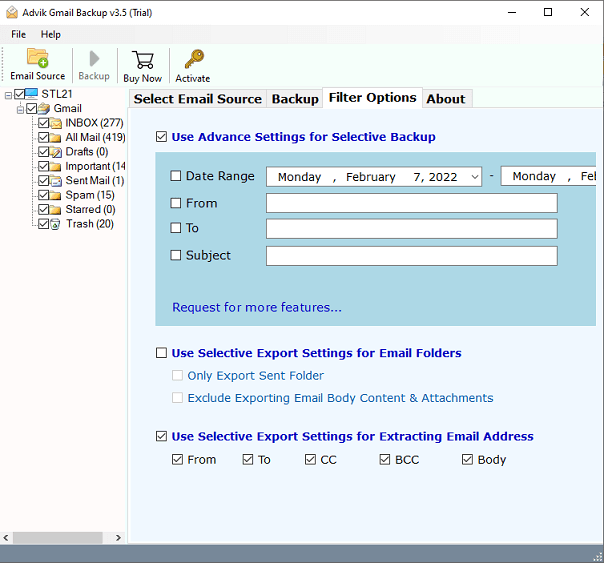 Step 6. This tool enables the users to choose their desired location to save their extracted files. Just click on the "Destination Path" and you will be able to export Gmail addresses at your chosen location.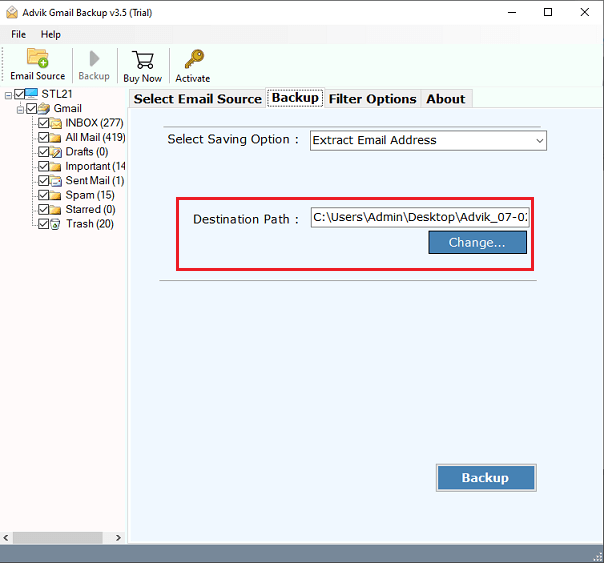 Step 7. Click the "Backup" button to start the process.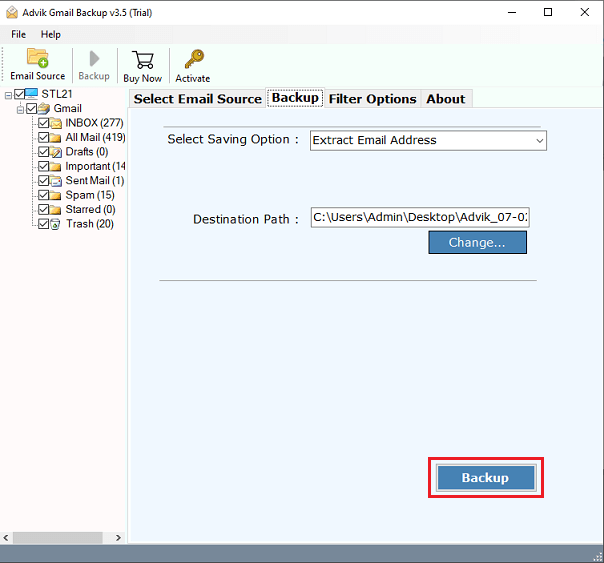 Done! The software will extract your complete Gmail emails along with email addresses to Excel file.
Benefits and Features of Gmail Backup Tool
Despite having a self-explanatory user interface, the software is loaded with plenty of useful features. Below are the key highlights of this program:
Final Words
In this blog, we have given our best to solve the query of "how to extract email addresses from Gmail". Overall, the above-mentioned method is best practiced to export email addresses from Gmail to Excel files. However, manual methods time consuming as well as lengthy procedures. We recommend users to go with a quick solution. You need not to be a technical geek to execute this method. One of the best and most straightforward solutions for 2022.
Frequently Asked Question
1. Is it possible to extract email addresses from Gmail inbox?
Ans. Yes, you can select the mailbox folder from which you want to export email addresses from.
2. Can I run this application in Windows 10?
Ans. Yes, the software can easily run in all versions of Windows.
3. How to export Gmail contact addresses of March month?
Ans. You will get Advanced Email Filter Option, designated in the software interface. You can apply the date range of a particular month to get accurate results.
4. Can I export email addresses from G Suite to Excel also?
Ans. Yes, you can use this Mail Backup Tool for more than 85+ webmail accounts including G Suite.