Dealing With Outlook Performance Issues Related Large PST Size
Summary: When dealing with Outlook performance issues related to large PST size? Then here is the solution to fix this problem. Read the article till the end to know all the workable and efficient solutions.
Table of Content
1. Introduction
2. Reasons
3. Methods to solve large size PST
4. Conclusion
Microsoft Outlook is a popular desktop email client used by many businesses. However, over time, this application shows problems in sending, receiving, deleting or running mailbox components. If you are facing such a problem, then it means you are dealing with oversized PST files.
All Outlook mailbox data is stored in a PST file. When there is a large amount of data in the mailbox, it will definitely affect the performance of the Outlook application.
Regarding PST file size, Outlook offers certain guidelines. Let's see what they are.
Up to 5GB, PST file is considered as a small data file
5 to 10 GB file is an optimal size PST file.
25 GB PST file is a standard size in Outlook.
50 GB is the maximum size of the PST file.
Reasons slowing down Outlook performance
Outlook runs slowly when the data file, e.g. B. PST is exceeded by the maximum size.
When there are many items in your mailbox components (Inbox, Sent, Spam, etc.).
Corrupted and damaged PST files can also affect Outlook performance.
To fix this kind of problem, let's learn different methods that help in large size file PST issue
How to Dealing With Outlook Performance Issues Related Large PST Size
You can solve Outlook's slow performance problem with a large PST file. To do this, follow the given other solution to boost Outlook performance.
#1. Delete Mailbox Folder that are not Important
When your Outlook performance becomes slow then the first step should be to delete unwanted components or messages from the mailbox. Follow the simple steps to do that,
1. Open Outlook email client.
2. Select the folder that is not required.
3. Click on the Clean Up option present on the Home menu. After that select any of the three options that are shown in the below screenshot.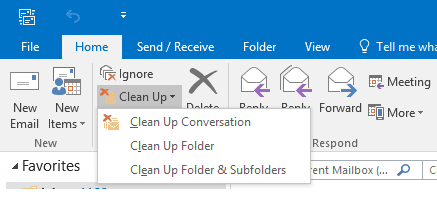 Clean Up-Conversion: It will delete duplicate or not important email messages from the selected folder.
Delete Folder: This option will delete the message from a certain folder.
Folder and Subfolders: Using this you can remove the folder that is not required.
4. At last, right-click on the Delete Item folder and select the Empty Folder option to permanently delete a similar message from the mailbox.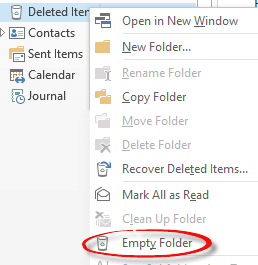 #2. Compact and Compose PST File
In Outlook 2013 and above versions, there is an option "Compact Now" that helps in deleting data space. This helps in reducing the size of the Outlook data file (.pst). Using this feature you can manually compress the PST file by simply following the given instructions;
1. Open Outlook and navigate your cursor to the menu bar.
2. Here click on File >> Account Setting.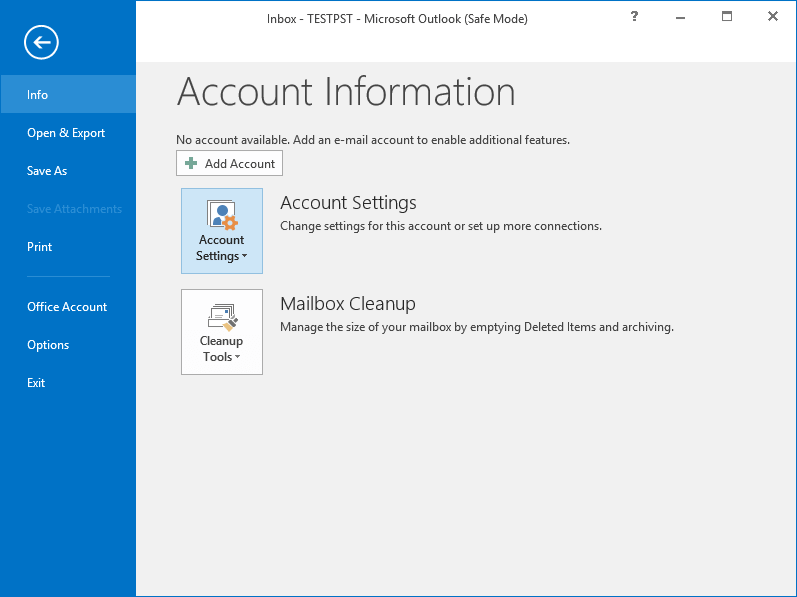 3. After that a window will open, click on the Data File tab and then on the .pst file that needs to be compressed.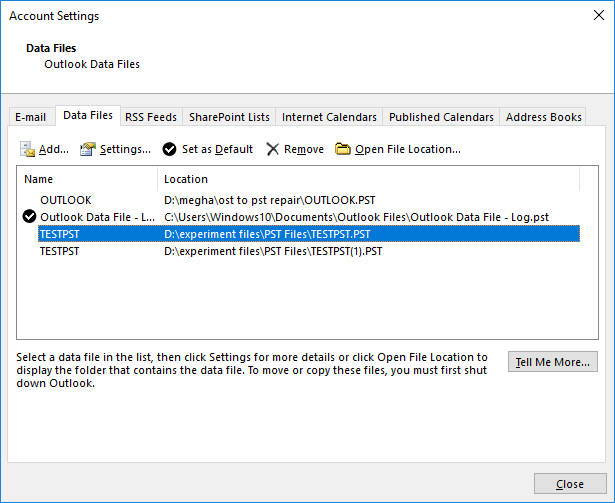 4. Next click on Setting, then in Outlook Data File box, click on Compact Now.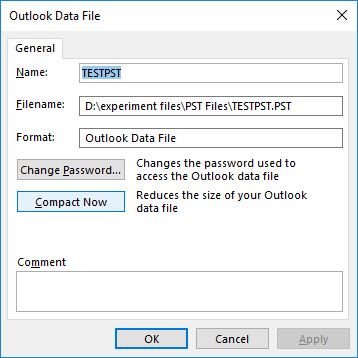 5. At last click on the Ok button to start the process.

Limitation with the manual method
There are certain limitations with these manual methods mention above, some of them are;
This solution was a waste of time because to use this tool you have to go through entire components of Outlook manually.
There is no security of your data with this method. You may lose important data while performing these operations to improve Outlook performance.
There is a high possibility of data loss when using the Compact function. There is also the possibility of data transfer.
Easy Solution to Solve Outlook Performance Related Large PST Size
As we have mentioned earlier, this large PST file is a major reason for slow Outlook performance. Therefore, the first step to increase speed is to reduce PST file size. To do this, you simply need to split the large .pst file into small chunk files. However, there is no direct manual method to split large Outlook data files, hence users are advised to opt for an automated tool.
One such software is Advik PST Splitter Tool which can easily create small .pst files from large PST files without data loss. Also, this tool ensures that data integrity is maintain while this process is in progress so that we can preserve your original data.

Steps to Split large PST File into small Segment
Follow the given instruction to create a small size .pst file from a large one.
Step 1. Install and launch this software on your Windows OS.
Step 2. Click on Add File and upload the Outlook data file.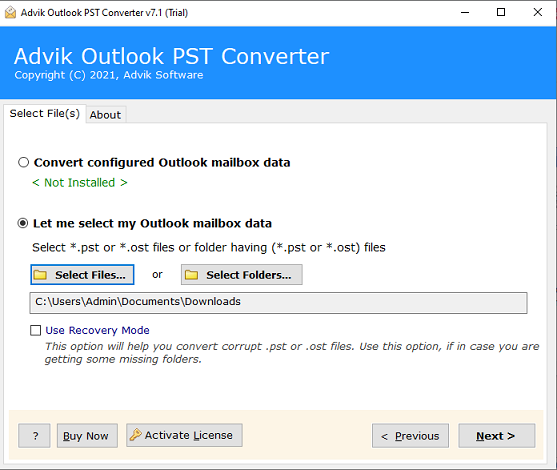 Step 3. Select the mailbox folder and click on the Next button.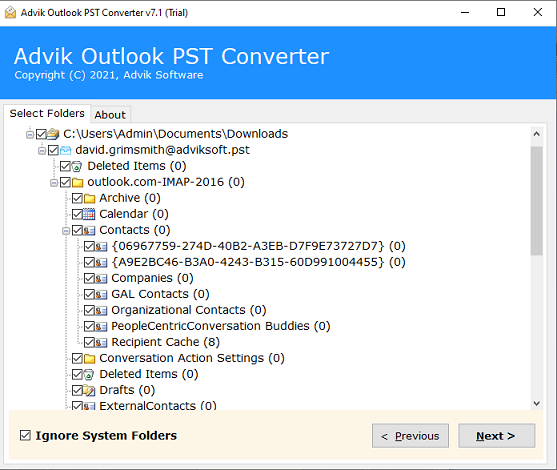 Step 4. Choose PST as a saving option. Along with that tick the check box "Separate PST per user" and "Split PST" and choose the size.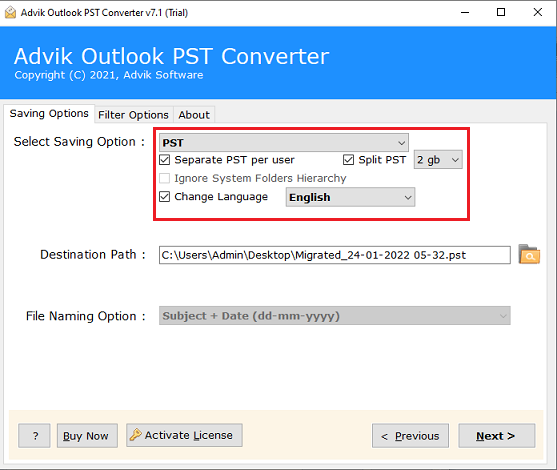 Step 5. At last, browse the destination location and click on the Next button to start the process.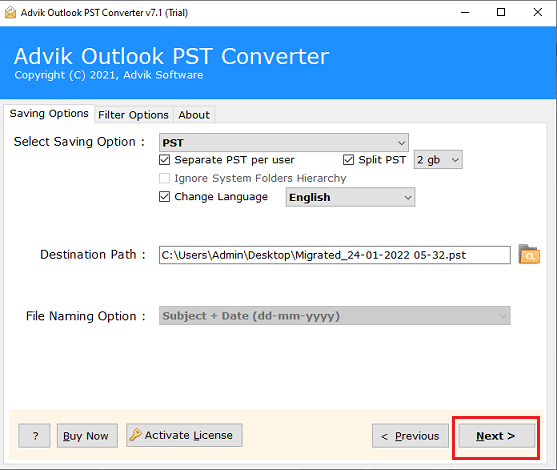 Here you split the large PST file into small size files. Now you can import these files into an Outlook account through Import/Export tool and delete the single large data file.

Conclusion
Here in this article, we are discussing different methods to dealing With Outlook performance issues related large PST size. We offer both manual and automated solutions. Users can opt for any of these methods to deal with large PST files. Well, the proposed software is designed to split the large Outlook PST file into small segments without data loss and modification.