Fix "Username.ost is in Use & Cannot be Accessed Error"
Email has become an essential part of our lives, both for personal and professional purposes. One of the most widely used email clients is Microsoft Outlook. However, like any other application, Outlook also has many errors, among which we decided to solve the "Username.ost is in use and cannot be accessed" error today. This is one of the common problems encountered by many users and may be frustrating, but don't worry, we will guide you on the best approach to resolve this issue.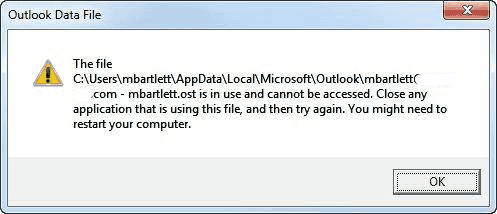 What is the Error Outlook OST File is in use and Cannot be accessed? When you see the message "Username.ost is in Use & Cannot be Accessed," it usually indicates that there is a problem with your Outlook data file (OST) due to which users cannot open specific Outlook items when offline. The OST file is an offline copy of your mailbox stored on your computer which allows you to access your emails, even when you're offline. This error indicates that Outlook is having trouble accessing or syncing with this file.
Why Does "Username.ost is in Use & Cannot be Accessed Error" Occur?
Let's begin by examining some of the reasons that are responsible for the Outlook error .ost file is in use and cannot be accessed. The following are the main reasons why outlook OST file cannot be opened windows 11/10/8.1/8/7 etc;
Slow internet can also lead to this error.
If your Outlook OST file doesn't sync properly with Microsoft Exchange Server you might see this error.
Sometimes conflicts with other programs or software on your computer can cause this problem with Outlook.
If users who shouldn't be using the OST file try to access it you will surely get the "the file username.ost is in use and cannot be accessed" error.
Therefore, these were the some possible reasons that may be behind Outlook error OST file is in use and cannot be accessed" error. Now, let's move on to the solutions to fix it without any delay.
Methods to Fix "Username.ost is in Use & Cannot be Accessed Error"
Now, let's explore some effective ways to resolve this issue;
1. Restart Outlook and Computer: The first step to troubleshooting the problem is to restart both the application and your computer or try to open OST file on another computer. As, sometimes a simple reboot can resolve temporary glitches that may cause this error.
2. Close Unnecessary Outlook Functions: It is also seen that Outlook processes running in the background can interfere with the proper functioning of the OST file.
3. Check for Newer Updates: Outdated applications can sometimes lead to compatibility issues. Ensure that both your Windows operating system and Microsoft Outlook are up to date.
4. Repair the OST File:
Outlook has a built-in tool to repair OST files. Follow these steps:
Close Outlook.
Go to Control Panel > Mail > Data Files.
Select the appropriate Outlook data file (OST) and click on Settings.
Click on Repair to initiate the repair process.
5. Disable Cached Exchange Mode: Disabling Cached Exchange Mode will force Outlook to directly access the Exchange server and bypass the OST file. This can be a temporary solution to access your Outlook emails while troubleshooting.
Outlook Data File Cannot Be Accessed? Here's How to Fix it!
If none of the solutions worked for you then try to repair OST file with an effective approach. Advik OST Converter is one such solution that effortlessly repairs orphaned, damaged, or corrupted OST file in just a few simple steps. All types of OST file that are showing warning errors can also be opened with the help of this utility. It has a recovery mode option that will help to repair corrupt OST file. Also, you can convert OST to PST, EML, PDF, MSG, DOC, HTML, MBOX, CSV, OLM, and many more.

Moreover, it is the best tool that helps you to access OST file content by following a few simple steps. You can easily attach OST file to new profile by exporting OST to PST file. The best part of this application is that it maintains complete folder hierarchy of OST file throughout the conversion process. Also, it can be easily used by both technical and non-technical persons without any issues.
Final Words
In the above blog, we have tried to cover all the solutions to resolve "the file username.ost is in use and cannot be accessed" error. The manual solutions can let a user access OST file but these are temporary approaches that can't give 100% assurity. To overcome that, we have mentioned an alternate approach with an easy-to-use interface i.e., Advik OST Conevrter. Therefore, users can opt for any method for completion of the task of accessing OST files without any hassle.