How to Migrate Roundcube to Gmail With Attachments?
Want to migrate from Roundcube to Gmail? Check out the below solution to export emails from Roundcube to Gmail account. At the end of this article, you will be able to transfer all Roundcube mail to the Gmail account with attachments. So let's get started.
Roundcube is a web-based IMAP email client. Roundcube's most prominent feature is the pervasive use of Ajax technology. The web server needs access to the IMAP server hosting the email and to an SMTP server to be able to send messages.
On the other hand, Gmail is a free email service developed by Google. Users can access Gmail on the web and using third-party programs that synchronize email content through POP or IMAP protocols. This is one of the widely used free email services used by millions of active users.
There are millions of users who want to export Roundcube emails to Gmail account. Why? Because of follows reasons;
Roundcube lacks security and performance
No updates in scripts from the past few years
Slow performance
Sent mail into the Spam folder of the receiver's account
Don't have a cloud storage facility
The lengthy process to retrieve account lost password
Questions Related to Roundcube to Gmail Migration
"I want to import Roundcube to Gmail with attachments. There are 15k emails out of which 10k emails need to copy into Gmail account. Kindly help me with email transfer with filter facility."
"How do I transfer emails from Roundcube to Gmail? Please help."
"Now it's time to choose a better email service provider rather than old-fashioned. Roundcube is very slow and lags a lot. I had decided to import Roundcube to Gmail with complete mailbox folders. But my bad luck, I tried every way to fix this issue but I am unable to do so. How should I do it?"
Transfer Roundcube to Gmail With Complete Mailbox Folders
Advik Roundcube Backup Wizard, this tool is specially developed and designed for cPanel email migration. Take the help of this magical wizard and export all emails from the Roundcube to Gmail account. In addition, the software offers to users of Roundcube to backup all emails in more than 15+ output formats. You can download or save a copy of Roundcube Webmail emails to a local drive-in in several popular file formats. You can export Roundcube emails to PST, PDF, EML, MSG, MBOX, EML, EMLX, DOC, HTML, and many more.
Steps to Migrate Roundcube Emails to Gmail are as follows;
Step 1. Run Advik Roundcube Backup Wizard in your system.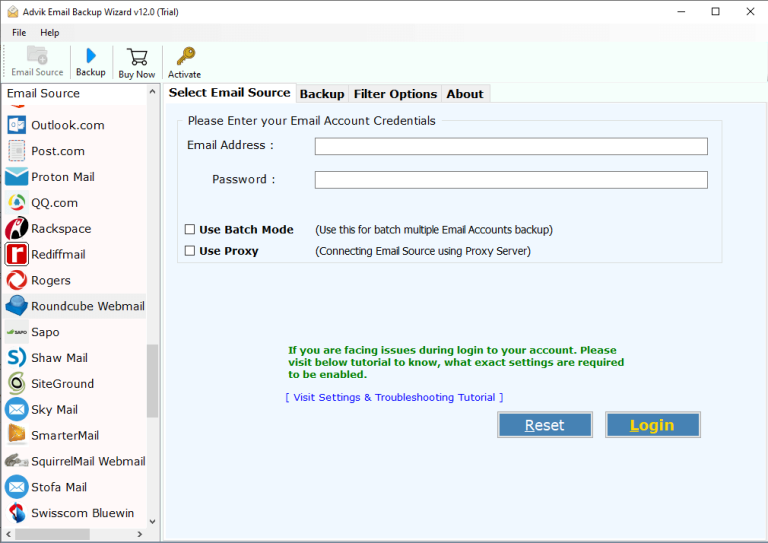 Step 2. Enter Roundcube Webmail login credentials.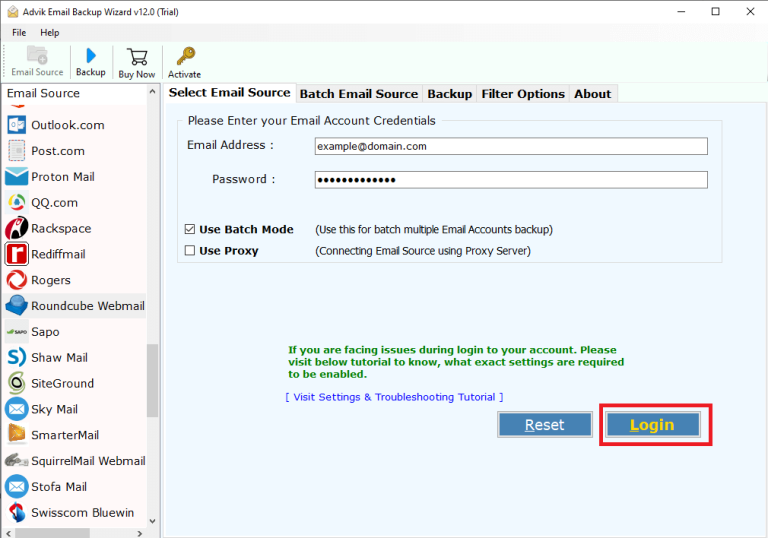 Step 3. Select mailbox folders that you want to migrate into Gmail account.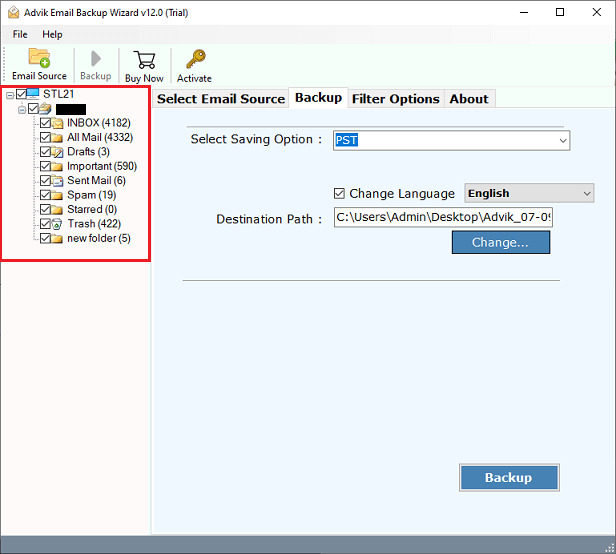 Step 4. Choose "Gmail" as a saving option from the list.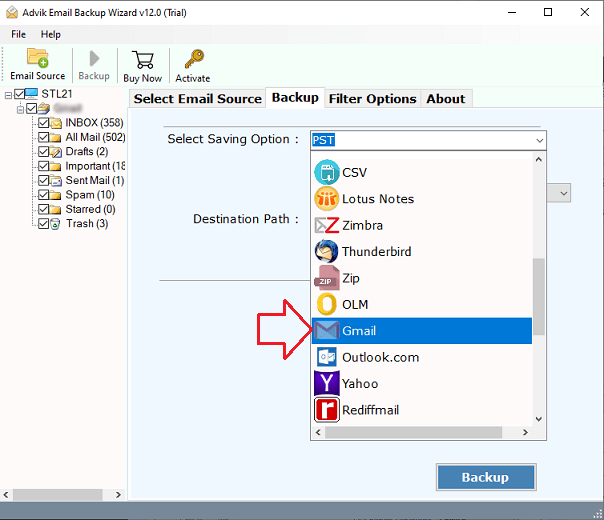 Step 5. Enter Gmail login credentials in the respective field.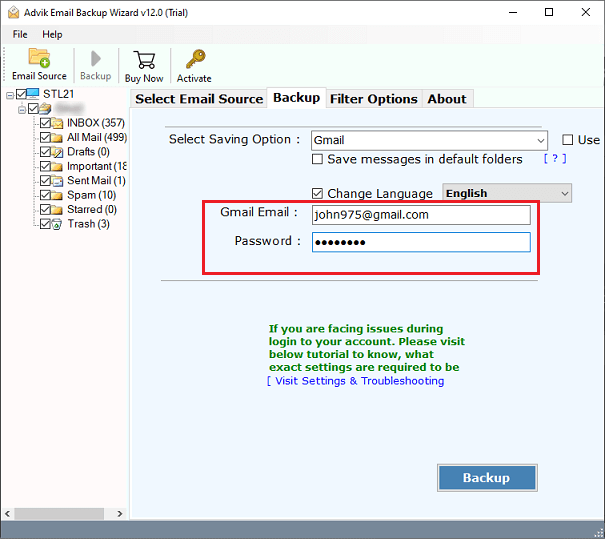 Step 6. Final step is to click the Backup button to start Roundcube to Gmail migration process.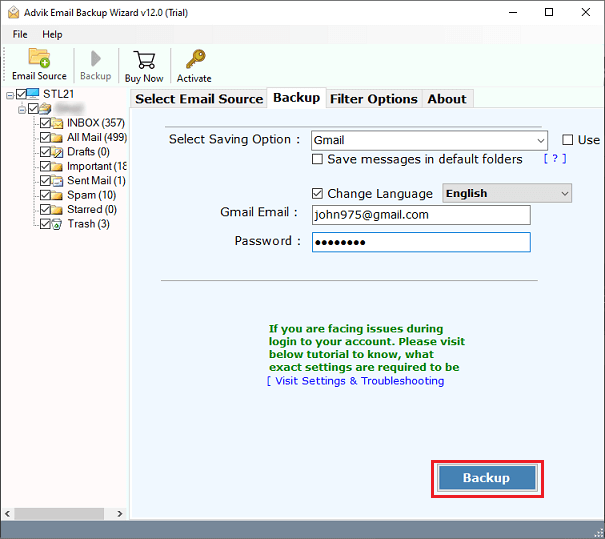 Finished! This is the whole step-by-step guide to transfer Roundcube Webmail mailbox to Google Mail account.
Why Choose Advik Software?
Transfer Roundcube Emails to Cloud Apps: This tool is the best solution for those who seriously need to migrate emails from Roundcube to Office 365, Gmail, G Suite, Outlook.com, Hotmail, Amazon WorkMail, IMAP Server, Exchange Server, Hosted Exchange Server, and many more. Anyone can simply perform the entire process by adding the correct login information of a particular email account.
Backup Roundcube to Multiple Formats: With this Roundcube Backup software, now the users can directly export Roundcube to MBOX, PST, PDF, MSG, MBOX, EML, EMLx, CSV, HTML, MHTML, OLM, and multiple other file formats, including all attachments and exact formatting. This application does not require technical expertise to operate. All it needs is the basic knowledge of the computer to perform the process.
Allows to Select Roundcube Folder: During the Roundcube backup process, the software gives the facility to select and deselect the folders which you want to convert into the output format. The folder checkboxes are available for this so that you can easily save the selected Roundcube folder to another format.
Maintain Folder Structure: Simply migrate Roundcube emails to Gmail. This Roundcube email backup software is the perfect tool that also maintains the entire folder structure even after the completion of the procedure. This feature helps you to easily manage and access emails in destination location.
Facilitates Email Filters: Roundcube Backup Mailbox Tool also offers email filters and date filters as an advanced facility for all users. The email filter (To, cc, Bcc, and Subject) and date filters help to filter the emails to perform the selective Roundcube mail backup process on Windows and Mac OS.

Final Verdict
In this blog, we have discussed the most appropriate solution to transfer Roundcube to Gmail. If you are also wondering, then this blog will be helpful for you to perform Roundcube Mail to Gmail migration without any data loss. You just need to perform a couple of simple steps and all your emails will be transferred from Roundcube to Gmail Account.