How to Export Yahoo Mail to Word Document (.doc) Files?
Summary: In this article, we will discuss the entire process of saving Yahoo Mail emails in DOC. Every email's content can be manually copied and pasted into new word documents. What if we need to back up many Yahoo Mail emails at the same time? We won't be able to use the manual process at that time. This write-up will explain to users how to export Yahoo mail to Word document using free and simple solutions. However, we can easily take a full backup of Yahoo email as Word document by using Yahoo Mail backup software.

Introduction
Yahoo Mail is an online and cloud-based account that lets you send and receive emails with other users. Its primary function is to send and receive messages. Apart from this, it has several useful functions like formatting email messages, handling attachments, saving, storing, and deleting emails.
Reasons to Export Yahoo Emails to DOC Files
Users want to convert yahoo emails to doc for a variety of reasons: you might want to relocate your correspondence email to another platform or email client, or you might prefer the features of another email client over Yahoo mail.
Let's understand the reasons and learn how to export emails from Yahoo to word documents files. As data is very important to everyone and anyone can't afford to lose it. Here are some reasons:
You can retrieve the data from a backup and access it later. 

Backup of Yahoo mail emails becomes necessary when we receive a large number of important emails that we are unable to view on a regular basis. Or what if it is removed for whatever reason. Then, we must save these emails through a proper backup option like to download all emails in word doc file.

Yahoo again revealed that hacking affected nearly 1 billion accounts. In circumstances like this, switching to a more secure email client would be preferable, and a backup option would be more beneficial in these types of situations.

It is best to save the yahoo email folder to a word document before the virus enters the data. Otherwise, it will prevent you from accessing your Yahoo Mailbox.

Backing up data on a safe and secure document like word document protects your data and provides access to users anytime, anywhere.
Read Also: How to Backup Yahoo Emails to Hard Drive?
How to Export  Emails from Yahoo to Word Document files?
As there is no direct solution to export yahoo emails to word documents. If you want to export Yahoo Mail in Word format, then download this amazing software. Advik Yahoo Backup tool that can easily convert yahoo emails to word format in an effective and efficient manner. Users can export Yahoo inbox items directly to Word format using the software.
With this tool, you can export Yahoo to MBOX, EML, PST, MSG, DOC, and 15+ other file formats. It is a simple, fast and 100% safe yahoo mail email backup solution. It gives you an advanced filter option to enhance your backup process. Download this amazing tool to export yahoo mail in word document without facing any technical glitch.
The following steps describe the process of exporting emails from Yahoo Mail to Word document format.
1. Install and open Advik Yahoo Mail Backup on your computer.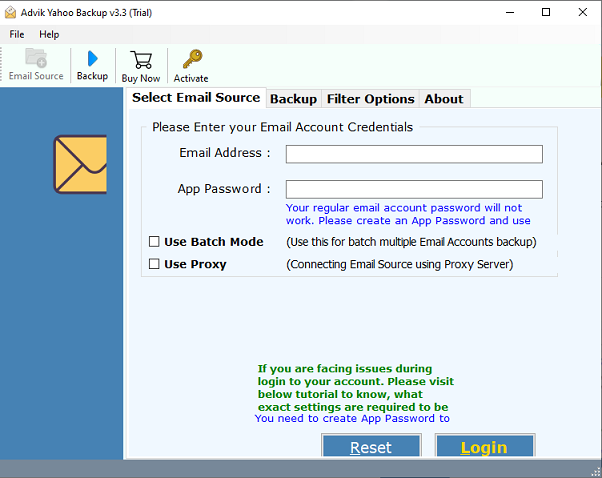 2. After that, enter your yahoo login credentials to access in the interface panel.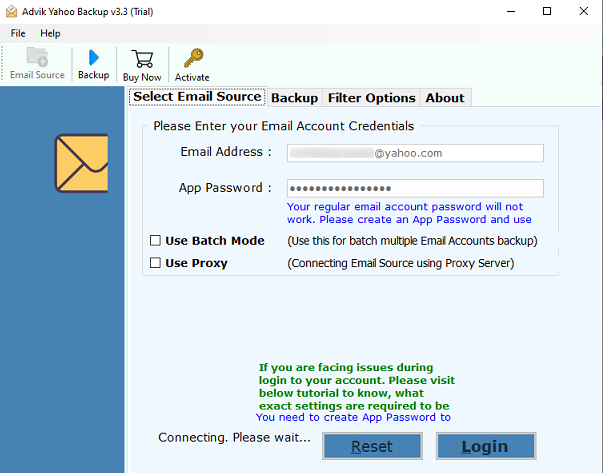 Note: Make sure that, you have enabled less secure apps and the 2nd step security option. if it is enabled, then create an app password to sign in.
3. Now, In a few seconds this tool will display all your yahoo mailbox folders on the right side of this interface. Here, you are required to choose desired folders to convert into word document.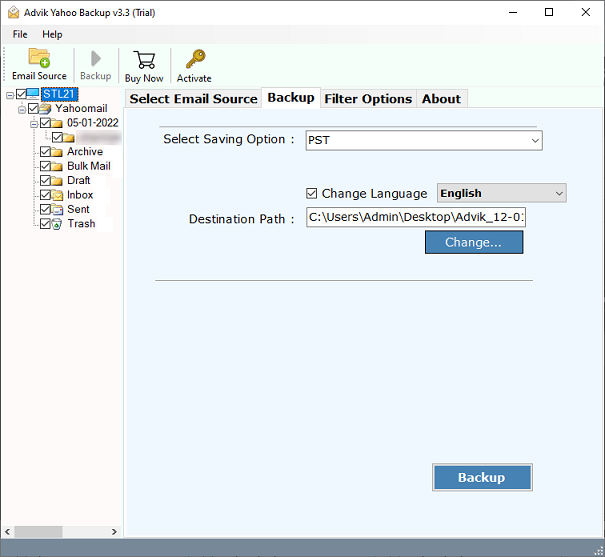 4. Now choose "DOC" as a select saving option.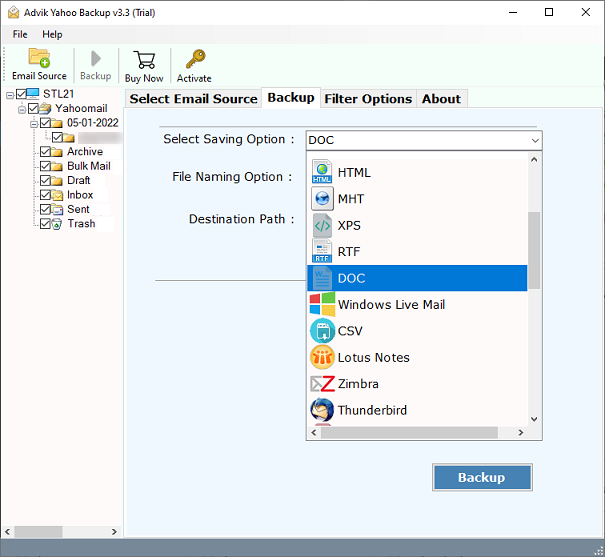 5. Also you can choose and change the destination location to save your DOC file.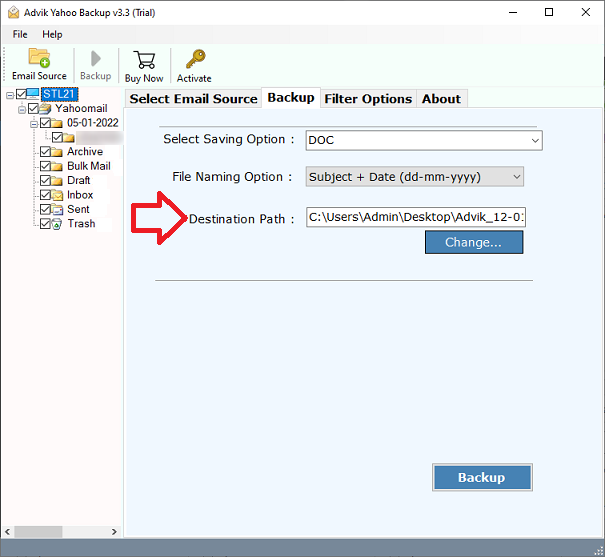 6. Finally, click on the "Backup" button to start the process of exporting yahoo email as a word document.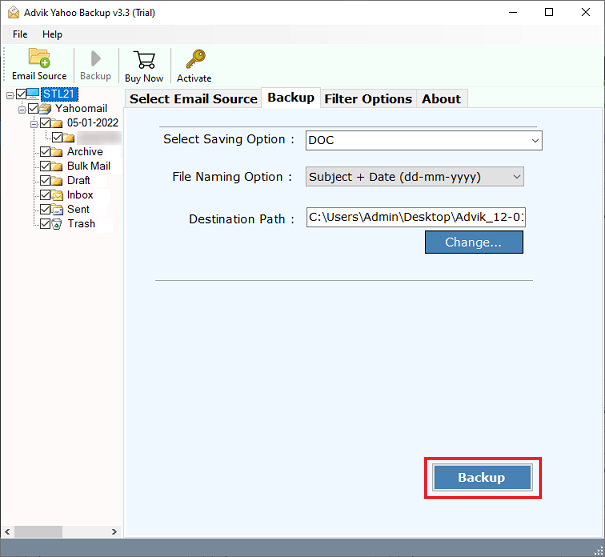 Video Tutorial – How to Export Yahoo Emails to DOC File?
Watch the easy and simple steps to export Yahoo emails to DOC file through video guide.
Benefits of an Effortless Solution –  Advik Yahoo to DOC Converter
A perfectly safe and secure solution.

Email attachments can be saved in the Destination folder, along with the attachment designated folder.

Backup Yahoo Mail to PST, EML, PST, MSG, DOC, 15+ File formats.

In a few steps, the app creates a word document of your Yahoo Mail emails.

The software keeps the Yahoo Mailbox folder originality as same as it before the backup.

During the backup procedure, the software has no restrictions on the Yahoo Mail account database.

It is a completely secure platform that does not save Yahoo Mail information in the user interface.

Export Yahoo Emails directly to other email services such as Gmail, Office 365, Yandex Mail, etc. 

The platform has a simple and intuitive graphical user interface panel that makes it simple to use and understand.

Email Filters Options to Backup Specific Emails and Folders.

Simple, Fast, and 100% Safe Email Backup Solution.

Export email attachments from Yahoo Mail to PC in a separate folder.

Workable on all Microsoft Windows operating systems, including Windows Windows 11 and all previous versions.
Wrapping up
Finally, you have learned the best method to export yahoo emails to doc. The above-explained method is very easy to implement. as there is no option to transfer yahoo mail to word document. We suggest users to go with a professional approach like yahoo to doc converter to make their conversion process even easier. we have tried our best to the process of exporting yahoo mail to word document as streamlined as possible.