How to Increase Zoho Mail Storage Limit? – 2 Easy Tricks
Is your Zoho Mail storage full? In this guide, we will show you how to increase Zoho mail storage with some useful methods and also share some alternative solutions for backing up your crucial data.
Zoho Mail automatically gives 5 GB of free storage to every user account, which seems like enough at first but if you are using it for other purposes also then it may not be sufficient enough with just those free 5 GB. Don't worry! This article will help you to increase Zoho Mail storage limit
Why is My Zoho Mail Storage Full?
Several factors contribute to you running out of Zoho Mail storage space. Certain mailboxes in your Zoho Mail account take up a considerable amount of space even if you are not aware. For example, emails with large attachments can quickly take up a lot of space in your mailbox.
Images, videos, document files, and many more also take up a lot of space too, especially if you are receiving large size attachments in your mail.
Top 2 Methods to Increase Zoho Mail Storage Limit
There are multiple ways to expand Zoho mail storage size. Here, we are explaining the most popular methods for increasing the Zoho Mailbox storage limit. Let's start now!!
Method 1. Delete Zoho Mail Emails to Reduce Zoho Mail Size Limit
You can get more Zoho Mail space by deleting unusual files. So, it's a good idea to clear files to be no more relevant to you. As old and unimportant emails take up a lot of space on your Zoho Mail account.
Cleaning out the Zoho Mail emails is a dull process for the majority of the users. In case, you are searching for how to delete all emails from your Zoho Mail account, then you are on the right platform. Fortunately, Zoho Mail gives you the choice to delete several emails at once in its mailbox.
Follow these steps to do so;
Step 1. Login to your Zoho Mail account through this link.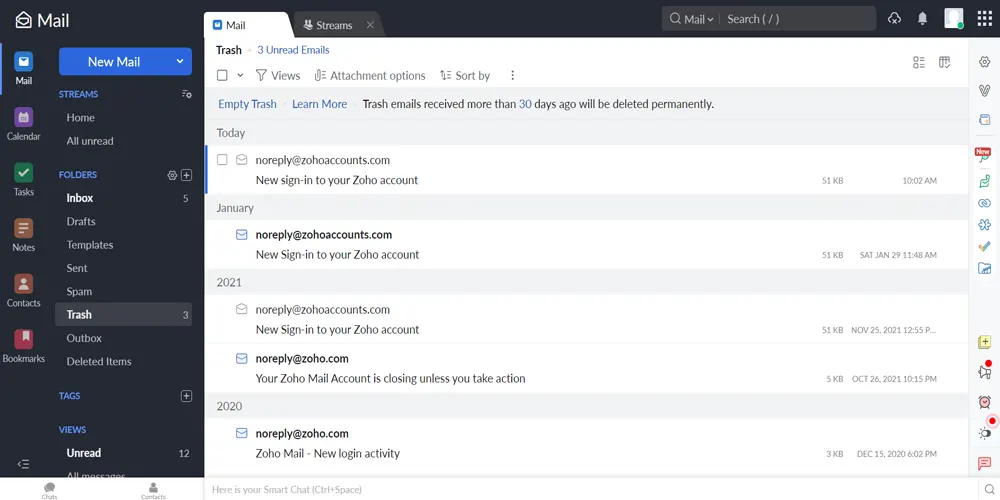 Step 2. Now, tap on any folder in your mailbox to see email messages.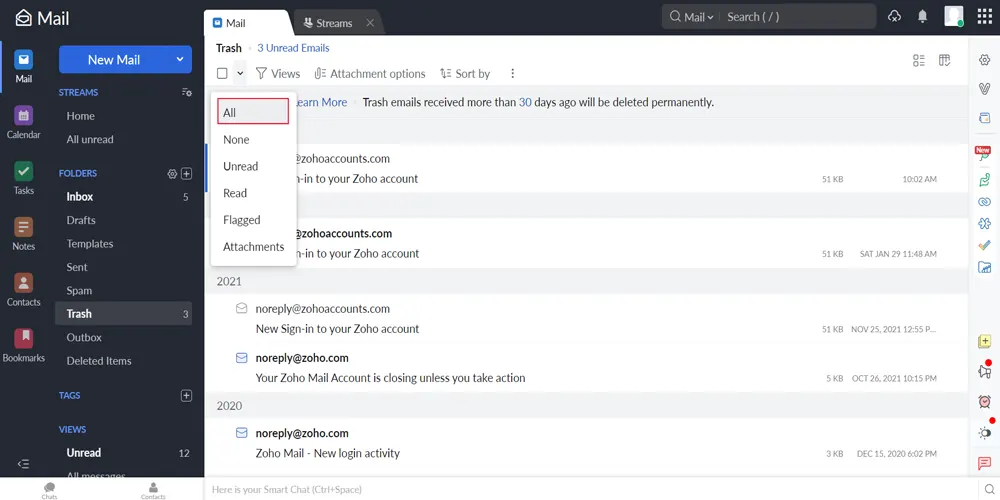 Step 3. After that, click on any of the emails that you want to delete, and then click on the Bin icon on the right side.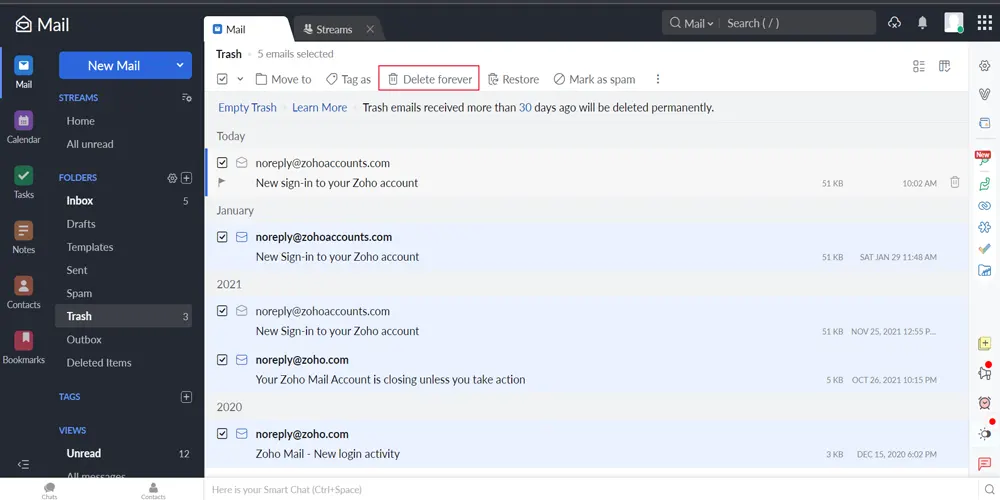 Step 4. Done! You will receive a message alert that "1 email was deleted and moved to the trash".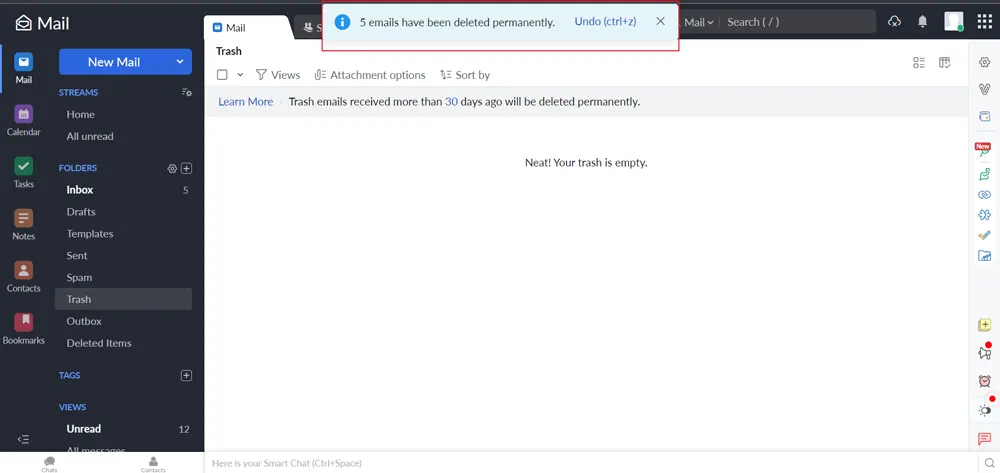 Limitation of Manual Method
Though this method is simple and easy, it will take a lot of your crucial time and crucial effort.
It is also not a satisfactory method since it only moves it to the Trash folder, you will have to go to the Trash folder again to delete it from there also.
It is a lengthy process and you can't perform the above steps in bulk.
Another way to increase the amount of storage you have is to pay for the extra storage you need, which some of you may not want to do because it is expensive a lot to get only some amount of space with yearly subscription charges.
Method 2. Expert Solution to Export Zoho Mailbox in Bulk on PC
The only automatic and powerful solution to download emails from Zoho Mail is Advik Zoho Mail Backup Tool. It is a professional and easy solution that lets you save multiple Zoho Mail emails with attachments at once. It is a complete and user-friendly application that doesn't need any specific skills to archive emails in Zoho Mail securely. With this tool, you can easily backup Zoho Mail emails and save them locally so that you will always have a copy of your emails whenever you need it. And, after that delete those emails from Zoho Mailbox to free up space.
For most users, Zoho Mail is the most accessible email service and offers enough of what most people need. But, sadly it has its drawbacks. The 5 GB free of Zoho Mail storage is nothing compared to the 15 GB given by Gmail. So, you can also transfer Zoho Mail to Gmail using this solution. One of the significant advantages of using this application is that you can export Zoho Mail to PST, EML, PDF, MSG, DOC, HTML, CSV, and many other file formats. This could be the best way to save your emails in different file-saving options of your choice.
Click the Download button and install the software's FREE trial edition at no cost!!
How to Save Zoho Mail Emails to Computer Locally?
Now, understand the Zoho Mail email backup process with the complete step-by-step working of the software.
Step 1. Run this application on your system.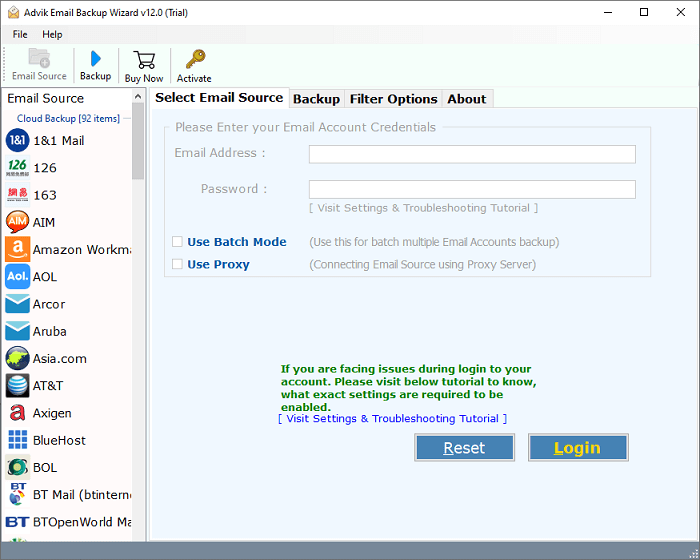 Step 2. Go to your email source list and select the Zoho Mail option. Then, enter the credentials of your Zoho Mail account – email address and password. Press the Login button to continue.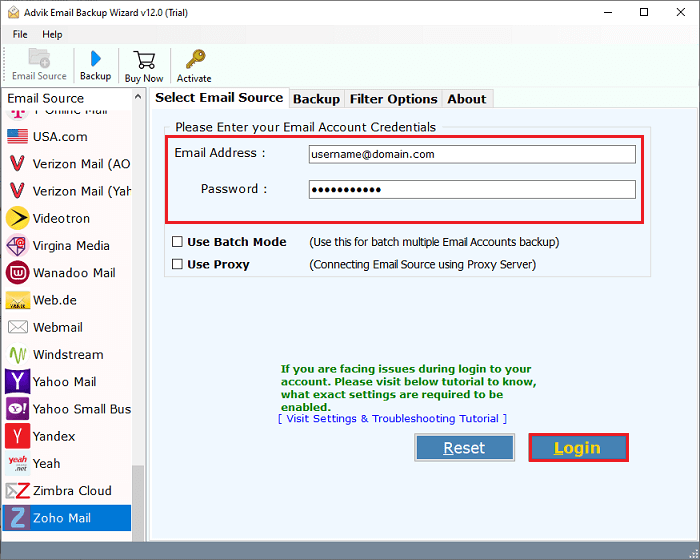 Step 3. After that, this software will analyze the mailbox folders of your Zoho Mail account and choose the required emails that you wish to backup.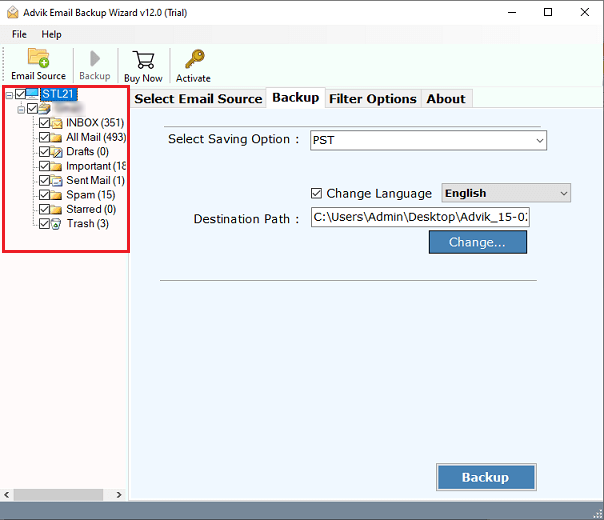 Step 4. Now, from the 30+ saving options list, choose your preferred file format. Here, we will choose PST but you can choose any of your choice.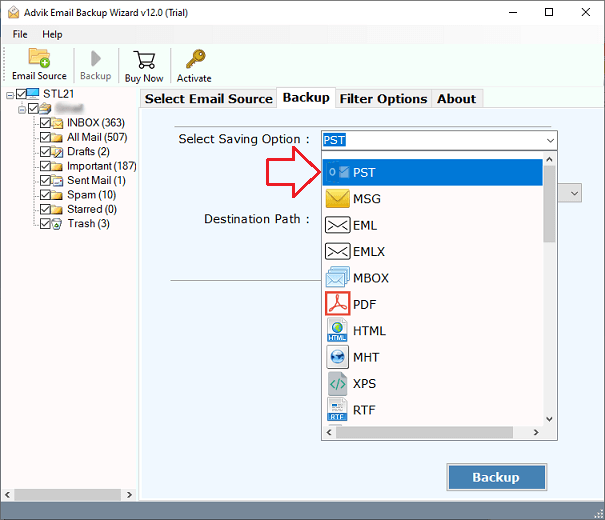 Step 5. Then, select the destination path to save the resultant data file on your system.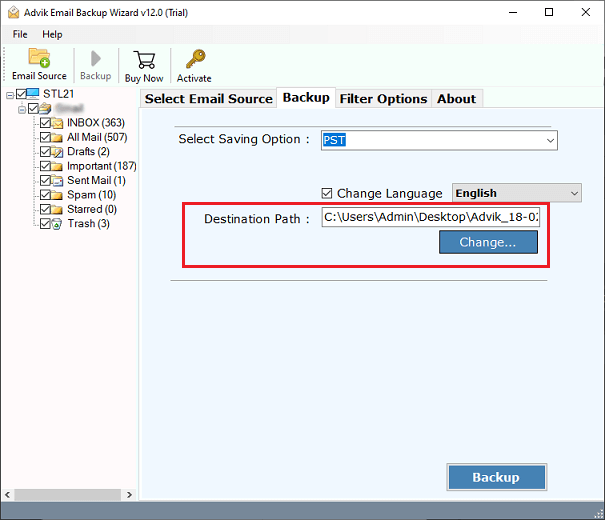 Step 6. Finally, tap on the Backup button to start the procedure.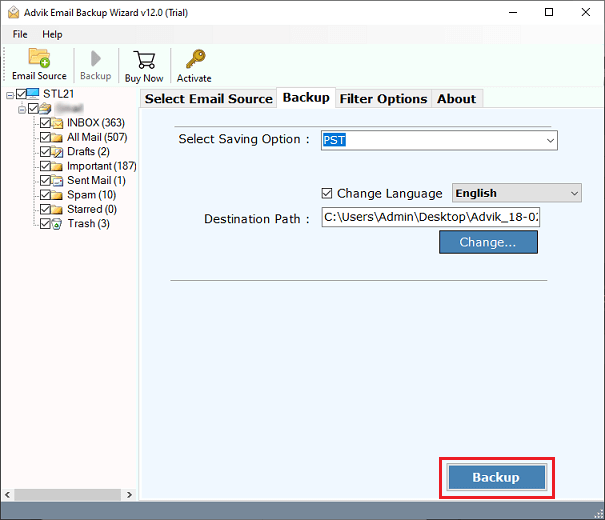 Done!! You can see that how easy it was to quickly download emails from Zoho Mail to PC.
Conclusion
It's easy to delete emails from your Zoho Mail account that are no longer needed. But, please ensure that you have a copy of these e-mails. However, taking the time to delete emails from your Zoho mailbox is not easy. Therefore, just deleting emails is not enough to increase Zoho mailbox size limit. In addition, if you increase your storage limit through subscription plans, you will have to pay a lot because it is a single amount that you have to pay every year to keep them. The automated software, on the other hand, comes with a one-time license key that offers many features in a single edition. It also export Zoho Mail emails in 30+ options with an automated tool. You can also delete these emails from your account to free-up space.