How to Transfer GoDaddy Email to Gmail – 3 Simple Methods!
"My name is Aron Mathew, I am user of GoDaddy Business Email service. After using it from past 5 years, I thought of GoDaddy to Gmail migration. As it was my primary email account and want to keep a safer copy to Google mail too. Ya, I will continue using GooDaddy email services. Now, the issue is the email transfer. I want to migrate emails from GoDaddy to Gmail. Please guide me with this issue, as GoDaddy customer support is charging very high amount per folder. Is there any other way to do it?"

– A User from Quora
How Do I migrate from GoDaddy email to Gmail? If you are also trying to find the answer for this question. You are at right place. Stay here and continue reading the complete article to learn about safe email migration from GoDaddy.
As you all know GoDaddy Business Email is a paid profeesional email service. It's an email address that matches your domain and promote your business during email conversation. Like Microsoft, GoDaddy also provide other mailing services like calendar, contacts, tasks, and web portal.
How to Migrate GoDaddy to Gmail with Entire Emails- 2022
Page Content
Method 1. Import GoDaddy to Gmail Using IMAP/POP3
Method 2. T

ransfer Godaddy Email to Gmail with Outlook

Method 3. Instant Migration Using Advik Software
Check out all the 3 tutorials that will help you to transfer email from Godaddy to Gmail without losing any data.
Method 1. How to Add/Setup GoDaddy Business Email with Gmail
This tutorial will guide to on how you can setup GoDaddy Business email account in Gmail, or how to forward GoDaddy email to Gmail using IMAP/POP3 configuration.
Follow the steps to migrate GoDaddy email to Gmail account;
Step 1. Open your Gmail account and navigate to Settings >> Account and Import>> Import Mail and Contacts.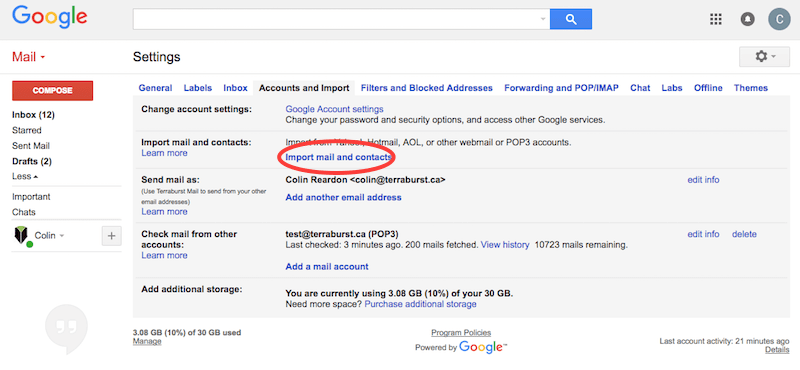 Step 2. Enter your GoDaddy Business email address and click Continue.


Step 3. Now enter your account password and POP details..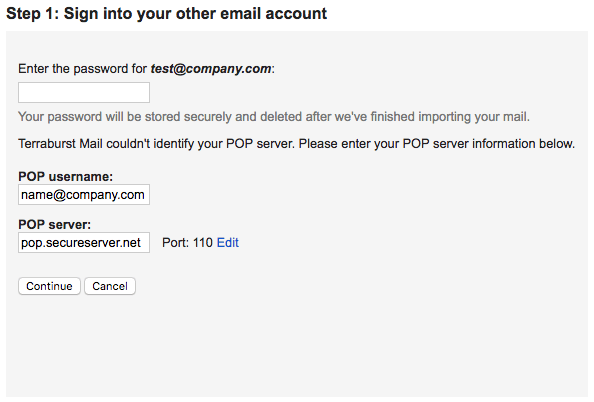 Step 4. After submitting the details, click Continue button.
POP username: your username@company.com
POP Seerver: pop.secureserver.net
PORT 110
Use the above POP3 details. In the next window, it will ask you what to import, Click Import Mails and hit Finish button. Gmail will sync GoDaddy email account and import emails respectivly. Later your GoDaddy webmail emails will be received on your Gmail acccount.
Drawbacks
Limited Connectivity
Time consuming process
Data loss may occur
Method 2. Transfer GoDaddy Email to Gmail Using Outlook
This is quite lenghty but one of the successul formula to transfer emails from GoDaddy to Gmail with attachments. First of all, you will require MS Outlook application installed in your PC.
Step 1. Open Outlook and click Add Account from File menu.
Step 2. Enter your GoDaddy email account credentials and click Finish.
Step 3. Once the Outlook add your GoDaddy business account, go to Open/Export option.
Step 4. Click Export to a file and hit hit Next button.
Step 5. Select mailbox folders that you want to import from GoDaddy email to Gmail.
Step 6. Click Finish button.
Now MS Outlook will backup GoDaddy emails to Outlook Data File (.pst). After converting GoDaddy mailbox to PST, you have to import PST file in Gmail. Follow the further steps.
Step 1. Again go to Outlook application and click Add Account.
Step 2. Enter your new Gmail details and click Finish to setup account.
Step 3. Click Open/Export option from File menu.
Step 4. Click import data file option.
Step 5. Browse Outlook PST file that you can earlier exported from GoDaddy account.
Step 6. Now, import PST file in Gmail using Outlook.
Finish! This is how you can migrate GoDaddy to Gmail with MS Outlook client. The process is 100% workable but it takes time.
Method 3. How to Transfer GoDaddy Email to Gmail With Ease
Download and Install Advik GoDaddy Email Backup Tool in your system. This email migration tool is specially developed and designed for GoDaddy Business users. Take the help of this wizard and transfer emails from GoDaddy to Gmail account instantly. You need not to go through any manual configuration.

Beside this, the software is loaded with most adavanced features that one can only imagine.
Migrate GoDaddy Emails to Office 365, Yahoo, Zoho Mail, and to anywhere.
Easily export GoDaddy to PDF, PST, EML, MSG, DOC, HTML, TGZ, etc file formats.
Maintain Email Fodler Hierarchy and MetaData
Offer Email Filter Option to move only specific emails only
Unlimited GoDaddy to Gmail Migration with no data loss
Download and Install the tool to explore more
Steps to Export GoDaddy Emails to Gmail are as follows;
Step 1. Run Advik GoDaddy Backup Tool in your system.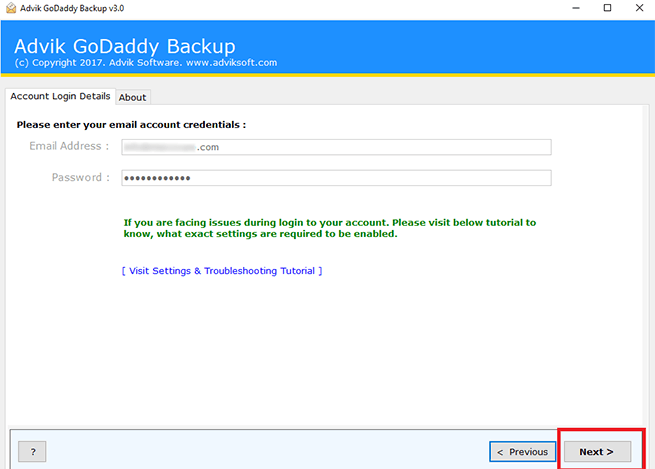 Step 2. Select desired mailbox folder and click Next.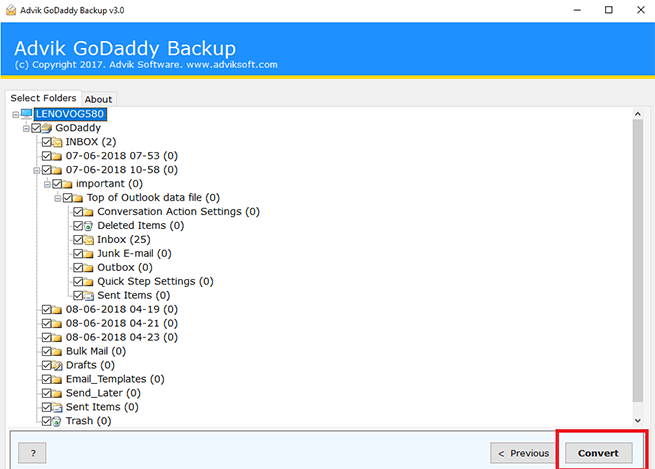 Step 3. Select Gmail as saving option from list.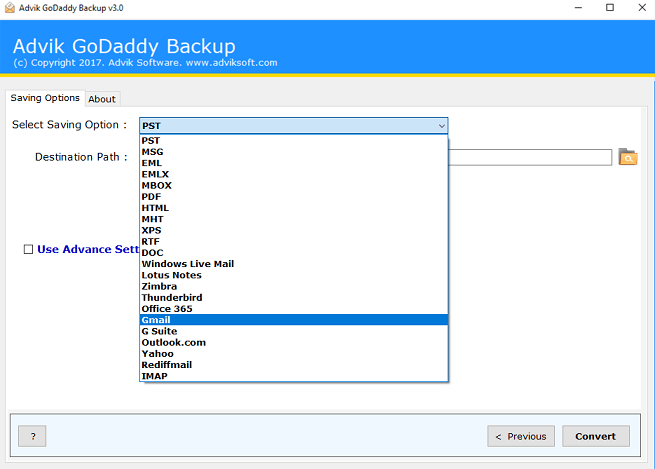 Step 4. Enter your Gmail login credentials and click Convert.
Note: Click Advance Setting option to apply email filters
Now the software will start the procedure and will show you the live preview. This is how you can import GoDaddy emails to Gmail account directly. This is one of the widely used alternative methods opted by thousands of users. Download the FREE fully-functional trial and check the performance and efficiency of this program.

Watch the video tutorial of this step-by-step guide now to understand the whole process in an easier way.
Wait Is Over Now, Take Action and Import GoDaddy to Gmail Right Away
Take the help from Advik GoDaddy to Gmail Migration tool an authentic and verified utility. This program will reduce your valuable time as well as efforts for this task. You will be able to convert or export emails from GoDaddy to Gmail for unlimited accounts. On the other hand, it will give you an accurate result without losing any information.

Check Out Also:
FAQs
Trouble in Signing? – Error
Enable Less Secure Apps and IMAP from Gmail as well as GoDaddy Email Setting Page.
Can I Import GoDaddy to Gmail with Inbox Folder Only?
In software panel, you will get an option to select or deselect the folder for migration. Choose the folder that you want to export.
Can I run this utiliy in Windows 11?
Yes, you can run this program in any version of Windows.